The Time Has Come for Funny Cide
by Evan Hammonds
Date Posted: 5/23/2003 1:49:22 PM
Last Updated: 5/23/2003 3:15:50 PM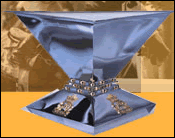 Triple Crown Trophy, awarded for a Kentucky Derby-Preakness-Belmont Stakes sweep.


In a round-table telephone conference call, connections of the last three Triple Crown winners offered remembrances and advice for the connections of Funny Cide as he bids to become the 12th winner of the Triple Crown in the June 7 Belmont Stakes (gr. I). It has been 25 years since Affirmed won the Triple Crown in 1978 and 30 years since Secretariat broke a 25-year Triple Crown drought in 1973.On the call were Penny Chenery, owner of Secretariat; Karen and Mickey Taylor, co-owners of Seattle Slew, winner of the Triple Crown in 1977; and Mrs. Patrice Wolfson, who owned 1978 winner Affirmed with her husband, Louis Wolfson. All concerned are rooting for Funny Cide to win the 1 1/2-mile Belmont and the $5-million bonus offered by VISA, sponsor of the Triple Crown. They all lamented the fact that VISA was not a sponsor when they won their Triple Crowns in the '70s."It's time in my mind and in the fan's mind," said Penny Chenery, owner of Secretariat, on the span between winners. "It's time to get the ball rolling. Funny Cide is a great story. In 1973, people felt it was something that was never going to happen.""It's been long overdue," echoed Steve Cauthen, the jockey of Affirmed, who was also in on the call with jockeys Ron Turcotte (Secretariat) and Jean Cruget (Seattle Slew). "The racing fans have been waiting for a great horse to come along. Being a gelding, Funny Cide is going to be around for a few years. I can't think of anything better."Funny Cide, a 3-year-old gelding owned by the Sackatoga Stable partnership that purchased him for $75,000, has been compared to Seattle Slew. Seattle Slew, the Triple Crown winner in 1977, was a $17,500 sales yearling and was owned by a partnership of Karen and Mickey Taylor and Dr. Jim and Sally Hill of Washington state."We had a lot of fun and they are having fun," Karen Taylor said. "Seattle Slew was a New York horse and Funny Cide is a New York horse. He's even a New York-bred horse. They're having fun and it's good for the game. And his broodmare sire is Slewacide, a son of Seattle Slew, and that's apropos.""It's given us a little bit of a tingle," said Mickey Taylor. "Slewacide was a freak--he just went too fast. He was from the first crop of Seattle Slew that included Slew o' Gold, Slewpy, and Landaluce. He had the brilliance of Landaluce, but he cracked a cannon bone in his first (and only) start."Chenery offered advise to Sackatoga Stable and to trainer Barclay Tagg. "Just keep your mind on your job," she said. "Keep your horse sound. You have to be gracious and helpful to others and with the press. Keep your horse straight and happy. These guys (Sackatoga Stable) are having the time of their lives, they've gotten good advice and are using good instincts. It shows that they could do anything if they applied themselves...and got lucky."When asked if the Triple Crown should be changed, Karen Taylor spoke out: "the Triple Crown has changed. Now you can run on medication and that was something you couldn't back in the '70s. That should be changed." Her sentiments were echoed by the other panelists.



Copyright © 2015 The Blood-Horse, Inc. All Rights Reserved.