OBS Construction Project Under Way
by Evan Hammonds
Date Posted: 5/22/2003 2:35:26 PM
Last Updated: 5/22/2003 2:46:17 PM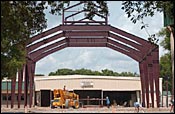 Covered walking ring under construction at Ocala Breeders' Sales Compmany.
Photo: Louise Reinagel

A construction project for a covered walking ring is underway at the Ocala Breeders Sales Company in central Florida. A planned timetable for the new addition would have the basic structure in place, and roofed, for the June 2-year-old sale with the project being completed prior to their yearling sale in mid-August.According to Tom Ventura, general manager and director of sales for OBS, the new walking ring will be covered, but not enclosed. The ring will be able to accommodate six horses at a time and will have plenty of seating and standing area in which to view the horses.The new facility will encompass part of the current walking ring at the back of the sale pavilion. The current walking ring will be about half the size once the project is finished. According to Ventura, the horses will go from the outer walking ring, to the new, covered ring, and then to the chute into the sale's ring."The idea is to make it more comfortable for people to be looking at the horses in the summer heat and when it rains in the fall," Ventura said. "The new area will be covered, but not enclosed. There will be plenty of fans in there."The June sale of 2-year-olds in training will take place June 17-18. The select portion of the yearling sale will be Aug. 18, with open sessions being held from Aug. 19-22.



Copyright © 2016 The Blood-Horse, Inc. All Rights Reserved.