Steve Haskin's Preakness Story: Funny Cide Fairy Tale Continues
by Steve Haskin
Date Posted: 5/19/2003 2:29:25 PM
Last Updated: 5/21/2003 11:42:56 AM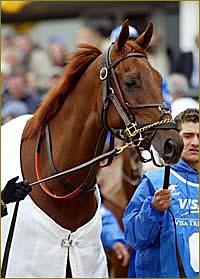 Funny Cide, on Triple Crown quest.
Photo: Barbara D. Livingston

Published in the May 24 issue of The Blood-Horse
Next stop, the Cidewalks of New York. A Funny thing happened on the way to the 135th Belmont Stakes (gr. I). A New York-bred gelding named Funny Cide captured the Kentucky Derby (gr. I) and Preakness Stakes (gr. I), and also the hearts of America. With the much-anticipated premiere of the movie Seabiscuit just a little over two months away, another Cinderella story has come along to boost the nation's spirits during a time of conflict. People who ordinarily do not follow the Sport of Kings joined racing fans all over the country in celebrating Funny Cide's spectacular 9 3/4-length victory in the second jewel of the Triple Crown. On May 17, at approximately 6:15 p.m., as Funny Cide strode down the Pimlico stretch in isolated splendor, Thoroughbred racing became embedded in America's psyche in much the same manner it did back in the glory days of Seabiscuit. In the three weeks between the Preakness and Belmont, New York state will become the center of the racing universe. From New York City to Saratoga Springs, and stretching west through Syracuse and finally up to the tiny village of Sackets Harbor, the name of Funny Cide will be on everyone's lips. It was in Sackets Harbor that a bunch of former high school buddies put up $5,000 each and joined a small racing partnership headed by their pal Jack Knowlton, who had moved from Sackets Harbor to Saratoga. On May 3, 2003, Sackets Harbor witnessed its biggest explosion since May 29, 1813, when the British attempted to destroy the town's shipyard that was so vital to the American Navy during the War of 1812. Asleep for nearly 100 years, like the mystical town of Brigadoon, Sackets Harbor awoke on the first Saturday in May to cheer on Funny Cide in the Kentucky Derby. It erupted two weeks later when the son of Distorted Humor placed himself on the threshold of immortality. "We're a very small town, and to have the Kentucky Derby and Preakness winner carry our school colors (the maroon and gray colors of Sackatoga Stable) is so special to all of us," said Suzanne Tingley, superintendent of Sackets Harbor Central School, which the core of Funny Cide's owners attended from kindergarten through high school. "The kids are excited, the teachers are excited, the whole town is excited." If you're looking for Sackets Harbor on the map, its location is significant. About 15 miles due east, you'll find another town, appropriately named Champion. All throughout New York state, there were post-Derby celebrations--at the state capitol in Albany, Siro's in Saratoga, and Trinity's near Belmont Park. But for almost 72 hours, from May 10-12, they seemed insignificant compared to the dark shadow that fell over Thoroughbred racing, and especially Funny Cide's jockey Jose Santos and his family. A story and photo that appeared in the May 10 Miami Herald suggested Santos was carrying an illegal object, likely a battery, in his hand. When Churchill Downs' stewards launched a full investigation, the story spread like a raging fire, threatening to send racing back to its dark ages. Santos, one of the most reputable and well-respected riders in the sport, was forced to defend his integrity, while his wife, Rita, had to shelter their four children, Nadia, 15, Jose Jr., 8, Selena, 7, and Savannah, 5, from this unforeseen nightmare. The incident became the lead news story on network newscasts, and was even picked up by David Letterman and Jay Leno, both of whom defended Santos when it became obvious there was no validity to the story. At a hearing May 12, the Churchill stewards cleared Santos, who along with his family attempted to get their lives back in order. "The Derby was one of the happiest moments of my life," Santos said. "And then it was like a bomb blew up." "We felt like we were punched in the stomach, especially having to hear the fans razzing Jose," Knowlton said several days before the Preakness. "It was especially tough on his kids. They tried to take it away from us, but they'll never be able to take away that victory in the Derby. If this horse never sets another hoof on the track, he would have accomplished far more than we ever in our lives could have dreamed. But now we just want to keep it going." Meanwhile, trainer Barclay Tagg was trying to prepare Funny Cide at Belmont with as little disruption as possible, while having to deal with annoyances like finding a new place to live. He decided to van Funny Cide to Pimlico as late as possible, stabling in Mary Eppler's barn on the backside instead of the traditional stakes barn behind the grandstand. With the Derby winner shipping in at the last minute, and his main rival, Peace Rules, not expected until two days before the race, the stakes barn was a virtual ghost town until horses began to trickle in during the week. But things weren't so quiet for Pimlico stakes coordinator David Rollinson, who had to go out and recruit Preakness horses when it looked like only six or seven were going to run. All was calm that first week after the Derby. Then, Empire Maker was officially declared out, leaving only six confirmed starters. Then Midway Road came in. Then Cherokee's Boy came in. Then all hell broke loose when the Herald's bogus story and photo of Santos appeared. Empire Maker suddenly jumped back in, his Triple Crown hopes alive once again. Hours later, when the inferno began to subside, he was back out. Then Peace Rules officially came in. Sometime, in between all that, Champali jumped back in after being in, then out. Then Kissin Saint and Alysweep came in. Then Indian Express came out. Then Rollinson popped a couple of Advil and braced for week two. He barely had time to finish his Monday morning coffee when Ten Cents a Shine came in. The field was at 10...for the time being. At 11 o'clock, New York Hero joined the party and then there were 11. Not so fast. Minutes later, trainer Larry Murray called Rollinson and told him Foufa's Warrior was in. Rollinson took sanctuary in a turkey sandwich and awaited the next phone call. Later that night, just as Rollinson was about to flop down in his favorite chair at home, he received a call saying that Bob Baffert was thinking of running During. Early Tuesday morning, Alysweep's low blood count lowered the field to 11. Then Champali came down with colic and the field was back to 10. And there it stood, mercifully, for Rollinson. Now, if only the connections of all these horses could have known the futility of all this decision making, they wouldn't have bothered. They all chose to travel down a road, unaware they were heading right into a tornado that would demolish everything in its path. Their spirits were lifted a bit on the Wednesday before the race when Funny Cide drew the 10th and last post position selection order. Knowlton was present and immediately went off by himself and called Tagg to tell him the bad news. Tagg, a veteran on the Maryland circuit, was well aware the outside was not where you wanted to be at Pimlico. "Well, it is what it is," Knowlton told him. "At least we got it right for the big race (Derby) when we had to have it." Later that day at the draw at ESPN's SportsZone, Funny Cide wound up in post 9 when Baffert surprisingly took post 10 for Senor Swinger, in order to keep the lightly-raced colt from getting dirt kicked in his face. "I was very happy Bob took the outside post," Tagg said. "I think he took it to help me out. He's a pretty good guy."Continued...



Copyright © 2015 The Blood-Horse, Inc. All Rights Reserved.