Derby Winner Funny Cide Romps in Preakness
by Dan Liebman
Date Posted: 5/19/2003 7:30:58 AM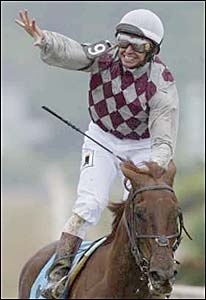 Jose Santos, with his hand open to show there is nothing there, celebrates atop Funny Cide after winning the Preakness.
Photo: AP/Roberto Borea

Funny Cide, a New York-bred gelding, came to Kentucky under the radar screen, but he will return to the Empire State a star, winning the Preakness Stakes (gr. I) impressively Saturday and putting himself in a position to win the Triple Crown.The Kentucky Derby (gr. I) winner and his connections -- owners Sackatoga Stable, Tagg and Santos -- had to endure an unsettling situation along the way. A week after the Derby, a story broke about a suspicious photograph from the finish of the Run for the Roses, but an investigation cleared Santos after showing he clearly was not holding anything other than his whip during the race."Barclay told me to try to save some ground ... then at the five-eighths to give him some loose rein," said Santos. "He just loped along and then I used my whip in case there was a camera or something. I didn't want him to get to looking around or something."Funny Cide was sent off the narrow favorite in the Preakness over Peace Rules -- who had run third in the Derby -- but it was no contest, Funny Cide winning the Preakness by the second-largest margin in the 128-year history of the middle jewel of the Triple Crown.Peace Rules broke sharply and took the lead, with Scrimshaw second, and Funny Cide a close third. Down the backside, with about 5 ½ furlongs to run in the 1 3/16 miles race, Peace Rules and Funny Cide eased in front of the rest of the field. As they came through the turn, Santos tapped Funny Cide and he moved away from Peace Rules very easily.It was merely a coronation down the stretch, Funny Cide moving away from the others in the field with every stride. Longshot Midway Road, under Robby Albarado, came through on the rail for second. Scrimshaw ran third and Peace Rules finished fourth.Albarado said Midway Road "ran an awesome race. "He got squeezed a little bit in the first part of the race, but he really squared himself away quickly. He's a very athletic little horse. He's still a little immature, though. You've got to be careful with him going through those tight spots, but once he got through there (on the rail), he was a game second."Trainer Bobby Frankel had little to say about the performance of Peace Rules, the second choice in the field."I have nothing to say," he said. "What can I say? He just got beat. He out-broke the field and he got beat. What else can I say?" Funny Cide ran the distance over a Pimlico surface labeled good in 1:55.61. He won by 9 ¾ lengths, second only to the 10-length margin of Survivor in the very first Preakness in 1873.Prado, who rode Peace Rules, said he could see it coming."I knew I was in a little trouble when I saw Funny Cide beside me," the jockey said. "He was just running beside me." The fractions were :23.37, :47.14, :1:11.62, and 1:36.42.Trainer Bob Baffert's Senor Swinger was fifth, but all Baffert cared to talk about was the winner."That was really impressive," he said. "Funny Cide was really rolling. I couldn't find my horse, so I was watching Funny Cide. Our horse was flying late, but Pat (Day) said he didn't want to go early. I think Funny Cide is a little bit like War Emblem, more of a speed type of horse. It was fun watching and listening to the crowd respond to Funny Cide when he drew off like that. I'm getting off the trail at this bus stop and rooting for Funny Cide to win the Triple Crown. Even Cisco the pony is going home."Funny Cide becomes the fifth horse since 1997 to head to New York for the Belmont Stakes (gr. I) after winning both the Derby and Preakness. The others have all failed. VISA, which sponsors the Triple Crown, will pay a $5 million bonus to a Triple Crown winner."This is just an incredible trip for Sackatoga Stable," said co-owner Jack Knowlton. "We never thought we'd be at the derby. Then we won the Derby. Then we won the Preakness. We want Belmont to be the best race ever."Funny Cide is by Distorted Humor and out of the Slewacide mare Belle's Good Cide. He was bred in New York by WinStar Farm."It's just been a tremendous ride except for a couple days," Knowlton said. "I think Funny Cide today dispelled a lot of questions. Jose Santos rode a first-class race. Knowlton said he would not likely quit his job if Funny Cide wins the Belmont, but added, "One of the vice presidents (of VISA) said they'd really like to give away $5 million and I'd really like to get it."Funny Cide returned to New York following the Derby and did not ship to Pimlico until the day prior to the Preakness. He will return to New York tonight."Everything has just gone well the last five weeks," Tagg said. "He has just trained so well."The Belmont could not ask for a better horse to be going for the Triple Crown. The owners are from upstate New York, and Tagg and Santos are both based in New York."I never thought he would have any distance problems," Tagg said when asked about the 1 ½ miles of the June 7 Belmont.
Both Funny Cide and Peace Rules were 5-2 with five minutes to post, but when the race went off, Funny Cide was $1.90 and Peace Rules was $2.40.The winner paid $5.80, $4.60, and $3.40, and Midway Road returned $15.40 and $9. Scrimshaw, who was coupled with Senor Swinger, paid $4. The exacta paid $120.60, and the trifecta $684.20.The complete order of finish was: Funny Cide, Midway Road, Scrimshaw, Peace Rules, Senor Swinger, New York Hero, Foufa's Warrior, Cherokee's Boy, Ten Cents a Shine, and Kissin Saint."I was worried about Peace Rules because I know he has speed," Santos said. "At the three-eighths pole, I looked back and didn't see anyone coming.""I thought he had it in him to do that (win by so many lengths), but everything went so perfectly," Tagg said. "I thought Jose did a super job getting him in position, not losing ground. The nine hole is not the perfect spot, but Jose always had him well placed."The win was worth $650,000 to the Sackatoga Stable, headed by Jack Knowlton. Funny Cide has now won five of eight lifetime starts and has earnings of $1,889,385.The reported attendance was 100,268, the fourth time in the past five years it has been more than 100,000. The handle was down 7.9% from a year ago, to $59,384,334.(Chart, Equibase)



Copyright © 2015 The Blood-Horse, Inc. All Rights Reserved.