Wet and Damp Weather For Preakness Stakes
Date Posted: 5/17/2003 8:51:49 AM
Last Updated: 5/17/2003 7:03:58 PM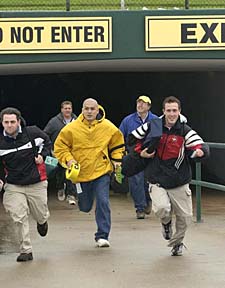 Despite the gloomy weather for Preakness Day, fans at Pimlico rushed into the infield when the track's gates opened.
Photo: Anne M. Eberhardt

Among those holding a radio, wearing jeans, and helping direct traffic on Preakness morning was Joe De Francis, the president of the Maryland Jockey Club, which operates the track that today will play host to the middle leg of the Triple Crown."Whatever it takes," De Francis joked as the gates were opening at 8 a.m. for Pimlico's biggest day of racing.This is the first Preakness since De Francis and his sister, Karin, sold majority interest in the MJC -- which also operates Laurel -- to Frank Stronach's Magna Entertainment.De Francis was not getting a break from Mother Nature, with rains Thursday night, all day Friday, and into the wee hours of Saturday. As the gates opened, it was not raining, but was overcast, chilly, and there was a slight wind.Attendance would be expected to be down on track because of the weather conditions, but fans were steadily filing into the infield, traditionally known as the rowdiest of infield gatherings.The track is very sloppy, but track superintendent John Passero and his crew are doing all they can to return it to a fast surface. On Friday, the turf races were taken off the grass and the steeplechase stakes was cancelled. The track was rolled and sealed overnight.The announcement was made Saturday morning that The Dixie (gr. II) and Gallorette (gr. IIIT) would remain on the turf, but the Woodlawn, which is ungraded, would be moved to the main track.Preakness favorite Funny Cide arrived at Pimlico Friday afternoon and rather than the stakes barn, was placed in a barn on the backside. On Saturday morning, he did not go to the track, simply walking and being washed off.



Copyright © 2015 The Blood-Horse, Inc. All Rights Reserved.