Steve Haskin's Preakness Analysis: Looking for an Upsetter
by Steve Haskin
Date Posted: 5/16/2003 8:59:39 PM
Last Updated: 5/17/2003 7:05:34 PM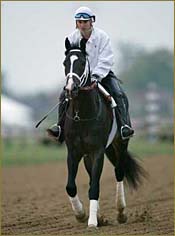 Scrimshaw, among horses with potential to upset Funny Cide in Saturday's Preakness.
Photo: AP/Roberto Borea

Unlike the Kentucky Derby when we had two weeks of observing the horses (a lot of good that did), the Preakness analysis will be based on bits and pieces of observation and basic handicapping.Even the old timers at Pimlico cannot recall the Kentucky Derby winner shipping in to Pimlico on the morning of the race. Not only is Funny Cide expected to arrive in the wee hours of Saturday morning, but he will be stabled on the opposite side of the track from the stakes barn. That means that no one will see the Derby winner until he comes out to be saddled for the race. Peace Rules, the third-place finisher in the Derby, arrived on Thursday afternoon and went into Barn A, which is four barns away from the stakes barn.For the first time in memory, the stakes barn will be occupied only by longshots. The only reason Scrimshaw and Senor Swinger were listed at 5-1 on the morning line is because they will run as a Bob Baffert-D. Wayne Lukas entry, having the same ownership (Bob and Beverly Lewis).Sure, you can box Funny Cide and Peace Rules in the exacta. And why not? They are by far the class of the race. And if you had to make a single pick, there is absolutely no reason not to pick Funny Cide to win again. He came out of the Derby in great shape, and looked super in his work last week, although he did go pretty fast, having just raced a mile and a quarter 10 days earlier. But even though several clockers caught his last eighth in :11 and change, exercise rider Robin Smullen never urged him on. So, it is apparent, the gelding is still sharp and full of energy. Remember, because he's a gelding, all his focus is on being on racehorse.But is he worth 7-5? Probably. However, you don't need to come here to find a 7-5 shot. There is also a question of whether Jose Santos, on Funny Cide, and Edgar Prado, on Peace Rules, will be eyeballing each other the whole way, especially breaking from the 7 and 9 posts. They both the know they have the other to beat. But don't be surprised to see Prado gun Peace Rules to the lead at the start, trying to establish a clear lead, then slow the pace down to prepare for all challenges.One scenario has both horses hooking up and pulling clear of the pack, which is the most likely. The other has them paying too much attention to each other and setting it up for someone else, who is primed to run the race of his life. The big questions are whether there is such a horse and who he might be. This is not strong field for a classic race. The two big horses are fast and classy, but they're not exactly Affirmed and Alydar. And of the others, there are two grade II winners, one grade III winner, one listed stakes winner, one state-bred stakes winner, and three non-stakes winners.Of these, the ones most logical to pull off an upset are Scrimshaw, Senor Swinger, and Kissin Saint. And we have to throw Ten Cents a Shine in there, because of the major leap forward he made in the Derby. And most important, three of those four horses are trained by Lukas and Baffert. So, right off the bat we have to box a Lewis entry-Ten Cents a Shine exacta, and rid ourselves of all feelings of stupidity for not having Baffert-Lukas exacta in a field like this. Also, box those two betting interests with each of the two favorites.We've always had a high regard for Senor Swinger, and under Pat Day, he would be a good win bet at a price. But he won't be a price, coupled with Scrimshaw. We also would like Scrimshaw, who fits the pattern of the well-beaten horse in the Derby who bounces back and wins the Preakness. He wasn't 100% fit for the Derby by any means, and if he runs back to his Lexington Stakes, he has a big shot in here. But, he too, should be much higher odds than he will be. If you're content with the odds you're going to get, then you should get a good run from both these horses.We see no reason why Ten Cents a Shine should not make another leap forward. After being virtually distanced in the Blue Grass Stakes, he went 10-wide in the Derby and still closed well to be beaten only 7 ½ lengths. One of these days, this colt is going snap out of his mental funk and put it all together, and you'd like to be there when he does. That's not saying he's going to win, but he sure could finish in the money. And we have to add, that, watching him graze on Thursday, his coat in resplendent. He could be ready to put it all together.The fourth horse we mentioned, Kissin Saint, looked great coming off the van Thursday, and the way he's been improving physically and on the racetrack, we certainly wouldn't be surprised to see him right there at the wire. He did finish third in the Wood Memorial behind Empire Maker and Funny Cide, and although he was beaten 8 lengths, he had to alter course pretty dramatically after that start when New York Hero cut in front of him. He;s bred for a distance, being by Kissin Kris, out of a Dahar mare. And remember, Dahar's dam is Dahlia, one of the greatest fillies of all time and the pioneer of international competition.To be honest, if neither Funny Cide nor Peace Rules win, then none of the others would be a total shock if they should win, because the race would then be reduced to a grade II or grade III event.So, where does that leave us? It leaves us with the aforementioned Lukas-Baffert exacta box and playing the entry with each of the two favorites. Also, the two favorites boxed with Ten Cents a Shine and Kissin Saint. For a huge price, Foufa's Warrior might have a shot to hit the board if the pace is quick enough. Finally, for our win bet at a good price, we'll go with Kissin Saint. Considering his problems in the Wood, he needs to probably make up only about four lengths on Funny Cide, and he is improving at the right time.



Copyright © 2015 The Blood-Horse, Inc. All Rights Reserved.