Lukas Introduces New Stand-Up Routine at Alibi Breakfast
by Steve Haskin
Date Posted: 5/15/2003 3:41:42 PM
Last Updated: 5/21/2003 11:50:16 AM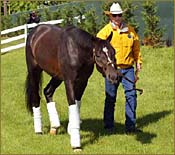 Trainer D. Wayne Lukas, with Preakness contender Ten Cents a Shine, at Pimlico.
Photo: AP/Roberto Borea

There was little activity at Pimlico Thursday morning, with only four Preakness horses on the grounds. The highlight of the morning was D. Wayne Lukas doing his best Don Rickles impersonation at the traditional Alibi Breakfast.Lukas, with two horses in the race, was the last to be questioned by host Chris Lincoln, and immediately jumped right with a barrage of acidic one-liners, some of which were actually pretty funny. He dealt with subject matters ranging from Bob Baffert's marriage to a reporter's tie.One of the main topics the past two days has been the fact that Lukas and Baffert will saddle an entry, made up of Scrimshaw and Senor Swinger, respectively, both owned by Bob and Beverly Lewis. Both trainers have made similar remarks on how they were going to carry the other.At this morning's breakfast, when the matter was brought up again, Lukas said, "Well, Bob and I have finally gotten together. We're actually going to do something together. I love you Bob."Yes, folks, this is the same Wayne Lukas who was seen at the ESPN SportsZone the night before, carefully scrutinizing the dessert table, and hunched over the wheel of the speedway car racing game, steering his car as if here were tearing down I-64 in Kentucky at his usual breakneck speed. Are we seeing the birth of a new Wayne Lukas?Baffert also has been relaxed and having a ball. Even for racing's titans, once in a while, there's nothing like having 20-1 shots to let your hair down and just unwind and have a blast. And that's what Lukas and Baffert have been doing. The next thing you know, we'll see them dancing together at Friday's press party.Also at the breakfast, Jack Knowlton, managing partner of the Funny Cide ownership, talked about the Jose Santos fiasco, which was dealt with briefly by Lincoln, who apologized to Santos and everyone involved with the horse on behalf of the entire racing industry.



Copyright © 2015 The Blood-Horse, Inc. All Rights Reserved.