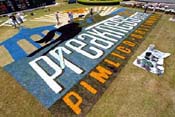 Horse, Trainer, Jockey
1-Ten Cents a Shine, D. Wayne Lukas, Pat Valenzuela
2-Kissin Saint, Lisa Lewis, Jorge Chavez
3-Senor Swinger, Bob Baffert, Pat Day
4-Foufa's Warrior, Lawrence Murray, Ramon Dominguez
5-Midway Road, Neil Howard, Robby Albarado
6-Cherokee's Boy, Gary Capuano, Ryan Fogelsonger
7-Scrimshaw, D. Wayne Lukas, Gary Stevens
8-Peace Rules, Bobby Frankel, Edgar Prado
9-New York Hero, Jennifer Pederson, J. J. Castellano,
10-Funny Cide, Barclay Tagg, Jose Santos "Well that's the way it is," said Jackson Knowlton, managing partner of Sackatoga Stables that races Funny Cide. "It's not like being in the 13th post at Gulfstream Park in the Holy Bull (in which Funny Cide ran fifth). He broke from post 12 at Belmont when he broke his maiden, so he can win from the outside. He has tactical speed and should have enough speed, even from post 10, to get a decent position. It is obviously something we didn't want, but we were fortunate to have the second pick in the Derby and I would rather have the last pick in the Preakness than in the Derby. We'll go do our own thing. It will make for a lot of interesting stories between now and then.The importance of post position was emphasized by trainer D. Wayne Lukas, who will have the has first and seventh selections for his two Preakness starters. "You don't want the outside at Pimlico," the Hall of Famer said. "The post is more important here than in the Derby because this track is pear shaped and the last eighth of a mile is uphill. Because post is so important here we might use the whole 60 seconds this time."Lukas cited his experience last year, when Proud Citizen started from post 12 in the 13-horse field and eventually finished third. "The only time the post ever burned us was last year when I had choice of inside or outside. I don't know if I would do that again."Owner Ken Ramsey, who will get first pick with Lukas-trained Ten Cents a Shine, said of the draw: "We're off in the right direction."