Churchill Stewards: Santos Carried Only Whip in Derby Victory
by Ray Paulick
Date Posted: 5/12/2003 3:05:16 PM
Last Updated: 5/15/2003 12:54:55 PM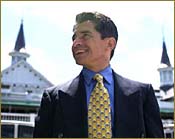 Jockey Jose Santos, with Churchill Downs' twin spires in the background, prior to Monday's press conference.
Photo: AP/Ed Reinke

After a thorough review of dozens of photographs and a replay of the NBC tape of the Kentucky Derby and interviews with various individuals, the Churchill Downs board of stewards determined that jockey Jose Santos did not carry anything other than a whip in his right hand when he won the Kentucky Derby with Funny Cide on May 3.In addition, the stewards determined that Santos followed the rules of racing for the state of Kentucky and that the stewards are "convinced he had no illegal device or engaged in any improper activity during the race," senior steward Bernie Hettel said during a press conference Monday.The press conference followed a morning meeting between the stewards, an attorney representing the Kentucky Racing Commission, and Santos and his attorney, Karen Murphy.The Churchill Downs stewards, who include Bernie Hettel, the state's chief steward, and racing association stewards Jack Middleton and Richard Leigh, had initiated their investigation into the matter on after a story published in the Miami Herald raised questions as to whether an accompanying photograph of the Derby finish showed that Santos had carried something in addition to a whip in his right hand.The photograph was taken by Getty Images photographer Jamie Squire."We have carefully examined dozens of photographs taken from a number of different angles at various points during the race, reviewed several videotapes, and conducted a thorough interview with Mr. Santos himself," said Hettel. "Based on the information that we have gathered and reviewed, we are confident that Jose Santos carried nothing more than a whip in his right hand as Funny Cide won the Kentucky Derby. There is no evidence that would suggest that Mr. Santos had any prohibited device in his possession or that he engaged in any improper actions during the race." Hettel explained that the racing commission enlisted the help of the video technical services unit of the Louisville Metro Police Department in the examination of digital images of the Derby finish, including the published image that had raised the Miami newspaper's initial questions and prompted the Churchill Downs stewards to initiate their probe. The police department unit conducted a forensic study of the photograph in question and other images and determined they yielded no evidence to indicate that Santos held anything other than a whip in his right hand during the running of the Derby. "We have completed a thorough probe in an expeditious manner and have complete confidence in our findings," Hettel said. "We appreciate the openness and cooperation of all parties involved in this investigation, especially Mr. Santos, and we thank them for their efforts to ensure the integrity of our industry and its most important event, the Kentucky Derby." "Churchill Downs appreciates the stewards' prompt and thorough review of this issue and we are confident that they have reached the proper conclusion in this matter," said Steve Sexton, president of the Louisville, Ky., racetrack. "The media spotlight shines more intensely on the Kentucky Derby than any other event in our industry and the stewards acted properly as they quickly initiated an investigation once these questions surfaced in the media. With the conclusion of this investigation, that spotlight can now return to its proper place: the Triple Crown bid by Funny Cide, Jose Santos and the partners of Sackatoga Stables." Jackson Knowlton, managing partner in Sackatoga Stables, which races Funny Cide, said it is unfortunate that questions about one photograph could lead to such a major controversy but that he and the other owners are glad it was resolved quickly."On behalf of Sackatoga Stable and the owners of Funny Cide, I want
to thank the Kentucky Stewards and the Kentucky Racing Commission for their
prompt attention and investigation into these unfortunate accusations," Knowlton said in a release. "We are disappointed that the inquiry had to take place and that one photo was the basis of a story that called into question the legitimacy of the Kentucky Derby champion Funny Cide and the integrity of Jose Santos... Now that this matter is behind us, we will refocus our attention on the
Preakness and the Triple Crown.For his part, Santos said the issue had brought his credibility into question, noting taunts he experienced from fans when he was riding over the weekend. He noted that his children did not attend the races Saturday or Sunday and that they did not go to school Monday as result of the controversy."I am thankful this nightmare is over," Santo said. "A week ago was the happiest moment of my life and then this photograph came in from Miami and it destroyed my career. My reputation was good. I was very angry. I couldn't sleep. It was terrible for my family, especially my little boy. He's my number one fan. I told him everything would be OK...This was a terrible thing for racing. That happy moment (winning the Derby) can''t be taken away. But a cloud came in now it's gone away."Santos declined to say whether he was considering litigation over the issue, and said he is now focusing on Saturday's Preakness Stakes.



Copyright © 2015 The Blood-Horse, Inc. All Rights Reserved.