AP Photo Clearly Shows There is No Object in Santos' Hand
by Steve Haskin
Date Posted: 5/11/2003 4:18:50 PM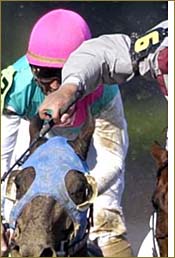 Associated Press photo, similar to one published by the Miami Herald that touched off controversy.
Photo: AP/Timothy D. Easley

An Associated Press photo that appeared in Sunday's New York Post all but puts to rest the investigation of Jose Santos. The photo clearly shows the green Juddmonte Stables' silks of Empire Maker through Santos' outstretched fingers as he is about to raise his whip in triumph.Although Santos and his attorney, Karen Murphy, are scheduled to appear before the Churchill Downs stewards on Monday at 8 a.m., Murphy told the Post it is "not a hearing. It is an informal gathering."The incident, initiated by a story and photo in the Miami Herald, sent shock waves through the racing industry, and became the lead news story on the NBC and CBC 11 o'clock news. It was exacerbated when Churchill Downs steward Rick Leigh called the photo "very suspicious.""I was so mad when I read about this," said trainer Bob Baffert. "I feel so bad for Santos, and for his little boy, who had to hear all this. After everything that's happened, I hope Funny Cide wins the Triple Crown."



Copyright © 2015 The Blood-Horse, Inc. All Rights Reserved.