Empire Maker Will Await Belmont Stakes
by Steve Haskin
Date Posted: 5/8/2003 3:43:13 PM
Last Updated: 5/10/2003 6:49:45 PM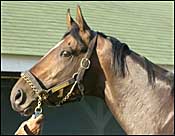 Kentucky Derby runner-up Empire Maker, awaits Belmont Stakes.
Photo: Anne M. Eberhardt

Juddmonte Farms' Empire Maker, runner-up in the Kentucky Derby, will not not run in the Preakness, and will go straight to the Belmont Stakes, trainer Bobby Frankel said Thursday morning."The owners didn't want to run," Frankel said. "They'd rather wait for the Belmont, which is fine. There's no sense throwing him back in two weeks. I'll come to New York on Saturday night, and after I check out the horses I'll decide whether to run Peace Rules or Midas Eyes in the Preakness. They have the same owner, so I won't run them both. I'll see who is training better."Empire Maker got the best speed figure in the race. They gave him a 2 1/2. He's the best 3-year-old, there's no doubt in my mind. Why come back in two weeks when you don't have to? There's the Belmont, then the Travers. If I didn't have the other two, it might be a different story."If Frankel decides to run Peace Rules in the Preakness, he'll likely run Midas Eyes, winner of the Swale and Derby Trial, against older horses in the Metropolitan Handicap.



Copyright © 2015 The Blood-Horse, Inc. All Rights Reserved.