Big Yellow Taxi
Date Posted: 5/6/2003 10:24:32 AM
Last Updated: 5/6/2003 10:35:54 AM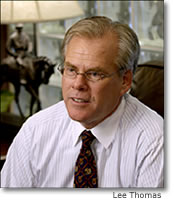 Ray Paulick
Editor-in-Chief


By Ray Paulick -- To most people, it looked like a big, old school bus. But to Dave Mahan and his partners in Sackatoga Stable, along with the four dozen or so family and friends who accompanied them to the Kentucky Derby, it was a "yellow stretch limousine." The school bus may not have compared favorably to the dozens of luxury coaches lined up in the Churchill Downs parking lot. But its passengers were a different breed, too; racing enthusiasts who combined a few thousands dollars apiece with a bigger-than-life dream, and then walked off with the most cherished prize in racing. The owners of Funny Cide already felt as though they'd hit the big time, even before the starting gate for the 129th Kentucky Derby opened at 6:08 p.m. on May 3. There they were, a growing coterie of friends who bought a handful of Thoroughbreds to have some fun, sitting alongside racing royalty in the owners' boxes at Churchill Downs. To their left was three-time Derby-winning trainer Bob Baffert. To their right, Saudi Prince Khalid Abdullah, owner and breeder of the regally bred favorite, Empire Maker, and architect of one of the world's most formidable racing and breeding operations. Behind them was Hall of Fame trainer D. Wayne Lukas, with four Derby wins under his belt, along with two-time Derby-winning owners Bob and Beverly Lewis. As the horses began to enter the starting gate, Abdullah sat calmly and focused his binoculars toward the top of the stretch. Lukas stood confidently alongside his clients. Baffert gazed at the television in front of him. Sackatoga Stable shareholder Gus Williams, jammed into a box with partners and friends like sardines in a can, stood nervously, sweating at the brow. Only a few minutes earlier, Williams, resplendent in a "lucky" sport jacket covered in a bright yellow and blue plaid, had made a side bet with a fellow wearing a black derby in a neighboring box: horse for horse, jacket for hat. As the field broke from the gate and the mile and a quarter race unfolded, the aura of the Sackatoga box turned from nervousness to amazement. Funny Cide, getting a picture-perfect ride from Jose Santos, made his move toward the lead at the top of the stretch, overtaking Peace Rules and then holding off the anticipated charge from Empire Maker. The box erupted in unbridled joy. Funny Cide, a New York-bred gelding winning for the first time in open company, made Cinderella the belle of the ball. In so doing, he gave hope to the "little guys" of the horse business--as the winning owners like to describe themselves--that dreams really can come true. In the previous three years, the Derby had been won by a wealthy Saudi prince, an Oklahoman who'd struck it rich in natural gas, and a Japanese businessman who spent $4 million at a yearling auction on one horse. Those wins were exciting, and may have been inspiring to people with deep pockets and a driving ambition to compete in the sport's biggest events. But those Derby triumphs can't help sustain the dreams of a one- or two-horse stable pinning its fortunes on a miracle the way Funny Cide's Derby victory will do. This win will give renewed hope to every small stable and to many prospective owners who may have felt the game wasn't for them. And state breeder programs, from New York to New Mexico, also will benefit from the victory. However, even though the horse's ownership group may be modest in its financial resources, the Sackatoga Stable approach is a professional one. The purchase of Funny Cide was based on the recommendation of trainer Barclay Tagg, and the owners deferred to the experience and wisdom of their veteran conditioner in mapping out both his 2- and 3-year-old campaigns. If the victory was one for the "little guys," it was for the little guys who take an intelligent approach to the game. Those weren't bozos on the bus.



Copyright © 2015 The Blood-Horse, Inc. All Rights Reserved.