The Morning After: No Excuses, On to Baltimore
by Ron Mitchell
Date Posted: 5/4/2003 9:56:34 AM
Last Updated: 5/5/2003 8:53:26 AM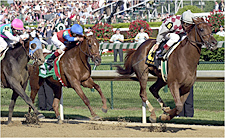 Funny Cide, drawing off to win the Derby.
Photo: Mike Corrado

One day after Funny Cide upset the Kentucky Derby at odds of nearly 13-1, his trainer said the New York-bred gelding came out of the race unscathed and will move on to Baltimore, Md. to contest the Preakness Stakes on May 17."He's fine, he did not get run down," Tagg said Sunday morning, while entertaining questions from the media. Funny Cide, who had shipped into Louisville in mid-week, shipped back to New York shortly after 7:00 a.m. Sunday.The 65-year-old Tagg, who previously based his stable in Maryland before relocating to New York a year ago, said there is no likelihood of the Sackatoga Stable ownership selling the 3-year-old son of Distorted Humor to an owner who would like to pursue a Triple Crown bid of winning the Derby, Preakness, and Belmont Stakes."Who knows how much a gelded Triple Crown winner is worth?" Tagg speculated. "But this group wouldn't consider selling him, no matter what. "I was offered $150,000 for him once, and they said never come to them with any more offers because he was not for sale."Funny Cide is one of five or six Derby horses going on to the may Preakness, which could draw another three or four non-Derby starters. According to Pimlico Racecourse officials Sunday morning, the race is also expected to include at least one Bobby Frankel trainee, most likely Peace Rules and possibly Midas Eyes; Coolmore Lexington Stakes winner and Derby 11-th place finisher Scrimshaw, trained by D. Wayne Lukas; Eye of the Tiger, the Jerry Hollendorfer-trained Derby fifth-place horse; Santa Anita Derby winner Buddy Gil, sixth in the Derby; and a Bob Baffert-trained horse, likely Indian Express, who was 14th in the Derby.Meanwhile, Frankel, who saddled the winners of three stakes on the Derby Day card and took second and third in the Derby with Empire Maker and Peace Rules, respectively, reported both are fine and each being considered for the Preakness, along with Derby Trial winner Midas Eyes. He would not run two horses in the Preakness, Frankel said, noting "I don't want a dead-heat.""If I had won, it would have been great," Frankel said. "Jerry (jockey Jerry Bailey, on favorite and runner-up Empire Maker) thought he didn't like the track, but we can't use that as an excuse. The better horse won. It was obvious. I came into the race treating it like another race and I am leaving treating it like another race."Noting that he trained Empire Maker a little lighter than he normally would have following the colt's victory over Funny Cide in the Wood Memorial, Frankel said he might have approached his training regimen differently if he could do it over. He also noted that Empire Maker's schedule was interrupted due to a bruised foot but that was not an excuse for his Derby performance."I was thinking Triple Crown," Frankel said of not wanting to work Empire Maker too hard before the Derby. "No excuses, that's not my style. If I could do it all over again, I would I would have done it differently. But it doesn't mean I would have beaten him (Funny Cide) anyway."Bailey, who was at Frankel's barn before the trainer arrived, was convinced that Empire Maker did not take to the track well and had to work harder to achieve his second-place finish."A lot of people don't take into consideration this surface," Bailey said. "Some horses tolerate it and some don't. He worked a lot harder getting over this track than any other track he's run on. It may have looked like he was going to run him (Funny Cide) down but I knew he wasn't going to, considering the effort he gave early in the race."Bailey equated the difference between the Churchill track condition with other tracks by using the example of running on a beach. "Ever run on a beach and notice how it feels where (the surf )has come in and the sand is wet and hard and how loose it is where the beach is dry?"Trainer Wally Dollase said Illinois Derby winner Ten Most Wanted, who finished ninth, will undergo blood tests to determine if he has a virus and that he might consider the Belmont Stakes for his next start. Dollase said an endoscopic examination following the Derby did not reveal any signs of bleeding."I can't believe he ran so poorly and neither can Pat (jockey Pat Day). He appears to be fine, but he is really blah. Maybe it was the stress of the travel or maybe his feet are bothering him."



Copyright © 2015 The Blood-Horse, Inc. All Rights Reserved.