Steve Haskin's Kentucky Derby Analysis: And The Winner Is...
Updated: Thursday, May 8, 2003 2:53 PM
Posted: Friday, May 2, 2003 1:58 PM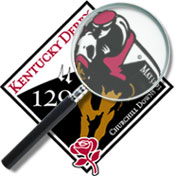 The 129th Kentucky Derby is one of the most perplexing races we've ever handicapped. With all the issues surrounding Empire Maker, there is a pretty good chance there's a big overlay out there just waiting to be snatched up. Finding it, however, is another thing.Right off the bat, it must be said that
Empire Maker
is the most talented horse in the race, and if he handles the starting gate, gets a good trip, is not bothered by his foot bruise, and does not run greenly, there is no reason to doubt he'll win. With that said, he is 6-5 on the morning line (but should go off a bit higher), and we're looking for value.Friday morning, Empire Maker stole a page from his mother's book of follies, by blowing the turn in his gallop. He had his head cocked sharply to the left as he headed around the clubhouse turn, then bolted to the outside fence. Exercise rider Jose Cuevas pulled hard on his left reins trying to get him straightened out, but he again ducked to the outside. Finally, a lead pony came over, and the outrider took a hold of him. It looked as if he tried to release him, but when the colt started to head back out again, the outrider grabbed him and accompanied him the rest of the way around.Frankel laughed over the incident, having been through these kind of antics before with Toussaud, and even Empire Maker, who pulled this same trick before the Florida Derby. "I guess my price just went up to 3-1," Frankel said with a broad smile on his face. "He's really making a soap opera out of this." In analyzing what we've seen here for the past two weeks, we will preface it by saying that no horse could possibly be doing any better for a race than
Ten Most Wanted
. Whether it's works, gallops, schooling, hair coat, enthusiasm, and overall demeanor, the son of Deputy Commander gets extremely high marks. And he's been the most forceful presence out there every morning. In short, he has no flaws, and that's what's so scary. He was made second choice at 6-1, and could very easily wind up going off shorter than that. If we were forced to pick one horse, value or no value, based on all the above factors (with pedigree added), he would have to be the one.But value is what we're looking for, and there are several horses who have a good chance of providing that. It sounds strange to include
Brancusi
among them, being the Blue Grass runner-up only shipped in on Thursday afternoon, and we haven't seen him before this morning. But we've been touting this horse since he broke his maiden, and after seeing him in the flesh this morning, he took our breath away. When it comes to beauty, elegance, and power, he makes show jumpers pale by comparison. He has the size and strength of his sire, Deputy Commander, and the regal bearing of his broodmare sire, Alysheba. A long, battleship of a horse, he is an extraordinary individual. Patrick Biancone had him at 75-80 percent for the San Felipe and Blue Grass, and the colt now looks ready to peak. Of course, he hasn't won a stakes, and hasn't proven he can beat these horses, but that's why he's 30-1.The other horse we've been touting pretty heavily over the past two weeks is
Atswhatimtalknbout
. The son of A.P. Indy has a lot going against him – no starts at two (you remember Apollo, 1882), coming down with two skin rashes, never having won a stakes, getting a major equipment change, and the fact that his trainer has no idea in which direction he's going. We're going to gamble that he's going in the right direction and will destroy that tiresome not-having-raced-at-two commandment. If he's not going in the right direction, he's doing one heckuva good impression of a horse who is. His coat has made exceptional progress in the past two weeks; he's alert and aggressive, yelling at every horse he sees, and turned in a super work in company last week. Before the Santa Anita Derby, you'd have been hard-pressed to get 3-1 on him for the Derby. He was beaten 3 ½ lengths in the Santa Anita Derby, having been on antibiotics for his first skin rash, and now he's 12-1, maybe higher. If he's as talented as everyone believes he was four weeks ago, and you're willing to risk the bucks he can return to that form and buck history, he could turn out to be the overlay of the year. The third big price to consider, at least in the exotics, is
Offlee Wild
. His training has been flawed because of his habit of drifting out in his works, but despite that, his works were strong. And we're told he has done that for most of his career, so it shouldn't be as much cause for alarm as one would think. Remember, we are talking about a big longshot, so you have to accept the flaws if you want to reap the rewards. This colt has a super distance pedigree, and he desperately needed the Blue Grass Stakes. It won't be easy to make up the eight lengths he was beaten in the Blue Grass, but he doesn't have to make up that much in order to hit the board.Now that we have our three longshots out of the way, let's discuss some of the other highlights of the past two weeks. There has been no better galloper, and no horse with a more radiant coat than
Peace Rules
. Another beautiful galloper, who has made great progress in his training, is
Indian Express
. The two sneaky horses who have trained great, way under the radar are
Supah Blitz
and
Lone Star Sky
. We can't play everyone, but if you already like either one of these two megabombs, rest assured they are training super. If you give
Funny Cide
a shot, but are concerned he can't get the distance, he is a long-bodied, distance type horse with a bottom line to die for. If he tires, it'll be because of the pace, not his distance capabilities. And finally, the horse who has developed the most physically, and has become more aggressive by the day is
Buddy Gil
. Are you confused enough yet? Don't worry, we still haven't gotten to the bottom line.Not knowing how fast the pace will be, you'll have to guess it'll be tolerable if you plan on betting Peace Rules, Funny Cide, or Indian Express. If it's slow, they will be tough to crack, as all three have shown they are tenacious fighters. Of the three, Peace Rules has to be given the best chance, based on his proven class and ability to win major stakes.Empire Maker and Ten Most Wanted will not be any value betting to win, but both have to be included in just about all exactas and trifectas. The big value on win bets are Atswhatimtalknbout and Brancusi, with both colts, along with Offlee Wild, live horses in the exotics. And the horse you really cannot leave out of your bets is Buddy Gil. This is the street brawler of the field, and he did show a big turn of foot on the far turn in the Santa Anita Derby. If you feel he's a decent price, go for it. You'll at least have the comfort of knowing he's going to run his heart out for you.You can play around with these six horses in the exotics, and check the odds to determine how much to bet to win, and on whom. So, once again, the most impressive horse training up to the race, regardless of price, is Ten Most Wanted. The horse most likely to finish in the money (with a big chance to win) is Buddy Gil. The megabomb to at least hit the board is Offlee Wild. And, the two win bets for a big price are Atswhaimtalknbout and Brancusi. Finally, we'll narrow it all down to that one value win bet. Being we haven't seen Brancusi in person until this morning, we have to go with the horse who has exhibited all the right signs, physically and mentally, and who has shown the most improvement over the past two weeks. We will bid farewell to Apollo and pick Atswhatimtalknbout. Did I actually just pick a horse with that name to win the Kentucky Derby?
FREE! E-Newsletters from The Blood-Horse!...
Follow the top stories of major racing events, racing previews and results with FREE e-newsletters from bloodhorse.com. As news develops, we'll deliver updates to your inbox. Follow important events moment by moment, step by step!