Not Running Through Hoops
Date Posted: 4/29/2003 11:09:24 AM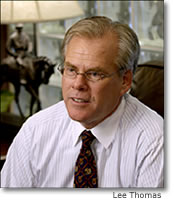 Ray Paulick
Editor-in-Chief


By Ray Paulick -- Precisionist, one of this year's inductees into the National Museum of Racing and Hall of Fame, didn't start in the 1984 Kentucky Derby (gr. I). His breeder and owner, the late Fred Hooper, decided after a second-place finish in the nine-furlong Santa Anita Derby (gr. I) that the mile and a quarter in the Run for the Roses might be too far for his son of Crozier. What a refreshing admission. How many present-day owners would pass up the Derby with a horse that lost his final prep race by only 1 1/4 lengths? Hooper had already won a Kentucky Derby, capturing the race in 1945 with Hoop, Jr., the first Thoroughbred he ever owned. He was not one to put a horse in a spot where he didn't think he could win. Of the more than 100 stakes winners bred at his Hooper Farms in Florida, only three started in the Derby: Olympia, the 4-5 favorite who finished sixth in 1949; Crozier, second at 7-2 in 1961; and Admiral's Voyage, ninth at 12-1 in 1962. Precisionist stayed in California in the spring of 1984, contesting the Spotlight Handicap at Hollywood Park on the same afternoon as the Kentucky Derby. Precisionist ran sixth in the Spotlight in his second career grass start. Two races later, Precisionist proved to Hooper that he could get 10 furlongs, running off to a 10-length victory in the Swaps Stakes (gr. I) at Hollywood. It was one of three graded stakes victories for Precisionist at America's classic distance. The flashy chestnut colt had a predictable running style: go to the lead and try to maintain his advantage. He dared others to challenge him on the front end, and many of his opponents couldn't stand the heat. It was not unusual to see Precisionist hang up fractions under 1:09 for his first three quarters of a route race. In November of 1985, after more than four months on the sidelines, Precisionist earned his biggest paycheck ever, winning the $1-million Breeders' Cup Sprint (gr. I) at Aqueduct by three-quarters of a length over Smile and Mt. Livermore. Trainer Ross Fenstermaker did a masterful job of getting the horse ready for that six-furlong engagement. The win earned Precisionist an Eclipse Award as best sprinter. The following year, Precisionist added two more important races to his growing résumé, taking the Californian (gr. I) at Hollywood Park and the Woodward (gr. I) at Belmont Park. That fall, when he retired to stud, the Hooper colorbearer had won 15 stakes from 36 overall starts. Precisionist gave Hooper high hopes when he joined the farm's stallon roster in 1987. But those hopes quickly faded when he failed to impregnate any mares during his first year at stud. After the 1988 breeding season when he got one mare in foal, he was put back in training, joining the barn of trainer John Russell in Southern California. He ran 10 times that year, winning three races, including two stakes at Del Mar, before being retired permanently with a record of 20 wins from 46 starts and earnings of $3,485,398. He sired just three more foals--two in 1990 and one in 1991. His fertility problems were never clearly identified. Could Precisionist have wired the field in the 1984 Kentucky Derby, a race won by Swale? Possibly, especially since the Derby's six-furlong fraction of 1:11 4/5 (set by the filly Althea) was slower than that same split in any of Precisionist's career starts. Greatness often can be found in the Derby, America's most famous horse race. But the grueling race also can end a promising horse's career if he doesn't belong or isn't bred to get the distance. Sometimes not running in the Derby is the right thing to do--especially for the benefit of the horse.



Copyright © 2015 The Blood-Horse, Inc. All Rights Reserved.