Steve Haskin's Kentucky Derby Report: Barbarian at the Gate?
Updated: Thursday, May 8, 2003 11:03 AM
Posted: Thursday, April 24, 2003 2:39 PM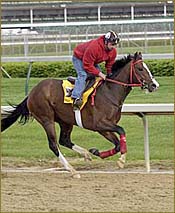 Photo: Anne M. Eberhardt
Sir Cherokee, checks out Churchill Downs Thursday.
It was an important morning for Empire Maker and trainer Bobby Frankel, as the Derby favorite went out for his much-anticipated schooling session in the gate. Known for his erratic gate behavior, the son of Unbridled provided a few anxious moments, but in the end passed his test in fine style.Jockey Jerry Bailey showed up at Frankel's barn shortly before the renovation break to go over a few details regarding post position draw. They then drove to the end of the grandstand and walked the short distance to the starting gate. As Empire Maker galloped twice around under Jose Cuevas, Frankel and Bailey discussed the colt's temperament with starter Roger Nagle and filled him in on how to handle him.Empire Maker is a colt who has to be allowed to go in the gate on his own terms. What has proved most effective in the past is having two assistant starters behind him to coax him in without forcing him. If you try to bully him, you're in big trouble.When Empire Maker galloped around for the second time, a surprised Bailey said, "Is that him already? He got around there awfully fast. I should have had my watch on and timed him."Although Empire Maker galloped beautifully and never raised a hair, when Cuevas brought him to gate with the pony, the colt immediately began to lather up on his neck. It looked as if the gate was the last place he wanted to be, as he balked, then threw his head up and started to lean all over the pony. "Get him away from the pony," Frankel told Cuevas. "I don't want him getting kicked."As the assistant starters headed over for another try, Cuevas gave the colt a reassuring pat on the neck, while one of the assistant starters gently stroked his forehead. By now, he was fully lathered on both sides of the neck. "Turn him to the right," Bailey suggested.With two assistants at his back and the one up front, they coaxed him slowly to the gate and did their best to let him know that he was the boss. He walked calmly up to the gate, lashed out once with his hind leg, then walked in perfectly. They brought him out and tried again. After another episode like the first, he again stopped and lashed out. "He just wants to be stubborn," Frankel said. After a few seconds, he walked right in. They tried several more times, backing him out and walking him immediately back in, and each time he went in beautifully. "I think we finally got him," Nagle said."See, if you do the right thing and coax him in from behind, he's fine," Frankel said. "That's all you gotta do. I'm not worried. He'll be fine. You just have to bring him up here to these guys so they'll know that you tried, and then
they'll
try a little harder. They understand him now. They were happy with him, and I don't have to bring him back anymore."Bailey then finalized one last detail with Nagle. "Roger, do you want me to bring him up as close as I can with the pony?"Yeah," Nagle said. "If you put any pressure on him at all, he don't like it."So, all in all, it was an eventful, but productive session. How the colt is going to behave on Derby Day, however, is anyone's guess. If you look back at the Remsen Stakes last year, when he totally lost his cool at the gate, and compare it to the Wood Memorial, when he walked in perfectly after balking for only a few seconds, he has made excellent progress."Just don't rush him," Frankel said. "Don't try to force him; just coax him. When you let him make up his mind when he wants to go in, he'll go in. You can't make up his mind for him. You can give him the signals that it's time to go in the gate, and let him walk up there and look at it. You just can't push him. The first time I took him to New York he wouldn't go near the gate. He'd stop 20 yards away. He's smarter than normal horses. He knows it's not fun going into the gate. But it's just the family. His whole family had quirks. But he's getting better every time. At one time, he didn't even want to go to the racetrack. I'm not worried; he'll be fine. Hey, it wasn't meant to be easy."Not to be outdone by all the attention to his stablemate, Peace Rules galloped right behind Empire Maker and had his rider Tony Graell's arms fully extended and feet in the dashboard. He is the other horse, besides Sir Cherokee, whose coat looks super. Of all the Derby horses, this little tiger of a colt is without question the most aggressive galloper.
Sir Cherokee Makes Appearance
Churchill Downs was visited briefly this morning by Arkansas Derby winner Sir Cherokee, as trainer Mike Tomlinson vanned the colt over from his barn at Trackside training center for a gallop. Sir Cherokee is scheduled to work at home next Tuesday, but Tomlinson just wanted him to get acquainted with the Downs. The son of Cherokee Run is not a big horse by any means, but he is well put together and exudes a look of class. He is very intelligent looking, with a big, alert eye, and is always checking out everything around him. He also is quite striking, with his long blaze, and two white legs in back and one up front.Next Friday, we will have a final column, mentioning all the horses we've seen who have been the most impressive -- in their training, attitude, and overall appearance. We can say right now that we haven't seen a Derby horse on the grounds whose coat looks any better than Sir Cherokee. He galloped very smoothly this morning, and basically is a colt who makes you sit up and take notice.
One Horse Instills Fear in Some
There is one horse whom several horseman, including one very prominent trainer and jockey, have said they are afraid of. Sorry, but we're going to tantalize and tease you with this one for a while. We'll keep our ears open for more such comments and will reveal the identity of the mystery horse at a later date.
Atswhatimtalknbout Eats His Greens
Atswhatimtalknbout went out to graze just before 10 a.m. and couldn't get enough grass, which is extremely long and lush this year. With no grass on which to munch at Santa Anita, the son of A.P. Indy tore through it, ripping out chunks of dirt, which trainer Ron Ellis had to pull out of his mouth. He even started in on the bushes. The nasty skin rash that broke out on his body before the Santa Anita Derby, and the minor one that erupted on his neck during the trip to Kentucky, have dried up, but have left their mark. All they've managed to do now is hide the brightening coat that is peaking out from behind them.
Ten Most Wanted on the Bit
When Wally Dollase went to walk Ten Most Wanted yesterday afternoon, he couldn't believe how the big colt was dragging him around the shed after turning in a sharp 7-furlong work earlier in the day. "I think I may have to jog him tomorrow," Dollase said. "That work didn't take anything out of him."This morning, Dollase tried walking him again, and about halfway through, his limp arms convinced him to go ahead with his original plan. So, he had exercise rider Enrique Alferez get up on the colt and give him a little jog up the chute.
Lukas the Psychiatrist?
It's looking more and more like Wayne Lukas is leaning toward running Ten Cents a Shine, badly beaten in his last three starts, in the Derby. Lukas said the colt had a tooth problem and some other problems of a mental nature that he's taken care of. Owner Ken Ramsey apparently has left the decision strictly up to Lukas.With rain predicted for later today and tomorrow, Patrick Biancone said he'll move his schedule back and van Brancusi to Churchill Downs tomorrow afternoon and work him Saturday. Frankel likely will work Peace Rules on Saturday, and Empire Maker on Sunday. Atswhatimtalknbout also is scheduled to work Sunday, with David Flores catching the red-eye after the races Saturday. The colt probably will work in blinkers and in company with a horse trained by Al Stall, who also has horses for owner B. Wayne Hughes. Supah Blitz was scheduled to leave Calder by van today, and w
FREE! E-Newsletters from The Blood-Horse!...
Follow the top stories of major racing events, racing previews and results with FREE e-newsletters from bloodhorse.com. As news develops, we'll deliver updates to your inbox. Follow important events moment by moment, step by step!