Steve Haskin's Kentucky Derby Report: Baffert Goes Solo As Duo Works
by Steve Haskin
Date Posted: 4/23/2003 1:20:20 PM
Last Updated: 4/23/2003 4:53:21 PM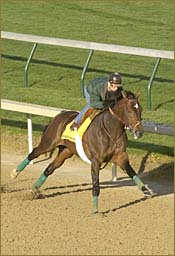 Illinois Derby winner Ten Most Wanted impressed jockey Pat Day with this workout.
Photo: Anne M. Eberhardt

Down the empty rows of boxes, the snow-capped peak of Bob Baffert could be spotted well off in the distance. But something was wrong with this picture. Racing's most familiar milky mop usually is accompanied by a string of followers. But not today -- no owners; no racing or farm managers; no family or friends. Today Baffert strutted through the box area by himself."What do you expect when you have two 30-1 shots?" Baffert said.Although Baffert exaggerated his lack of ammunition in Kentucky Derby 129, when you've won three Derbys in six years, along with a second and two thirds, you have a tendency to set high standards for yourself.Most trainers would kill to have two horses of the caliber of Kafwain and Indian Express, but Baffert is a realist, and he knows his horses will have to turn in sensational, career-best performances to provide him with his fourth Derby victory. That doesn't mean, however, that Baffert is just at the Downs to go through the motions. He believes Kafwain has the courage and toughness to at least finish in the money. And he believes Indian Express' dramatic improvement and natural athletic ability is enough to take the field on a merry ride. Well, if you can finish in the money, and you can take the field a long way on or near the front end, then you have a chance to win. That is Baffert's main hope in what is pretty much a wide-open race, with the exception of the big favorite, Empire Maker.Normally, when a Baffert horse works for the Derby, the result is always the same – a good, strong, fast work. But for the first since his initial invasion of Churchill Downs with Cavonnier in 1996, Baffert had some concern how his horses would work. Kafwain had missed nine days of training after the Santa Anita Derby with a nagging, low-grade infection, and this was his first work since the race. In addition, he was a "lazy dude" in the morning.Indian Express had always been a notoriously bad worker, and even had Gary Stevens shaking his head one morning prior to the Santa Anita Derby after he virtually bolted on the turn. When Stevens dismounted, he kidded with Baffert, suggesting he run the horse in the Tijuana Derby instead. The next time Stevens saw Indian Express, he was aboard Buddy Gil in the Santa Anita Derby and staring smack into Indian Express' eye at the wire. What made Indian Express even more difficult was that he wouldn't let anyone put blinkers on him, because he didn't like to have his ears touched.Baffert had brought two horses to Churchill Downs for the express purpose of serving as workmates for Kafwain and Indian Express. But both colts were in such desperate need of a sharp work, Baffert decided to work them in company. The sight of two Derby horses working together was something you just don't see.Baffert had Dana Barnes on Indian Express and Sal Gonzalez on Kafwain. The pair broke off at the seven-eighths pole, which is midway on the clubhouse turn, with Indian Express, on the inside, a length in front of Kafwain. Baffert was hoping for more water on the track, feeling it was a bit on the dead side. After opening fractions of :12 3/5, :25 1/5, and :37 4/5, Indian Express still maintained a length lead. Baffert told Barnes to pick it up and Indian Express went the next two eighths in :12 flat and :11 4/5. Kafwain was unable to keep up and dropped almost three lengths back. "Don't worry, he'll come on," Baffert said. As if on cue, Kafwain began to narrow the margin and pulled on even terms with Indian Express as they turned for home.Indian Express kept a neck to a half-length margin on Kafwain. Although they were finishing pretty much together, Indian Express was going much easier of the two, as Gonzalez was pushing pretty good on Kafwain. Barnes, however, was letting Indian Express do everything pretty much on his own. After 5 furlongs in 1:01 3/5 and 6 furlongs in 1:13 4/5, the pair finished their final eighth together in :12 1/5, completing the 7 furlongs in 1:26, with Kafwain's time a tick faster, because he broke off a length behind. "Look how hard Kafwain tries," Baffert said, as the son of Cherokee Run dug down and inched closer to Indian Express. "Keep going out strong past the wire...both of you," Baffert said over his walkie-talkie. The two galloped out a mile in a solid 1:39 3/5.Both colts needed this work desperately. For a bad workhorse, Indian Express sure looked sharp and was much more in hand down the stretch than Kafwain, who obviously needed the work even more than Indian Express.Shortly after the work, two of Baffert's horses came charging down the stretch, working in company, and hit the wire together. When asked who they were, Baffert said they were the two horses he had brought as workmates for Kafwain and Indian Express. No use having them go to waste.As Kafwain and Indian Express were finishing up their work, Ten Most Wanted, under Pat Day, was breaking off at the six-furlong pole for his seven-furlong work, finishing up an eighth past the wire. This big, powerful colt has such a smooth way of moving, and gobbles up ground with humongous strides. With a quick half from the half-mile pole to the wire in :47 3/5, Ten Most Wanted crossed the finish line in 1:11 4/5 then continued around the turn, hitting the seven-furlong pole in 1:25 3/5 before galloping out a mile in 1:38 2/5. The Churchill clockers timed both moves for 6 furlongs, but they both were 7-furlong works.Trainer Wally Dollase said he'll come back with a half-mile work next week. There is a great deal of optimism in the Ten Most Wanted camp, especially by Day, as the big colt seems to be coming up to the Derby as good as Dollase could hope. Ten Most Wanted can be aggressive sometimes around crowds and in competition, so Dollase said he's planning to school him in the paddock on several occasions to make sure the colt adapts to the new surroundings and the frenzy of Derby Day.A visit with Arkansas Derby winner Sir Cherokee at his home at the Trackside training center, a few miles from Churchill Downs, revealed a laid-back colt who loves to eat and sleep. Right after his daily brunch, he normally sprawls out in his stall and starts snoring away. He even had to be awakened from a sound sleep to go to the paddock for the Arkansas Derby. This morning, he was half asleep as he stood in the middle of his stall. He then came up to the webbing, ripped into his hay rack for a while, gobbled up his feed, then returned to the same spot and once again stood there droopy eyed, half asleep. When he is awake and alert, you are immediately drawn to his big, bight eye.Trainer Mike Tomlinson made arrangements this morning to van the colt to Churchill Downs Thursday, where he'll be put up in Barn 42. He'll then go out at 8:30 for a 1 ¾-mile gallop, just to get acquainted with Churchill Downs. He'll work at home next Tuesday, then probably van one more time to Churchill for another gallop.Baffert said this morning that Senor Swinger, who had his first turf work yesterday, likely will make his grass debut in Friday's Crown Royal. Tuesday's two workers, Buddy Gil and Atswhaimtalknbout, returned to the track this morning for some light exercise. Empire Maker and Peace Rules just walked the shed, and will school at the gate tomorrow morning. They're scheduled to have their only work on Sunday.



Copyright © 2015 The Blood-Horse, Inc. All Rights Reserved.