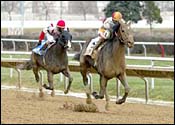 Empire Maker/Bobby Frankel; Unbridled-Toussaud, by El Gran Senor
Frankel couldn't have scripted the Wood any better. A perfect prep in every way – light training, outside post, first time in the mud, closed in solid fractions, and he was merely toying with Funny Cide. Just needs to mature mentally a bit more, especially at the gate and to a lesser degree with his leads. Hasn't beaten any of the top contenders, but Funny Cide does provide a good line with Peace Rules and Kafwain. Bailey has to make sure he doesn't take on his stablemate too early or the favorite will be in for his first major scrap.2--Peace Rules/Bobby Frankel; Jules-Hold to Fashion, by Hold Your Peace
Visually, that was the best-looking :40 2/5 final three-eighths we've seen. Hard to believe he closed so slowly, but the track was dead in route races. Just glides along on the lead, then switches to another gear when challenged. He's the one horse who could pull a War Emblem. Biggest knock is that front-running Blue Grass winners do not win the Derby, at least not in the last couple of decades. The talent and toughness are there, but we'll have to see what he does when challenged early.3--Ten Most Wanted/Wally Dollase; Deputy Commander-Wanted Again, by Criminal Type
One of the few horses this year to put in a strong final furlong, coming home in :12 2/5 in the Illinois Derby. Improving rapidly and bred to run long. Only question surrounding him is how he'll do against better quality horses. He has the looks, the pedigree, and the running style to pose a major threat on Derby Day. And Dollase could have the Derby gods on his side. Everything hitting on all cylinders right now.4--Brancusi/Patrick Biancone; Deputy Commander-Treize, by Alysheba
Biancone was just looking for a good prep and another step forward, and that's just what he got. Made a grand appearance in the paddock and post parade. Does everything like a pro and is just a classy-looking individual, with a pedigree to run all day. Had to be ridden out of the gate to get position from the outside, and ran hard to the wire, finishing well clear of the others. Just wasn't ready to beat a horse like Peace Rules over a notorious inside speed-favoring track. Would like to see more punch in the final furlong. Don't know if he's good enough right now, but the feeling is that it's worth a few bucks to find out. The bottom line is, we just like this horse.5--Kafwain/Bob Baffert; Cherokee Run-Swazi's Moment, by Moment of Hope
Baffert said he came out of the Santa Anita Derby with a low-grade temperature, which could very well have been the reason he ran on the dull side. Baffert also said he was very quiet that day. Sire's distance ability got a boost in Arkansas Derby, as Sir Cherokee sure looked like a mile and a quarter horse. It is very possible he will not be effective at 1 1/4 miles, but with his class and consistency, running against top competition since last summer, you have to at least give him a chance to prove he can't go that far. He's run twice in grade I stakes at 1 1/8 miles and was beaten less than three lengths each time.6--Sir Cherokee/Michael Tomlinson; Cherokee Run-La Cucina, by Last Tycoon
Sure, the Arkansas Derby had fluke written all over it, but we can't get that :11 3/5 final eighth out of our head, and the sheer power of that stretch run. Not used to that this year. Granted, the blistering pace set it up for him, but no one else in the field closed at all. Horses running 2nd, 3rd, and 4th finished in the same order. And Eugene's Third Son wasn't stopping, coming home in :12 and change. He's already run big at Churchill in top company, and is a different horse when allowed to drop back and make one run.7--Buddy Gil/Jeff Mullins; Eastern Echo-Really Rising, by For Really
With the list of contenders dwindling after this past weekend, he's looking better and better, simply because of his consistency, toughness, and grit. But the Santa Anita Derby was such a bizarre race, we still don't know what to make of it. We do know, if there is one horse you want to have in a fight, it's this guy. And he did show a quick turn of foot on the far turn in the Santa Anita Derby, so it is possible he just may be getting good. It sure wouldn't come as a surprise to see him right there on Derby Day.8--Atswhatimtalknbout/Ron Ellis; A.P. Indy-Lucinda K., by Red Ransom
Another Santa Anita Derby guess horse. Have to decide which way he's going. He could be shot after five hard races this year or he could have simply needed a dull effort to recharge the batteries. The prediction here is that he's going to look great in the weeks leading up to the Derby, and people are going to start flocking back to the bandwagon. Although we normally would dismiss him, especially considering he's never won a stakes, when envisioning the Derby field turning for home, we can't help but see him flying down the stretch. Right now, that vision is based on nothing but gut feeling, so let's just see how enthusiastic and aggressive he is over the next few weeks and how much his coat progresses leading up to the race. Still cannot imagine a horse with that name winning the Derby, but maybe times are changing more than we know.9--Funny Cide/Barclay Tagg; Distorted Humor-Belle's Good Cide, by Slewacide
Hard to tell if Tagg was happy or unhappy having to go to the Derby with this New York-bred gelding. "If he hadn't run as well as he did, it would have taken the pressure off of going to the Derby. Now we have to go." You gotta love it. He's always questioned his ability to get 1 1/4 miles, but now feels the distance will help him. His female family is as good as it gets for stamina, and is loaded with classic Darby Dan blood. He's a game horse on the lead and doesn't give up without a fight, and we liked the way he rated behind New York Hero. Each race has been a big improvement over the previous one. Hmmm, starting to like him more as we're writing this.Continued...