One Head Better Than Two
by Ray Paulick
Date Posted: 4/15/2003 10:22:35 AM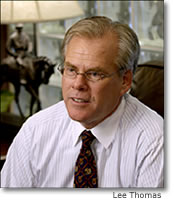 Ray Paulick
Editor-in-Chief


How in the world will racing's efforts to develop uniform medication rules and drug testing procedures ever succeed if the regulators who draft and enforce those rules are themselves divided into two separate camps? Since 1997, when the North American Pari-Mutuel Regulators Association was formed as a splinter group of the Association of Racing Commissioners International, the racing industry has had to deal with two national regulatory bodies, two databases for licensing information and official rulings, and two visions of where the business is heading. It is absurdity at its worst. In recent weeks, organizations representing three breeds have issued statements urging NAPRA and RCI to resolve their differences and unify under one umbrella. The calls came from the American Quarter Horse Association, the United States Trotting Association, and the National Horsemen's Benevolent and Protective Association, the latter representing Thoroughbred owners and trainers in numerous states. If they thought it would do any good, other groups surely would issue similar pleas. The calls for unification were timely. Over the weekend of April 12-13, NAPRA members were holding their annual spring meetings in Richmond, Va. Two weeks later, RCI members will conduct their annual convention 3,000 miles to the west in Seattle. Could they get any farther apart? There have been efforts to bring the two organizations closer together. In February 2002, representatives from both groups met in Texas to discuss joint model rules. Since then, however, there has been precious little public talk from either NAPRA or RCI indicating a willingness to unify. Privately, RCI has extended an olive branch to its rival organization. At last year's convention, RCI president Lonny Powell said he would try "every high-road approach possible" to unify the two groups. That included appointing a committee of RCI members in December 2002 to work directly with NAPRA to discuss the formation of one national regulatory body. RCI also asked NAPRA to join them in putting on a joint conference in the spring of 2004. NAPRA's response has been disappointing. When the AQHA passed a resolution during its recent annual convention urging the divided regulators to "move forward with due diligence to hold joint annual conventions, combine the national licensing programs, and ultimately the unification of the two organizations," NAPRA executive director Frank Lamb responded with sarcasm. In an e-mail to officials of AQHA and The Jockey Club that since has been widely distributed, Lamb wrote a satirical news article stating NAPRA has called for the "unification of The Jockey Club and the AQHA," so that breeders of both breeds can go to one place for registration. "Having a database for each breed is ludicrous and redundant," he wrote. "We know it is none of our business, but what the hell, it might get us some attention." Lamb's attempt at humor was a misguided and inappropriate slap at the AQHA. In fact, the AQHA and Jockey Club are working very closely together, with both organizations and many of their members benefiting from the relationship. NAPRA exists today because of conflicts by some racing commissioners and commission staff with previous officers and directors of RCI. A new administration is in place at RCI, and the malcontents that formed NAPRA should recognize the folly of continuing along the current path. Uniform medication rules and improved drug testing procedures are vital to the future of horse racing, and that applies to Quarter Horses and Standardbreds just as much as it does to Thoroughbreds. That will not happen as long as there is feuding between the racing commissions that establish and enforce the rules. The time has come for leadership to replace politics in the regulatory arena.



Copyright © 2015 The Blood-Horse, Inc. All Rights Reserved.