Badge of Silver Off Triple Crown Trail After Suffering Fracture
by Steve Haskin
Date Posted: 4/11/2003 8:10:11 PM
Last Updated: 4/12/2003 6:31:44 PM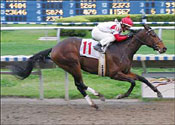 Badge of Silver latest victim of the Curse of 2003.
Photo: AP/Lou Hodges Jr.

The Kentucky Derby lost another of its major stars Friday when Badge of Silver suffered a fractured cannon bone in his right front leg. The son of Silver Deputy, who had romped in his first three career starts before tasting defeat in the Louisiana Derby, would have been one of the favorites in Saturday's Blue Grass Stakes."We brought him down to the paddock to school him, then galloped him a mile and a half," owner Ken Ramsey said. "We had some rain and the track was sloppy, but went ahead and galloped him anyway. He came back sound and everything looked super. That was ten minutes to nine. At ten minutes to three this afternoon they took him out of his stall to graze him and he was noticably lame. X-rays were taken and it showed a hairline fracture of the cannon bone, two to two and a half inches above the fracture he suffered last year. We'll take him to Dr. (Larry) Bramlage, and he'll probably put another screw in."Ramsey, who owns his horses in partnership with his wife Sarah, also lost Nothing to Lose to injury earlier this year, but still has Ten Cents a Shine, who runs in the Blue Grass. "We started out with three, and I guess we're fortunate we at least have one left," Ramsey said. "Now Ten Cents a Shine will have to graduate to about a dollar a shine. "This is devastating to us, and to Ronny Werner, who looked after him like he would his own children. This horse has meant so much to him and to me and my wife. All we can do now is keep a stiff upper lip. I hope I can. We're off to the Blue Grass Dinner right now, and I've got a TV interview scheduled. I hope they don't see a grown man cry. You get so passionate about the game. You spend the money for yearlings and watch them develop, then you get to the eve of the final prep for the Kentucky Derby and something like this happens. There was absolutely no indication anything was amiss."Badge of Silver, whose 2-year-old campaign was limited to one start because of his injury, returned at 3 to win a 6-furlong allowance race at Fair Grounds by 7 lengths in 1:09 3/5. He followed that up with a 10-length romp in the Risen Star Stakes. Sent off as the 6-5 favorite in the Louisiana Derby, he offered a brief challenge before fading to sixth, beaten 5 3/4 lengths. It was believed he had displaced his soft palate, and a myectomy was performed to correct the problem. The colt trained well and appeared to be coming up to the Blue Grass in excellent shape.The Ramseys' last hope, Ten Cents a Shine, is trained by D. Wayne Lukas, and is looking to rebound following poor efforts in the Fountain of Youth and San Felipe Stakes.



Copyright © 2015 The Blood-Horse, Inc. All Rights Reserved.