Steve Haskin's Weekend Analysis: Don't Count Lukas Out of Derby Picture
by Steve Haskin
Date Posted: 4/10/2003 8:24:48 PM
Last Updated: 4/12/2003 2:14:55 PM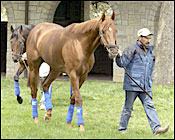 Blue Grass Stakes favorite Peace Rules, schooling in Keeneland's paddock Thursday.
Photo: Anne M. Eberhardt

This weekend's big Derby prep extravaganza looks pretty clear cut on paper, with Empire Maker, Peace Rules, Badge of Silver, Eugene's Third Son, Region of Merit, Man Among Men, and Aristocat expected to dominate the three races. But don't ignore several others, including one D. Wayne Lukas.If there is one thing we've learned so far, it's that nothing on this year's Derby trail is clear cut. And after seeing what Proud Citizen did last year, and the lingering memories of Charismatic and Commendable, there is no way we're going to count Lukas out of any Triple Crown race.Lukas has been on a get-acquainted campaign with his latest addition, Ten Cents a Shine, who runs in the Blue Grass Stakes. Although they haven't as yet developed the kind of relationship Lukas would like, he feels they're a lot more in tune with each other than they were a month ago. Lukas said he's made a lot of headway since the San Felipe disaster, in which the colt stumbled, was wide into the turn, then became rank and ran up on horses' heels before retreating deep into the pack. After all, this is a horse who came from 20 lengths out of it to finish second the Kentucky Jockey Club Stakes."He's gotten bigger and stronger, and has really filled out," Lukas said. "But his phyiscal development is way ahead of his mental development. He's a headstrong horse who wants everything his own way. He bulls his way around, but I think I've won him over in a lot of ways. What he needs is a cowboy like me."Lukas was thinking of running the colt in the Arkansas Derby, but when that field began to swell, the trainer, fearing a bad post, started to consider the Blue Grass Stakes. His only problem was that owner Ken Ramsey already had Badge of Silver in the race, and Lukas felt uncomfortable asking Ramsey to run both his horses in the same race. He called Ramsey, and told him, "I was thinking of running Ten Cents a Shine in the Blue Grass. I know you have another horse in the race, and I just wanted to know how you felt about it."Ramsey replied, "That's why I hired you in the first place, to make these decisions. Why are you calling me?"That was Ramsey's way of telling Lukas he had a free rein to run the horse wherever he wanted. "He's completely left me alone to do whatever I want," Lukas said.So, that brings us to the question, is Ten Cents a Shine good enough right now to win the Blue Grass or even be competitive with horses like Peace Rules and Badge of Silver? Since the San Felipe, the son of Devil His Due has worked 6 furlongs in 1:14 2/5 and a mile in 1:38 2/5. "I know one thing," Lukas said. "This is a true mile and a quarter horse. He's the kind of horse who can rattle off :12 and change eighths for two miles."Lukas said he's not looking to win the Blue Grass as much as he's looking for a good race to get the horse back on the right track for the Derby. By then, he's hoping the two of them will be good friends. And we all know how Lukas' good friends run in the classics.Lukas also is looking forward to running Scrimshaw in the Lexington Stakes. The colt had been suffering from a breathing problem, which affected his performance in the Hutcheson Stakes, but Lukas said he's been doing super after having a procedure done to correct the problem.We know all about the big horses this weekend. But what about some of the lesser known horses who could possibly spring an upset, or at least make their presence felt at a big price. We're looking for a big race from Brancusi, although he is breaking from post 9 and could be in danger of getting hung wide on the first turn, especially with fellow Michael Tabor horse, Lion Tamer, drawing right inside of him. The real big price horse to watch is Crowned Dancer, who ran an excellent race to finish third in the San Rafael Stakes off a 7-month layoff. If he should pull off an upset, that would really throw things out of whack, being he's not nominated to the Triple Crown.While most eyes will be on Eugene's Third Son, Region of Merit, Aristocat, and Man Among Men in the Arkansas Derby, there is one horse who looks like a threat to wire the field if left alone on the lead. That is Cat Genius from Tom Amoss' stable. The son of Western Cat has had a most interesting journey, that has taken him from Mountaineer Park to Arlington Park, and most recently to Delta Downs. His four career victories, by an average margin of almost 8 lengths, have been very impressive, while earning him some powerful speed figures. Although his victories have come at 4 1/2 furlongs, 6 furlongs, and 7 furlongs, he has a ton of stamina in his pedigree.Western Cat, who is by Storm Cat, is out of a Mill Reef mare, and Mill Reef is one of the great classic influences in Europe. Cat Genius' dam, Vidaca, is by Strawberry Road, another major stamina source. Strawberry Road's sire, Whiskey Road, is by Nijinsky II out of Coaching Club American Oaks winner Bowl of Flowers, a half sister to Graustark. Vidaca's dam is by classic influence Pretense, which all adds up to a dosage index of 1.13.Cat Genius' only defeat came in the Kentucky Jockey Club, in which he stumbled very badly at the start and grabbed a quarter, which kept him out for over three months. He returned with a strong performance in the 7-furlong Sportsman's Paradise Stakes at Delta Downs, which he won by 4 1/2 lengths. Finishing third was Crowned King, who came back in his next start to win the Rebel Stakes at Oaklawn at odds of 36-1. If they leave this colt alone on the lead Saturday, he could be long gone.Finally, can anyone beat Empire Maker in the Wood Memorial? We don't know yet what the track condition will be like, but it most likely will be wet if we get the rain that's expected all day Friday. It will be interesting having two gals – Jennifer Pederson and Lisa Lewis – taking him on with New York Hero and Kissin Saint, respectively. And it will also be interesting to see what Bob Baffert has been able to do with Senor Swinger in the short time he's had him. The one undefeated horse in the field, Sky Soldier, is a Penn National-based horse, who won twice at Philly Park before winning the Private Terms Stakes at Laurel by 4 lengths in the mud. Then you've got the New York-breds Funny Cide, who ran a huge race in the Louisiana Derby off a layoff, and Spite the Devil from the Allen Jerkens barn who is another not nominated to the Triple Crown. And finally there is Indy Dancer, who gets blinkers to try to keep him within binocular sight of the field. All of which makes for a fascinating cast of characters.They're also running the California Derby Saturday at Bay Meadows, but the six-horse field came up extremely weak, and we see no reason why Baffert's Apalachian Thunder should have any trouble in here.



Copyright © 2015 The Blood-Horse, Inc. All Rights Reserved.