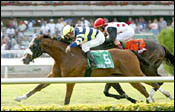 1--Angel On the Wing, Frank Lovato Jr., 116
2--Private Son, Cornelio Velasquez, 116
3--Royal Spy, Robby Albarado, 118
4--Political Attack, Mark Guidry, 116
5--Miesque's Approval, Jerry Bailey, 118
6--Mister Acpen, Shane Sellers, 116
7--Decarchy, Edgar Prado, 116
8--Statement, Eibar Coa, 116
9--Touch of the Blues, Kent Desormeaux, 116
10--Music's Storm, Pat Day, 116
Maker's Mark Mile Day Turns Lexington RedWildcat Blue is the official color of Lexington, Kentucky, but on Friday, Maker's Mark turns Lexington red, when the Maker's Mark Mile is run at Keeneland. More than 3,000 Maker's Mark Ambassadors from more than 28 states have indicated their plans to attend the festivities at Keeneland. Fans are encouraged to wear their best red duds, with a prize of Marker's Mark President Bill Samuels' Churchill Downs box on Kentucky Oaks day for the best dressed. Last year more than 7,000 fans wore red."We want everyone to dress with the understated elegance and class we expect to see at the races--we just want them to do it wearing red," said Samuels.The traditional commemorative bottle signing kicks off Maker's Mark Day at 6:30 a.m.(ET). This year's bottle honor's the 30th anniversary of Secretariat's Triple Crown victory. His owner Penny Chenery and his jockey Ron Turcotte will join Keeneland President Nick Nicholson and Bill Samuels for the signing.