Thursday World Cup Report: Pletcher Supervises Harlan's Holiday's Work
by Richard Griffiths
Date Posted: 3/27/2003 7:43:08 AM
Last Updated: 3/28/2003 7:28:12 PM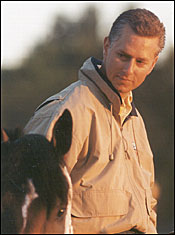 Trainer Todd Pletcher, is in Dubai with Harlan's Holiday.
Photo: Barbara D. Livingston

Only hours after landing in Dubai at 2:30 a.m. local time, Todd Pletcher was at Nad Al Sheba racetrack to watch his World Cup hope Harlan's Holiday work under the lights. Pletcher liked what he saw and reported that the 4-year-old has thrived since shipping in on March 15. "I'm pleased with his progress here. He seems to have had a good preparation and has held his condition. He seems in bright, happy order," Pletcher told Bloodhorse.com. "I think it is very difficult to come here and win," Pletcher continued. "But he seems to be handling the track very well and that's important. The one thing that we are happy about is that he has done his racing on the dirt. No other horse is as proven. I'd say if there is going to be an edge in the race, that is the edge. Nayef is a fantastic horse and it will be interesting to see how he makes to the transition to dirt. Grandera won his prep on it so he also has to be respected and there is a lot of talk about Moon Ballad so it is not going to be easy." Having saddled a runner in Hong Kong, and more recently the Bahamas, Pletcher is an international racing enthusiast with the Dubai World Cup holding particular appeal. "Any time you run in a race of this magnitude -- the worlds' richest race -- there's a lot of excitement. I have followed the race closely since it started and was always keen to have a runner," he said. "It has been in the back of our minds for the last year to run this horse but didn't want to make a final decision until after the Donn. After he won that, things started coming together for us. We knew we might be coming up against two good horses in Congaree and Medaglia d'Oro. Once they both decided not to come, that encouraged us even more." Pletcher is happy with Harlan's Holiday's draw of 10 out of 11. "That's okay. He was posted 11 in the Donn. Moon Ballad is beside us and he could carry us through and allow us to track him. We'd be looking for a prominent position early." Jockey John Velazquez had been due to fly in with Pletcher but instead left New York on Wednesday night. The trainer admitted to reservations about coming because of the war in Iraq, but said: "Obviously everyone's thoughts are on what is going on in Iraq at the moment. It's all people talk about. But all the reports from my staff here were positive and it seems very peaceful. I talked to Kevin Greely (Emirates' racing secretary) who I know well and decided there was no reason to feel uneasy about coming." Owner Tom Van Meter was encouraged by an unusual workout from his Godolphin Mile hope Mr John, another to work early under lights. "He was galloping very strongly which he doesn't normally do. Usually he's a laid back type of horse, but I'm taking it as a sign that he is in good form and enjoying himself," said the Eaton sales boss. "He's doing very well, but he is quirky. Sometimes he races and sometimes he hasn't done so well. I'm hopeful that he will run his race here." On his first visit to Dubai, Van Meter was in as good a fettle as his horse, apart from waking up every night at 2:00 a.m. Van Meter said he had no qualms about travelling to Dubai in the current climate. "I was not afraid to come here. I just felt like anyone, if there were problems with our safety, Sheikh Mohammed would not have agreed to put it on," he said. Speaking at the "Breakfast with the Stars," when a smaller than usual crowd of western racegoers watched some of the contenders for the World Cup meeting work on the track, Van Meter added: "I have been here since Friday and have not detected any animosity at all."



Copyright © 2015 The Blood-Horse, Inc. All Rights Reserved.