Mood Subdued at World Cup Post Position Draw
Date Posted: 3/26/2003 10:39:48 AM
Last Updated: 3/27/2003 9:20:51 PM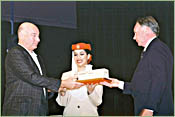 Jack Wolf, left, draws Harlan's Holiday's post position, as Fin Powrie, right, and an unidentified Emirates Airline flight attendant look on.
Photo: AP/Aziz Shah

By Richard Griffiths and
Associated Press
The subdued effect that war with Iraq is having on the $15.2 million Dubai World Cup meeting was evident at the official draw for the big race. A smaller and less starry crowd than usual attended the gathering at the glitzy Jumeira Beach hotel. U. S. runner Harlan's Holiday drew post position 10 in the 11-horse field for the World Cup. Only Godolphin's front-running Moon Ballad is wide of Todd Pletcher's runner. It is also being anticipated that the traditionally lavish opening ceremony on Saturday night will be cancelled because of events in Iraq, whose border is just 500 miles from Dubai's, is having on this year's Dubai World Cup. "It will undoubtedly be a lower key event than what we are used to due to cancellations of foreign tour groups. Our numbers will be down, but we've done everything to tell people that we are aware of these concerns and security will be closely addressed," said Nancy Petch, chief coordinator of the Dubai World Cup. Connections of Harlan's Holiday are hoping that John Velazquez, who partnered him to victory in the Donn Handicap at Gulfstream last month, will take the ride. Velazquez, who has expressed concern about travelling to Dubai and whose wife is due to give birth early next month, is nonetheless scheduled to arrive Thursday, on the same flight as Pletcher. According to Harlan's Holiday's owner Jack Wolf, Pletcher has a contingency list of three jockeys in case Velazquez decides against making the trip at the last minute, although Wolf said he was unaware of who the candidates were. Wolf was unperturbed by the draw, saying: "I don't think it makes much difference. It's fine." Wolf and his wife, Laurie, the owners of Starlight Stable under whose colors Harlan's Holiday runs, arrived in Dubai Tuesday. They said they were not worried about the war, and U.S. State Department travel advisories asking Americans to avoid nonessential travel to the region."We have never missed any of the horse's runs and we were not bothered about the Iraqi war when we flew out," Wolf said. "Some of our friends told us not to go to Dubai because of the war in Iraq but even our children urged us to go to Dubai as they heard it is a safe place," explained Wolf.Three-time group I winner Nayef, installed the 13-8 World Cup favorite by British bookmakers William Hill, drew post position seven."The draw is fine as I didn't want to be completely on the outside," said trainer Marcus Tregoning. "But I really wasn't too worried about the draw as it's not a big field," he said.Nayef, a son of Gulch, won the $2 million Dubai Sheema Classic on turf last year after his owner decided to skip the Dubai World Cup. Nayef has been training in Dubai since last November and will be ridden by Richard Hills, the retained rider of Sheik Hamdan, who won the 1999 Dubai World Cup with Almutawakel.Nayef, with earning of nearly $2.5 million, has not raced since winning the Group One Juddmonte International in August at York, England. Saturday's race will be his first competitive run on dirt.Godolphin's Moon Ballad, the choice of stable rider Frankie Dettori, drew the outside rail, but trainer Saeed bin Suroor wasn't reading too much into that."Moon Ballad has plenty of speed and the draw does not worry us," said Suroor, winner of last year's race with Street Cry.Godolphin withdrew last year's French Derby (Fr-I) winner Sulamani from the main event to run instead in the $2 million Sheema Classic over 12 furlongs on turf, in which he will be ridden by Frankie Dettori. A total of 12 American runners have been declared for the six Thoroughbred races on the card. As well as Harlan's Holiday, they are: Cayoke, Easyfromthegitgo, Grey Memo, Lusty Latin, and Mr John ($1 million Godolphin Mile, dirt); Byzantium, Outta Here ($2 million UAE Derby, 10 furlongs dirt); and Avanzado, Captain Squire, My Cousin Matt, and Xtra Heat ($2 million Dubai Golden Shaheen, six furlongs dirt). The schedule of the four live races to be simulcast on Dubai World Cup Day
is:
9:30 a.m. $2,000,000 Dubai Sheema Classic, 4-Year-Olds and Up, 1 1/2 miles (Turf)
10:10 a.m. $2,000,000 Dubai Golden Shaheen, 3-Year-Olds and Up, 6 furlongs
10:50 a.m. $2,000,000 Dubai Duty Free, 4-Year-Olds and Up, 1 1/8 miles (Turf)
11:40 a.m. $6,000,000 Dubai World Cup, 4-Year-Olds and Up,
1 1/4 miles
(All times are CST)
(All races are Group I)Following are the program numbers (which differ from post position), horses, trainers, jockeys and countries for the $6 million Dubai World Cup:1. Blue Burner,William Mott, Kent Desormeaux (USA)
2. Crimson Quest, Jerry Barton, Alex Solis (Saudi Arabia)
3. Grandera, Saeed bin Suroor, Jamie Spencer (UAE)
4. Grundlefoot, Kevin McAuliffe, Sebastian Madrid (Saudi Arabia)
5. Hans Anderson, Abdullah Mishreff, Wigberto Ramos (UAE)
6. Harlan's Holiday, Todd Pletcher, John Velazquez (USA)
7. Moon Ballad, Saeed bin Suroor, Lanfranco Dettori (UAE)
8. Nayef, Marcus Tregoning, Richard Hills (GB)
9. Sei Me, Jerry Barton, Jose Velez (Saudi Arabia)
10. State Shinto, John Sadler, Johnny Murtagh (UAE)
11. Aquarelliste, Elie Lellouche, Dominique Boeuf (Fr)Following are the program numbers (which differ from post position) and horses for the other three simulcast races from Nad Al Sheba:Dubai Duty Free
(Race # 6)
Prog.
# Horse
1. Blizz Bless
2. Eventuail
3. Imtiyaz
4. Itaquere Power
5. King of Happiness
6. Masterful
7. Naheef
8. Paolini
9. Royal Tryst
10. Sights On Gold
11. St Expedit
12. Ipi Tombe

Dubai Golden Shaheen
(Race # 5)
Prog.
# Horse
1. Abreeze
2. Avanzado
3. Captain Squire
4. Conflict
5. Conroy
6. Crystal Castle
7. Mugharreb
8. My Cousin Matt
9. Nobel Prize
10. Persuasivo Fitz
11. State City
12. Belle Du Jour
13. Xtra Heat

Dubai Sheema Classic
(Race # 4)
Prog.
# Horse
1. Ange Gabriel
2. Boreal
3. Califet
4. Celtic Silence
5. Dano-mast
6. Ekraar
7. Grand Ekinoks
8. Highest
9. Morshdi
10. Nowrass
11. Perfect Sunday
12. Polish Summer
13. Pugin
14f . Sulamani
15f . Well Made
16f . Zindabad



Copyright © 2015 The Blood-Horse, Inc. All Rights Reserved.