Maple, Romero, and Smith Nominated to Hall of Fame
Date Posted: 3/18/2003 9:55:34 AM
Last Updated: 3/20/2003 10:43:00 AM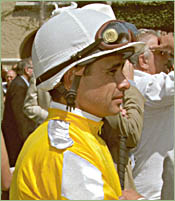 Jockey Mike Smith, finalist for Hall of Fame induction.
Photo: Benoit photos

Retired riders Eddie Maple and Randy Romero, plus Mike Smith, rider of 2002 Horse of the Year Azeri, have been nominated to the National Museum of Racing Hall of Fame. The results will be announced during Kentucky Derby Week, on April 29, at Churchill Downs. Hall of Fame induction ceremonies are scheduled for Aug. 4, at the Fasig-Tipton Sale Pavilion in Saratoga Springs, New York. In addition to the three jockeys, candidates named in other categories for Hall of Fame election are: Trainers: Sonny Hine, Mel Stute, John Veitch; Male horses: Ancient Title, Manila, Precisionist; and Female horses: Dance Smartly, Flawlessly, Sky Beauty.The nominees were selected from many potential candidates by the Hall of Fame Nominating Committee of 14 racing journalists. Voting will be conducted by 151 Thoroughbred racing journalists and historians. Maple, who rode frequently for Woody Stephens and won the Belmont Stakes (gr. I) on Temperence Hill and Crème Fraiche, won 4,398 races and earned more than $105 million. He rode Secretariat in the last race of that great horse's career, winning the 1973 Canadian International.Romero, the regular rider for unbeaten champion Personal Ensign as well as champion Go for Wand, retired with 4,285 wins and earnings of more than $75 million after a quarter-century in the saddle.Smith, whose past regular mounts have included Horse of the Year Holy Bull along with Coronado's Quest, Sky Beauty, and Prairie Bayou, had won 4,169 races and earned more than $150 million through 2002.The late Sonny Hine trained 1998 Horse of the Year Skip Away and sprint champion Guilty Conscience among a career total of 46 stakes-winning horses. Skip Away, a champion for three seasons, won the Jockey Club Gold Cup over Cigar as well as the Breeders' Cup Classic.California-based Stute is still active and won a pair of graded stakes last year with Buffythecenterfold. Stute's first major score came in First Balcony's Californian Stakes 42 years ago, and in 1986 he trained two champions in Snow Chief and Brave Raj. Stute has won stakes with 95 horses, including Breeders' Cup races with Brave Raj and Very Subtle.Veitch, who is training in the United States again after a stay as a trainer in Saudi Arabia, is identified with the resurgence of Calumet Farm in the 1970s. For Calumet, he trained champions Our Mims, Davona Dale, and Before Dawn, as well as the renowned Alydar, which was second to Affirmed in all three Triple Crown races in 1978. For Darby Dan Farm, Veitch trained champion Sunshine Forever as well as Breeders' Cup winner Proud Truth.In the Contemporary Male Horse category, Ancient Title was a durable gelding, based in California, but came East to win the Whitney at Saratoga in 1973. His 20 stakes victories included a sweep of the Strub Series at Santa Anita, as well as the Hollywood Gold Cup. He won 24 of 57 starts and earned $1,252,791. Manila had a winning streak of nine grass course races, including the 1986 Breeders' Cup Turf, and was named the champion male on grass that season. He won 12 of 18 starts, ran second the other six times, and earned $2,692,799.Precisionist, based in California, also was a Strub Series winner who won from coast to coast. He won 17 stakes, including the Woodward Stakes and Breeders' Cup Sprint in the East, and was named champion sprinter of 1985. He won 20 of 46 starts, earning $3,485,398.In the Contemporary Female category, Dance Smartly swept the Triple Crown in her native Canada and then invaded Kentucky to win the Breeders' Cup Distaff in 1991. She won 12 of 17 races, and her earnings of $3,263,836 for a time stood as a record for fillies and mares.Flawlessly was America's champion female on grass in consecutive years, 1992 and 1993. She won both the grade I Matriarch and Ramona Handicaps three years in succession in the West and also won the Beverly D. in Chicago. She won 16 of 28 starts, earning $2,572,536.Sky Beauty won the New York Filly Triple Crown in 1993 and was champion older filly or mare racing on dirt at four the next year. Her other major scores included the Alabama Stakes, Hempstead Handicap, and Go for Wand Stakes. She won 15 of 21 starts, earning $1,336,000.Horses which have been retired for at least five calendar years and last raced within 25 years are eligible for the Contemporary Horse categories. Horses from the more distant past are evaluated by the separate Historic Review Committee.



Copyright © 2015 The Blood-Horse, Inc. All Rights Reserved.