Henryk de Kwiatkowski, Raced Conquistador Cielo, Dead at 79
Date Posted: 3/17/2003 5:40:36 PM
Last Updated: 3/20/2003 10:49:49 AM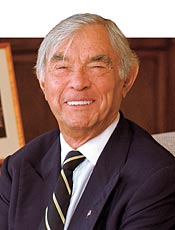 Henryk de Kwiatkowski
Photo: Skip Dickstein

Breeder/owner Henryk de Kwaitkowski, who became a hero of sorts by purchasing historic Calumet Farm at auction in 1992 following a dismal period in the farm's history, died March 17 at Nassau in the Bahamas. His death came a day after his Region of Merit won the Tampa Bay Derby (gr. III). de Kwaitkowski was 79.The New York Times reported that the cause of death was pneumonia.De Kwiatkowski's best horse was Conquistador Cielo. As a 3-year-old in 1982, Conquistador Cielo set a track-record in winning the Metropolitan Handicap (gr. I), then shocked the racing world by coming back five days later to win the Belmont Stakes (gr. I) by 14 lengths. He was voted Horse of the Year and champion 3-year-old male and syndicated for a record $36 million.A native of Poland, de Kwiatkowski prospered in business circles by buying and selling used airplanes. He entered racing in the mid-1970s and quickly rose to prominence. His other top runners included female turf champion De La Rose, millionaire grass filly Sabin, 1986 Belmont Stakes winner Danzig Connection, and 1985 Kentucky Derby (gr. I) runner-up Stephan's Odyssey, plus unbeaten Danzig, who became a leading sire.De Kwiatkowski had developed a love affair with Calumet years before buying it. Informed that the farm was going to be auctioned because of bankruptcy, De Kwiatkowski arrived in Lexington in his private plane from Nassau less that an hour before the auction, ready to bid up to $25 million. He jumped in at $10 million and got the historic farm for $17 million. In addition to the main tract, he purchased another 30 acres for $175,000, and the Calumet name for $210,000."I loved it; the rolling hills, the green grass, the white fences, everything about it," he said. "It was so picturesque it gave me goose bumps."De Kwiatkowski, who had been ill for a while, missed Region of Merit's recent victory. "I just wish he could have been here to see the horse win," trainer Chris Clement said.Services for de Kwiatkowski will be held March 20 at St. Paul's Catholic Church in Nassau. He is scheduled to be buried on his property at Lyford Cay. Plans call for memorials to be held at Keeneland and in New York.



Copyright © 2015 The Blood-Horse, Inc. All Rights Reserved.