Fair Grounds Race Report: New Ruler
by Gary McMillen
Date Posted: 3/11/2003 11:24:14 AM
Last Updated: 5/8/2003 12:16:08 PM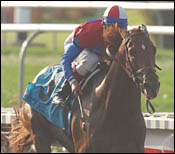 Peace Rules in Louisiana Derby.
Photo: Alexander Barkoff

Published in the March 15 issue of The Blood-Horse
Pulled this way and that, trainer Bobby Frankel had to make a decision with Peace Rules, a stakes winner on the turf that had not started since Dec. 28 but was ready to get out of the stall and do some running. On Tuesday, March 4, the plan was to take the colt north to Golden Gate Fields for the El Camino Real Derby (gr. III). Then the phone rang. It was Fair Grounds racing secretary Mervin Muniz, asking Frankel to come to New Orleans. Racing secretaries can be insistent. Scratch the van. The next day Frankel was making plane reservations. "I had a fresh horse that was training well on the dirt and it just looked like going long was beginning to suit him," Frankel explained. "To be honest with you, I didn't think we could win, but Mervin is an old friend. Sometimes you just have to go with your gut." Never underestimate the power of changing your mind. Owned by Edmund Gann, Peace Rules made Frankel's indecision look like brilliance when he kicked away in deep stretch to win the $750,000 Louisiana Derby (gr. II) by a widening 2 1/4 lengths. At the start, Badge of Silver was away quickly and without any encouragement from his far outside post. Peace Rules, under Edgar Prado, was with him immediately while Funny Cide sprinted out from the inside to secure the rail around the first turn. Kafwain trailed them, but was close up in fourth. Funny Cide, coming off a troubled trip in the Holy Bull (gr. III), was a happier horse from post two and got clear by daylight down the backside. Peace Rules went up to secure the second spot and underscored Frankel's private theory. "I always thought this horse could run well on the dirt, especially with the surface out here which I think favors California grass horses," he said. Prado kept his hands still and high, restraining Peace Rules but edging closer to Funny Cide as the pace quickened. When Funny Cide hit the half in :46.74, Prado stood up taller in the saddle and tried to throttle the urgency of Peace Rules. Going into the far turn, Badge of Silver loomed up close on the outside. Pick and roll. Like a basketball center in the key, Prado let out a notch and Peace Rules angled left and beat Badge of Silver to the punch. Those two went into the stretch on even terms until Badge of Silver put his head in front. Kafwain, ridden by Victor Espinoza, who was navigating the Fair Grounds oval for the first time, rallied from fourth position and was widest of all out of the turn. For a moment it looked like the undefeated Badge of Silver was going to repeat the explosive move he had shown in the Feb. 16 Risen Star (gr. III), but the wise guys who predicted a "bounce" were beginning to grin. Badge of Silver dropped back at the three-sixteenths pole. "I really thought I put that horse (Peace Rules) away when we came up to him," Badge of Silver's rider Robby Albarado said. "But when the running started and I needed a little more from him, it wasn't there today. I still believe in him. He's a good horse." Suddenly clear, Peace Rules cut over to the rail. Prado switched sticks, left to right, and with a wide arc gave his mount three sharp slaps. With no confirmed closers in the field of 10, Peace Rules kept pulling away. Near the wire, Prado tucked it in and Peace Rules' long, sustained run ended in the final time of 1:42.67. "My horse showed a lot of courage," said Prado. "I really liked the way he galloped out. He wasn't blowing hard and that's a good indication he could go farther." The Thoroughbred Corp.'s Kafwain (a name translated as 'stronger' in Arabic) tried to get to the winner but was used up. Trainer Bob Baffert was not happy. "When he (Espinoza) made his move, he gave the horse too much to do," Baffert said. "The horse has got speed. You gotta let him use it if you are going to win these big races. You got to put him into the race because speed was playing well today." According to Baffert, rating Kafwain will be an option as the distances stretch out. "Right now he's the kind of horse that wants to run away from there," Baffert said. "We're slowly figuring out his style. We learn from this race here. Don't guzzle him. He's not a closer. He's a stalker." Numbers, margins, and symbols don't always tell the true story. Sackatoga Stable's Funny Cide, cramped on the rail much of the way, still had some run. The son of Distorted Humor came with a good effort to be third. Fourth-place finisher Lone Star Sky may be a horse to watch. Unable to get the top money since winning the Miller Genuine Draft Cradle Stakes, Walter New's colt is beginning to finish up in his races. After the race, Frankel, who has never won a Triple Crown race, showed no procrastination when it came to outlining the future plans of Peace Rules. "We'll keep him on the dirt because that's where the money is right now." With a veiled reference to the May 3 Kentucky Derby (gr. I), Frankel mentioned there will be one more race, the Coolmore Lexington (gr. II) or Toyota Blue Grass Stakes (gr. I). Rateable LadyCowlick: high at crest of neck on both sides. Left hind: three quarters pastern white. Lip tattoo: 0015942. The Jockey Club foal certificate for the chestnut filly foaled April 5, 2000, by Mutakddim out of Star of My Eye identifies Lady Tak with official clarity. But after an impressive win in the $350,000 Fair Grounds Oaks (gr. II) on March 8, her competition is petitioning for a new handle. The revised name of "Mother Superior" is under consideration. It wasn't that she beat a good field by 3 1/2 lengths. It was the way she did it--with a scary late burst of speed that was breathtaking to watch. "You can't look inside and see how big their heart is," said owner Bill Heiligbrodt. "She's got a big one. I could never have believed they could take her back that far and still win." A smart-looking Lady Tak, white stripe down her face, stood alert in the saddling area, peeking past the groom with an air of interest. Between the next hedge, The Thoroughbred Corp.'s Atlantic Ocean had a more serious presence. The muscular filly Bob Baffert calls an "Amazon" was bigger than the pony that accompanied her to the track. Rebridled Dreams bumped at the break, then recovered to lead five rival sophomores into the first turn. Atlantic Ocean stalked second with a good trip down the backside and seemed well poised to attack. The bargain filly Belle of Perintown raced in a pocket down on the rail as Lady Tak, in fourth position, stayed to her outside. Say that again. Lady Tak restrained in fourth? What's wrong with this picture? She had always shown the speed to pull the jockey out of the saddle, and she had never been farther behind than a length in her undefeated four-race career. Whatever. They stayed locked 1-2-3-4 in those positions midway around the far turn until Donnie Meche decided the waiting was over. He let out a notch on Lady Tak and she came up three-wide to enter the stretch. No more cat and mouse. Pumped up and rolling, Lady Tak was coming home. Two is company; three is a crowd. Passing the three-sixteenths pole, Lady Tak, with an appetite for victory, punched her way through Rebridled Dreams and Atlantic Ocean like they were anchored. Ridden out to the wire in the rapid final time of 1:44.36 for the 1 1/16 miles, Lady Tak offered convincing evidence that she was a router. Trainer Steve Asmussen, was impressed by Lady Tak's commanding performance. "For this filly to be that intelligent to change her style to suit the race at this level of competition, she is more than one in a million." Bred by John Franks, Lady Tak appears headed for the Ashland Stakes (gr. I) at Keeneland and then the Kentucky Oaks (gr. I).(Chart, Equibase)



Copyright © 2015 The Blood-Horse, Inc. All Rights Reserved.