Santa Anita Race Report (Cont.)
Date Posted: 3/2/2003 7:37:13 PM
Last Updated: 3/5/2003 11:23:10 AM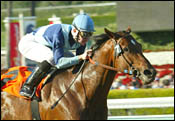 Aldebaran gave trainer Frankel his second grade I win in as many days.
Photo: Benoit photos

Prado had gotten acquainted with Milwaukee Brew at the Breeders' Cup, and his effort in Chicago earned him the call when the San Antonio came up. In the Big 'Cap, he put Milwaukee Brew in the thick of it early. Keeping Congaree, his main threat, at close range throughout, Prado was getting nothing but good vibes down the backstretch. "My horse was running pretty easy all the way around," he said. "He did the same thing the last time I rode him--he was very sharp coming out of the gate. Today I just basically put him in a good position during the race. He was breathing down Congaree's neck." Always just a half-step behind, Prado made sure Congaree didn't break free. Bailey finally turned Congaree loose entering the far turn, dismissing a tired Trompolino in a heartbeat, and when the son of Arazi began to go, Milwaukee Brew went with him. They passed the quarter pole a half-length apart, clocking a mile in 1:35.52, and from there commenced a clash that will go down as one of the best in Big 'Cap history. At first, Congaree seemed to have the upper hand, turning for home with Milwaukee Brew at bay to his right. By the eighth pole, however, his lead had been whittled to just a head, leaving the final furlong to sheer will. Congaree, fighting the notion that 10 furlongs was beyond his scope, refused to back down. Perhaps a five-pound weight differential was the deciding factor. Maybe the Big 'Cap distance gave the edge to Milwaukee Brew. It's anybody's guess, but it certainly made for unparalleled drama. In the last desperate strides, Milwaukee Brew wore down Congaree, striking the wire a head in front. For the second straight year, Kudos wound up third, this time finishing 4 1/2 lengths further back, while Pleasantly Perfect was an indifferent fourth. Bred in Kentucky by Robert Spiegel, Milwaukee Brew got the distance in 1:59.80, much faster than his 2:01.02 performance of a year ago and lending support to Frankel's opinion that the strapping bay is ready for his best year yet. Other numbers, though, weren't quite as enticing. Santa Anita pulled out the stops for this year's Big 'Cap, offering a Microbrew Festival and a free Seabiscuit Audio Bobblehead to fans, not to mention a contentious 11-race card. Nevertheless, just 25,160 made it to witness Milwaukee Brew's run into history. Since the advent of satellite wagering 15 years ago, only the four-horse Big 'Cap of 1998 lured in fewer patrons. When put to the question in the race's immediate aftermath, track proprietor--and Milwaukee Brew's owner--Stronach still managed to see the glass half-full. "We know these people have such a great choice in entertainment, and we have to rethink the racing," he stated. "I mean, with a population base like this, we should have 50,000 here, right? We have to be innovative and get some of that entertainment dollar back. We have to make it exciting." "Maybe it's my fault for scratching Medaglia d'Oro," Frankel chimed in. The comment drew its intended response--laughter--but no one would dare deny its obvious truth. No doubt the all-star son of El Prado would have been worth a few thousand more at the turnstiles if he'd run. Frankel, though, remained true to his conviction--"I'm still not a handicap fan for grade Is," he said--adding that the 4-year-old colt is still on target for the March 29 Dubai World Cup (UAE-I). Milwaukee Brew, conversely, should resurface this summer at Hollywood Park. At Santa Anita, however, his place in the books is permanent--and so is Frankel's. "It's hard to describe it," said Frankel, who joined Mandella, Charlie Whittingham, Ron McAnally, and "Silent" Tom Smith as the only trainers to go back-to-back in the Big 'Cap. "I was real excited last year, but I guess when it's the closest one, you feel a little more excited. Two years in a row..." And hopefully only better things to come.At the Wire
A day after the Santa Anita Handicap (gr. I), Flaxman Holdings' Aldebaran gave Frankel the weekend's other grade I race, pounding five others in the $200,000 San Carlos Handicap at seven furlongs. Given a seamless ride by jockey Jose Valdivia Jr., the 5-year-old homebred son of Mr. Prospector, out of the Private Account mare Chimes of Freedom, swallowed the front runners whole at the head of the stretch, drawing off to score by five lengths in 1:21.53...Aldebaran's half-brother, Good Journey, made his 7-year-old debut in the $400,000 Frank E. Kilroe Mile Handicap (gr. IIT) on Big 'Cap Day, but he couldn't quite catch Redattore. Better than ever at age eight, Redattore won by a length for owner Luis Alfredo Taunay and trainer Richard Mandella. Alex Solis was aboard...While classic contenders Kafwain and Domestic Dispute continue to pace the cage, trainer Bob Baffert unleashed yet another striking 3-year-old, Rojo Toro, to take the $200,000 San Rafael Stakes (gr. II) at a mile on March 1 by a length over stablemate Spensive. A Mountain Cat colt owned by Hal Earnhardt, Rojo Toro is unbeaten in three starts after getting the distance in 1:35.89. He was ridden by Jerry Bailey...A rash of spills in recent days has made for some scary moments. In the last week alone, jockeys Laffit Pincay Jr., David Flores, Victor Espinoza, and Felipe Martinez all managed to dodge serious injury, but Omar Berrio and Joe Steiner weren't as lucky. A beat-up right leg, suffered in a recent grass accident, will keep Berrio out of action till mid-March. Things are far worse for Steiner, who went down hard on Feb. 26, sustaining a broken foot, several facial injuries, and a fractured orbital bone in his right eye that required surgery. He'll be out six weeks. (Chart, Equibase)



Copyright © 2015 The Blood-Horse, Inc. All Rights Reserved.