Steve Haskin's Road to the Kentucky Derby: How The Mighty Have Fallen
by Steve Haskin
Date Posted: 3/2/2003 2:46:00 PM
Last Updated: 3/2/2003 8:15:39 PM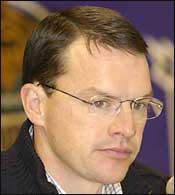 Aidan O'Brien, trains Hold That Tiger.
Photo: Anne M. Eberhardt

Breeders' Cup Juvenile. Champagne Stakes, Hollywood Futurity, Kentucky Jockey Club Stakes, Remsen Stakes, Del Mar Futurity, Arlington-Washington Futurity. Belmont Futurity. Kentucky Cup Juvenile.Even in today's precarious times in Thoroughbred racing, it is alarming that as of late February, the winners of all these leading 2-year-old stakes are already off the Kentucky Derby trail. Most are injured, one proved not up to the task, and one is dead. Only the winners of the Norfolk Stakes, Hopeful Stakes, and Lane's End Breeders' Futurity remain, and the winner of the last two is teetering on the edge of joining the others who have fallen by the wayside. One more setback and Sky Mesa likely will be gone as well. Never before can we remember a crop of 3-year-olds who will have so little 2-year-old form on which to fall back.The Breeders' Cup was hoping the 1 1/8-mile distance change of the Juvenile would finally put an end to the Kentucky Derby jinx. But just the opposite happened. Of the 10 American horses who ran in the race, the only ones still on the Derby trail are second-place finisher Kafwain and 11th-place finisher Lone Star Sky. The rest – Vindication, Bull Market, Most Feared, Listen Indy, Toccet, Whywhywhy, Wando, and Zavata are all gone. And if longshot Lone Star Sky doesn't take a huge leap forward in next Sunday's Louisiana Derby we'll be down to one...assuming Kafwain runs the way he's supposed to.That has left us with a number of lightly raced and relatively unproven horses on the list of top Derby contenders. Most people's Top 10 or Top 20 list include Badge of Silver, Man Among Men, Empire Maker, Senor Swinger, Atswhatimtalknbout, Lion Tamer, Ministers Wild Cat, and Ten Cents a Shine. These eight horses have averaged a total of only 3.3 career starts. The only one who has captured as much as a grade II stakes has never been farther than seven furlongs. Yes, it is scary.And because it is scary, we will turn our attention to the status of Hold That Tiger, as well as the other Ballydoyle horses. Michael Tabor, in the paddock on Fountain of Youth day, insisted, as he did on British TV earlier, that Hold That Tiger would not be pointed for the Kentucky Derby, and definitely will be pointed for the 2,000 Guineas. Aidan O'Brien, on the other hand, said on several occasions that nothing will even be discussed regarding the Derby for any of his horses until the end of March. One thing we've learned about O'Brien is that he likes to leave all options open and is noncommittal in either direction. In short, anything is possible. We went through this with Johannesburg last year and have learned to take nothing as gospel this early in the year. It's not that O'Brien is being evasive; he just does not like to commit to something until it's been thoroughly discussed, and he has been known to change his mind as circumstances warrant it. He realizes that, between his decision, and what Michael Tabor and John Magnier might prefer, it is prudent to keep a tight lid on things until everything is discussed in earnest.Considering the 3-year-old picture this year, we can't conceive why Tabor would discount the Kentucky Derby this early and at least not consider it. After all, he did win the English Derby last year with High Chaparral. Why shoot for the moon for the second time in two years when you have a good chance of reaching another universe? If Hold That Tiger trains forwardly and is able to get enough seasoning, then he should be a major factor at Churchill Downs, and would make for a great story. If he has a burning desire to win the 2,000 Guineas, then that's another matter. But although Hold That Tiger races in Tabor's silks, co-owner John Magnier also has a say in the matter. The fact that Coolmore has nominated several horses for the Lane's End Stakes at Turfway shows they're open-minded about how to go about getting to the Derby. Also, Coolmore does have a plane reserved for Kentucky in late April, something they like to do well advance, and in no way constitutes a commitment. So, even though no decisions have been made, one can sense the troops massing in case an invasion is ordered. If Hold That Tiger stays home and points for the Guineas, waiting in the wings are Van Nistelrooy, Delacroix, and Tomahawk.In short, if Hold That Tiger is being even remotely considered for the Derby, then obviously Tabor knows nothing about it or has his own agenda regarding the statements he makes. The feeling here is, if you have Hold That Tiger in the future book, don't throw your ticket away just yet...at least until you hear it from O'Brien. And you might want to take a gamble and get a big price on him now, just in case. If he doesn't run, so you lose a few bucks. But if he does run...Now back to America and this weekend's races. To keep it brief, of the three big winners – Rojo Toro in the San Rafael, Great Notion in the Southwest Stakes, and Champali in the Battaglia Memorial -- none are really bred to go a mile and a quarter. While all three colts no doubt are very talented, and Champali is as consistent as they come, you're looking at horses with predominantly speed pedigrees. Champali obviously can get 1 1/16 miles, and Great Notion and Rojo Toro can get a mile, but of these three, only Champali has the running style to suggest he can stretch out farther.Another indication is the closing fractions of all three races. Rojo Toro went fast early, with Jerry Bailey trying to restrain him, then came home his last quarter in :26 2/5. Champali tracked a very solid pace in fourth, then after taking the lead, closed his last two fractions in :28 2/5 and :06 4/5. Great Notion had everything his own way on the lead through slow fractions, then closed in a respectable :25 2/5 for the last quarter. By Elusive Quality out of a Dayjur mare, we are talking some serious sprinting speed.One horse who should not be overlooked is Spensive, who has to be admired for his consistency and toughness. Although the long-striding gray once again was defeated, he didn't have the best of trips and was dropping back from a mile and an eighth to a mile. He seemed to have good aim on the winner, but lugging in down the stretch didn't help him, and that is something you don't like to see in an experienced horse. But he always puts in a good move somewhere in the race, and one of these days he's going to get it right and land a big pot. There is some question how far he wants to go, but for every major speed influence in his pedigree there is a major stamina influence to counteract it.Another horse to watch on later is third-place finisher, Crowned Dancer, who was coming off a seven-month layoff and who lost ground on both turns, only to be beaten 3 1/2 lengths.One horse who was very impressive, and does have the pedigree to go long is Cherokee's Boy, who romped in the Deputed Testamony Stakes at Laurel. The son of Citidancer didn't beat much as the 1-2 favorite in a race in which they dawdled the opening three-quarters in 1:14 2/5. But this colt, out of a Cherokee Colony mare, has run with some top-class horses already and could emerge as a legitimate contender.* It was a big weekend for workouts. Empire Maker and Medaglia d'Oro locked horns every step of the way in their 6-furlong drill in 1:12. If Empire Maker responds to blinkers the way Milwaukee Brew has, he should make the Florida Derby very interesting. At Fair Grounds, Badge of Silver turned in a razor sharp 6-furlong breeze in 1:12 3/5 for the Louisiana Derby. At Gulfstream, Senor Swinger stamped his readiness for the Florida Derby with a 1:11 4/5 bullet work at Gulfstream. Bob Baffert sent out Domestic Dispute to work a sharp 7 furlongs in 1:24 1/5 for the San Felipe.



Copyright © 2015 The Blood-Horse, Inc. All Rights Reserved.