Keeneland Roundup: Favorites Upset in Major Races
by Lenny Shulman
Date Posted: 10/15/2000 6:45:10 PM
Last Updated: 10/17/2000 12:08:37 PM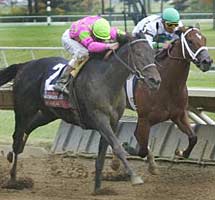 Mark Guidry guides She's a Devil Due to the wire, beating out Nasty Storm (not pictured) and Cash Deal to win the Alcibiades on Sunday at Keeneland.
Photo: Associated Press/ Rob Carr

With the Breeders' Cup just around the corner time-wise and geographically, Keeneland became a gathering place for Cup candidates whose connections wanted to get one last solid prep into their charges before "racing's biggest day." As the week progressed, however, the Lexington oval borrowed Saratoga's mantle--favorites did about as well as technology stocks recently, and more questions were raised than answered. Over the course of three days and five graded stakes, not one favorite visited the winner's circle. Keeneland also borrowed a couple things from California--warm sunshine for the weekend, in stark contrast to the frigid conditions of the week before, and an extremely quick racetrack. Keeneland traded in its loose, cuppy reputation for a tight and fast California-style surface. And Golden State shippers turned in some big performances. The weekend's headliner was the Oct. 14 Three Chimneys Spinster (gr. I), and it featured the most disappointing performance by a favorite. Heritage of Gold was looking to bounce back from her first sub-par effort of the year, a dull third in Saratoga's Personal Ensign (gr. I). After dropping a decision to Beautiful Pleasure in last year's Breeders' Cup Distaff (gr. I), Jack Garey's 5-year-old mare reeled off five straight victories in 2000, and was one of the leading troika for the Distaff along with Riboletta and the reigning queen. What was to be a forward move back into contention became a giant step to the rear, however, as Plenty of Light popped the gate and rode the fast track to a startlingly easy victory, with the favorite never getting into the race and settling for a well-beaten fourth. Plenty of Light, a 3-year-old daughter of Colony Light trying her elders for the first time, made it quite an afternoon for owners Aaron and Marie Jones, who watched in New York as Riboletta annexed the Beldame (gr. I) as their Spinster winner was cooling out. Among the least surprised at the Spinster's finish was winning trainer Elliott Walden. "She's been a really good filly all along," he stated, and the record backs him up. Plenty of Light, sent off as the Spinster second choice at 7-2, strung together four straight wins in Florida, then went to the sidelines to get a chip removed from a hind ankle. She came back to run third in the Duchess (Can-III) at Woodbine, and second by a nose in the Gazelle (gr. I) last month at Belmont. "She's a big, strong, fast filly, and anyone going with her early is in trouble," her trainer said. "She's still learning and will get better. She'll be a great 4-year-old. We thought the favorite was vulnerable today so we took a shot." It's up to the Joneses now to decide whether they will take a shot with Plenty of Light in the Distaff. That will depend on what they do about supplementing Riboletta to that race, the Classic, or not at all. California import Garrett Gomez played it by ear aboard Plenty of Light, and when nobody else went to the front, he circled the other five contestants from his outside post. The Thoroughbred Corp.'s Spain was closest of the pursuers but never threatened, and the daylight grew to 3 1/2 lengths when the clock stopped at 1:48.18 for the nine furlongs. Plenty of Light's take of the $543,500 pot pushed her earnings to $510,420 from five wins in seven attempts. Heritage of Gold, fourth of six, left straight-shooting trainer Tom Amoss bewildered. "We have to re-group. The Breeders' Cup is still on our minds, but our plan is to get her straightened out. She's run well everywhere, and I won't use the racetrack as an excuse. She hasn't run well in her last two starts and we have to go from there." Emotions Due
The Oct. 15 $436,000 Walmac International Alcibiades (gr. II) for juvenile fillies followed a storyline you'd expect from the new TV season, except it's all true. Lexington native Kenny McPeek, who with wife Sue welcomed their first child into the world six days earlier, trained She's a Devil Due to capture the 1 1/16-mile test at odds of 5-1. Of more concern, however, is the surgery Sue McPeek is scheduled to undergo Oct. 24 to remove a tumor from the inside of her mouth. Their daughter, Jennifer Lynne, was delivered by Caesarean section prematurely so that Sue could have the surgery. "This has been the most emotional week of my life," McPeek said. "Our daughter being born and me trying to keep the barn going. Lots of people have chipped in and deserve the credit for this, especially Sally Schu, my assistant. And my wife wouldn't miss this race. Everyone told her not to come but I was neutral. She'll be at the Breeders' Cup, too." She's a Devil Due alertly tracked Overbrook Farm's pacesetter Cash Deal up the backstretch, and when rider Mark Guidry tired of his tug of war with his filly, he sent her after the leader. "She was so pumped and aggressive today," Guidry noted. "I knew she'd be special. She's a sweetheart." She's a Devil Due easily ranged past Cash Deal, but Nasty Storm and Pat Day were coming quickly to her from the outside. However, the undefeated daughter of Devil His Due prevailed by a head in a stirring stretch run, setting off a raucous celebration that spilled from the winner's circle onto the turf course for the trophy presentation. Here, the TV plotline thickens. Owners Brian Griggs and Mike Goetz, who paid $30,000 for the Alcibiades queen by second-mortgaging their homes, work as assistant managers at the Toyota plant in nearby Georgetown, Ky., and it seemed most of the assembly line was assembled at the track to party down. She's a Devil Due returned $270,320 to her owners after getting the 1 1/16 miles in 1:44.86. "Her last race at Arlington was incredible," McPeek said. "She's been crying out for the two turns and today you saw why. This filly has a serious, serious will to win." The same kind of will that the racing world hopes carries the McPeeks through their trying time.Continued. . . .



Copyright © 2015 The Blood-Horse, Inc. All Rights Reserved.