Bad Medicine
by Ray Paulick
Date Posted: 2/26/2003 7:59:37 AM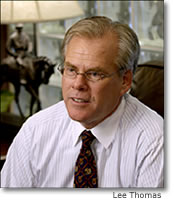 Ray Paulick
Editor-in-Chief


Mention snails, and most people will think slow, as in "a snail's pace." In some racing circles, however, snails are believed to be the source of a powerful painkiller that can make sore horses run faster. For years, scientists have known the venom of cone snails--found in tropical waters--can be fatal to human beings. More recently, it was discovered that some of the subtypes in the venom are as much as 1,000 times stronger than morphine for killing pain. The pharmaceutical company Elan has applied to the Food and Drug Administration for approval to distribute ziconotide, a synthetic version of cone snail venom, for treatment among chronic pain sufferers. The agent works by blocking openings in nerve cells, thus interrupting pain signals en route through the central nervous system to the brain. Snails, incidentally, are not the only animals containing a combination of fatal and painkilling agents. Ecuadorean frogs and certain snakes, including cobras, have similar characteristics. Some form of cone snail venom has made its way onto racetrack backstretches, some racing officials believe, and likely is in use by some unscrupulous and evil horsemen and veterinarians. Like some other illegal substances thought to be in use, there is no test for cone snail venom. It is inconceivable that anyone would use such a numbing agent on a horse, endangering not only the life of the animal but of the jockey who rides it. But as long as horse racing exists, there will be people who will stop at nothing to win. Erythropoietin, better known as EPO, is another drug developed for humans but used by cheaters in racing. It also may be extremely dangerous to the health of a horse in that it can lead to anemia. Fortunately, racing is developing tests to detect EPO in horses, which might help the sport get rid of some of its crooks. Just as the federal government stepped up airport security in the wake of the Sept. 11 terrorist attacks in 2001, racing must take backstretch security more seriously if it intends to crack down on the cheaters. For example, random or systematic searches of vehicles entering the backstretch--particularly those driven by veterinarians--should be routine at all tracks. The vast majority of veterinarians who operate in an ethical manner should not object to routine searches, just as law-abiding citizens do not protest the loss of their privacy when passing through security at an airport. After all, we want airport security officials to catch potential criminals. So, too, should ethical veterinarians want their profession cleansed of any bad apples. Tighter backstretch security will not put an end to drug abuse among cheaters. At many tracks, horses are shipped in the day of the race from farms or training centers where there is no security. That is one reason Scot Waterman, a veterinarian recently named executive director of the industry's Racing Medication and Testing Consortium, said "the overriding problem is there are no easy answers" to the sport's drug conundrum. The absence of easy answers should not diminish the consortium's resolve to make a difference in the areas of medication rules and testing. The group has funding for the next three years, has identified research priorities, and is gaining ground on completion of model guidelines. But there still are differences of opinion among some industry participants, not the least of which is the split between the rival Thoroughbred Horsemen's Association and the Horsemen's Benevolent and Protective Association. Waterman said the mere fact a diverse group of industry leaders and organizations has stayed together to work toward a solution is an accomplishment in itself. There are other signs of progress in medication and drug testing--though some would say they are coming at a snail's pace.



Copyright © 2015 The Blood-Horse, Inc. All Rights Reserved.