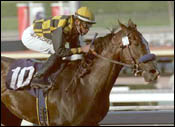 Kafwain/Bob Baffert; Cherokee Run-Swazi's Moment, by Moment of Hope
Worked 7 furlongs in 1:25 for Louisiana Derby. Many question his distance potential, but his tail-female family is loaded with stamina; tracing to English, French, and (two) Kentucky Derby winners and a horse who ran the fastest 1 1/4 miles ever by a 3-year-old.2--Domestic Dispute/Bob Baffert; Unbridled's Song-Majestical Moment, by Magesterial
Turning in one sharp work after another without going too fast too soon. Excellent chance we'll see Jerry Bailey up in the San Felipe, and Bailey is perfect for this colt's style of running. Has the look of a stayer.3--Badge of Silver/Ronny Werner; Silver Deputy-Silveroo, by Silver Hawk
Werner wants his races spread out, so he could skip Louisiana Derby and go straight to Illinois Derby, giving him very little foundation for the Kentucky Derby. Tremendous talent, but he'd have to win the Derby on that talent alone.4--Trust N Luck/Ralph Ziadie; Montbrook-Bold Burst, by Dahar
Would love to see what this colt can do coming from off the pace. Has already won from off the pace going 5 1/2 furlongs, but can he do it going two turns? Rates well on the lead and looks to be very professional.5--Man Among Men/Gary Mandella; Gentlemen-La Favorita, by Nikos
Worked a sharp 5 furlongs in 1:00 3/5. Did everything the right way in the Sham Stakes and has the physical presence. Has overcome some minor problems and blossomed very quickly. But still has room for improvement.6--Empire Maker/Bobby Frankel; Unbridled-Toussaud, by El Gran Senor
Worked 5 furlongs in 1:00 3/5 for Florida Derby with blinkers on. Outbroke 3 horses from the gate, which is what Frankel was looking for. If he keeps improving, he should be on course to peak at the right time, just as Aptitude did. Still has a lot to learn and should show big improvement with blinkers.7--Sky Mesa/John Ward; Pulpit-Caress, by Storm Cat
The feeling here is that the Gotham will be his first start back, as it works out timing-wise, but Ward maintains that he's made no decision and is looking at several races. Will likely have two starts before Derby.8--Composure/Bob Baffert; Touch Gold-Party Cited, by Alleged
Worked 5 furlongs in :59 1/5. Filly or no filly, she has the ability, the foundation, the toughness, and the pedigree to be a Derby contender. Would like to see a 1 1/8-mile race in her this year, but Baffert will train her accordingly.9--Senor Swinger/Mickey Goldfine; El Prado-Smooth Swinger, by Kris S.
When you see him in person you can't help being impressed. He is a spectacular-looking colt, with a great eye and a magnificent stride. And when Baffert, Tabor, and Zito offer big bucks you know something's there.10--Lion Tamer/Todd Pletcher; Will's Way-Tippecanoe Creek, by Olympio
We won't much more until he goes two turns. Can't compare physically to some of these big distance types, but he's a very gifted athlete who has the speed and power to run you into the ground and keep going.11--Peace Rules/Bobby Frankel; Jules-Hold to Fashion, by Hold Your Peace
Breezed 5 furlongs in 1:01. Will make next start in El Camino Real Derby or Louisiana Derby. Man Among Men, Outta Here, and Apalachian Thunder have all boosted the form of the Generous by coming back and winning.12--Atswhatimtalknbout/Ron Ellis; A.P. Indy-Lucinda K., by Red Ransom
Big, strong, good-looking colt, reminiscent of his sire in action and the way he works hard on the bit. He's making steady progress with each race; now has to step up against better quality horses. Tail-female family is pretty obscure, but everything else is top class.13--Toccet/John Scanlan; Awesome Again-Cozzene's Angel, by Cozzene
Suffered a slight foot bruise after being in training for several days, and although he should be back in training in five days, the chances of his making the Derby appear slim. Owner says they want to see how he is and how he returns to training before making any decisions, but added that the Preakness and Belmont may be the more realistic targets14-Offlee Wild/Thomas V. Smith; Wild Again-Alvear, by Seattle Slew
Fountain of Youth performance can be excused, considering the nature of the track and his torrid work three days earlier. Still made a good move on the far outside and just ran out of gas. Should bounce back next time out.15--Ministers Wild Cat/Neil Drysdale; Deputy Minister-Hollywood Wildcat, by Kris S.
Breezed typically slow 6 furlongs in 1:16 1/5. Plans are up in the air, and we won't know where he's going until the last minute. Raced very greenly in the Golden State Mile, ducking in sharply, but it was only his first two-turn race. Next start will be key.16--Region of Merit/Chris Clement; Touch Gold-Innocently Astray, by Gone West
Has now won three in a row after his 5-length victory in Gulfstream allowance; first start around two turns. Like the way he stood up to stern challenge at 1/4 pole, then put it in another gear and drew away with authority.Continued...