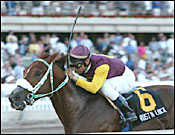 Kafwain/Bob Baffert; Cherokee Run-Swazi's Moment, by Moment of Hope
Worked 5 furlongs in :59 3/5 in company with Panamanian sensation Indian Express. Heading for Louisiana Derby and a showdown with Badge of Silver to determine who is the solid Kentucky Derby favorite.2--Badge of Silver/Ronny Werner; Silver Deputy-Silveroo, by Silver Hawk
If there is the proverbial "freak," this is the one. He's now run three spectacular races. Destroyed a good field in Risen Star and is bred to keep going. Future is limitless, but connections have to be concerned about his peaking too soon. Went by Saintly Look so easily. With his lack of foundation, he needs to be tested at some point. Smallish colt with quick action.3--Toccet/John Scanlan; Awesome Again-Cozzene's Angel, by Cozzene
Passed his first big test Feb. 16 by returning 100% after jogging and cantering for 30-40 minutes around the shed. Still has other tests to pass, but connections are 85% sure he'll make the Derby. Two starts on tap. Sunny's Halo was last horse to win Derby off two starts, and he also was a hardened warrior at 2. 4--Trust N Luck/Ralph Ziadie; Montbrook-Bold Burst, by Dahar
A running machine. Ran Fountain of Youth field into the ground, and should do the same in Florida Derby if allowed to get loose on the lead again. Made a super appearance in the paddock and does everything professionally. Beautiful way of moving, and has the look of a distance horse. Broodmare sire is a son of the great classic distance filly Dahlia.5--Domestic Dispute/Bob Baffert; Unbridled's Song-Majestical Moment, by Magesterial
Drilled 6 furlongs in 1:11 4/5, then 5 furlongs in 1:01 breezing. Baffert wants to split up his big guns and will keep him in California for the San Felipe. This is a racy, long-striding colt who is improving rapidly.6--Sky Mesa/John Ward; Pulpit-Caress, by Storm Cat
Had his first serious work of the year, traveling down to Gulfstream to work 5 furlongs in 1:00 2/5. Ward said he's no rush with him and has no idea when and where he'll show up. Keeps saying he's not committed to anything, but this was the first indication he could be on his way.7--Man Among Men/Gary Mandella; Gentlemen-La Favorita, by Nikos
Did everything the right way in the Sham Stakes and has a solid mile and an eighth race under his belt. Excellent tactical speed, and can kick home. Levels off beautifully and gets great extension. Should keep improving.8--Empire Maker/Bobby Frankel; Unbridled-Toussaud, by El Gran Senor
Worked 5 furlongs in 1:00 4/5 Wednesday. Would be surprised if he didn't show vast improvement with blinkers. Still not focused and not getting the best of trips. No doubt the talent is there; just has to step up. Will face a tough challenge in Florida Derby.9--Composure/Bob Baffert; Touch Gold-Party Cited, by Alleged
Baffert said she'll stay with fillies until the Kentucky Derby, which means she'll have to go into the race off 1 1/16-mile races. Not an easy task, but at least she has a 1 1/8-mile race at 2 and is a tough, rugged filly.10--Lion Tamer/Todd Pletcher; Will's Way-Tippecanoe Creek, by Olympio
Certainly one of the most brilliant 3-year-olds in the country after Hutcheson romp, and has shown he can sustain his run. He's fast, but he beats you with power. We won't know much more until he stretches out. Could go to the Gotham or look for 1 1/16-mile race.11--Senor Swinger /Mickey Goldfine; El Prado-Smooth Swinger, by Kris S.
Ten Cents a Shine's performance in Fountain of Youth didn't boost form of his dead-heat allowance score, but we haven't seen anywhere near the best of him. Wise move skipping the Fountain of Youth after tough race in only second career start. Awesome-looking individual with a beautiful stride and a great eye.12--Peace Rules/Bobby Frankel; Jules-Hold to Fashion, by Hold Your Peace
Worked 6 furlongs in 1:12 1/5. Can't wait for him to get back on dirt. Won Generous Stakes on grass, and Man Among Men, Outta Here, and Apalachian Thunder have all come out of that race to win impressively. Could be Frankel's sleeper.13--Offlee Wild/Thomas V. Smith; Wild Again-Alvear, by Seattle Slew
Made a good move on the far outside in the Fountain of Youth, but likely ran smack into that 5-furlong work in :57 2/5 just three days earlier. He wasn't going to beat the winner in any event and deserves another chance.14--Ministers Wild Cat/Neil Drysdale; Deputy Minister-Hollywood Wildcat, by Kris S.
With Drysdale, we won't know where he's going to show up next until the last minute. Raced very greenly in the Golden State Mile, ducking in sharply after turning for home. Talented colt, but still has a lot to learn.15--Region of Merit/Christophe Clement; Touch Gold-Innocently Astray, by Gone West
Has now won three in a row after his 5-length victory in Gulfstream allowance; first start around two turns. Like the way he stood up to stern challenge at 1/4 pole, then put it in another gear and drew away with authority.16-Robledo /Vladimir Cerin; Robannier-El Fox, by Grey Dawn II
Breezed a half in :49 3/5 for El Camino Real Derby. Great story in the making if he stays on Derby trail. Connections decided not to nominate and don't have the Derby in mind, but another victory or two will change that.17--Our Bobby V./Bill Spawr; Majesterian-Davistalu, by Petersburg
Needs to harness his speed. Likes to run on the lead, which won't help him when the competition gets hotter. But he has the pedigree to go long, and with a two-turn race in him he should be easier to rate next time.18--Nation Wide News/Dave Hofmans; Souvenir Copy-Feature Article, by Seattle Slew
Just going on gut feeling that this colt is sitting on some big races. Gave away a lot of experience to winner in last. Form in prior race has held up, and he's been working long and steady. Looking for big effort in tough allowance field Thursday.Continued...