Volponi Holding Court at Belmont; Could Start in May
Date Posted: 2/12/2003 3:38:59 PM
Last Updated: 2/12/2003 3:53:09 PM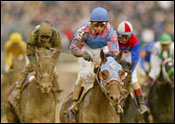 Volponi, center, winning the Breeders' Cup Classic.
Photo: Brent Smith

Hall of Fame trainer Phil "P.G." Johnson said he is planning an ambitious eight-race campaign for Breeders' Cup Classic (gr. I) winner Volponi in 2003, with the goal to win the richest race in North America once more. "He's been right here with me at Belmont, and you'll probably see him around May," Johnson said. "He's a feisty horse, but a smart one and pretty easy to train." Volponi and his human co-stars in Johnson's barn will be featured next week on WABC-TV, Channel 7 New York's "Life Around Here" segment with reporter Rebecca Rankin. Rankin spent a recent morning as an additional hand at Johnson's barn, mucking stalls, setting out feed and even got a chance to ride the stable pony, Valentine. Wisely, she didn't get too close to Volponi, who likes to put the bite on visitors. "He's a tough one," Johnson said. "Now, you can approach him if you have candy, but then you better never come back without it again."



Copyright © 2015 The Blood-Horse, Inc. All Rights Reserved.