Sentencing of Ultra Pick 6 Conspirator Delayed
by Victor Ryan
Date Posted: 2/11/2003 11:29:40 AM
Last Updated: 2/11/2003 11:42:27 AM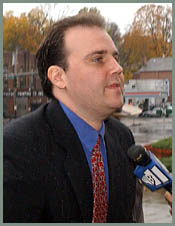 Chris Harn, awaits sentencing in B.C. Ultra Pick 6 scandal.
Photo: Associated Press

Sentencing for all three former Drexel University fraternity brothers convicted in the Breeders' Cup pick six scandal will take place March 11 in United States District Court in the Southern District of New York. Former Autotote software engineer Chris Harn, who was the mastermind behind the caper and the first to enter a guilty plea, was originally scheduled for sentencing Feb. 19.A spokesman for the U.S. Attorney's office in White Plains, N.Y. confirmed the sentencing change Tuesday but did not elaborate on the reason. Some legal experts were surprised at the original sentencing schedule given the fact Harn was the first to plea guilty and helped prosecutors to convictions for the other two. Harn entered his guilty plea Nov. 20 for helping to fraudulently cash hundreds of thousands of winning tickets through his knowledge of the Autotote system. Davis, who owned the original winning Breeders' Cup pick six tickets worth over $3-million, pled guilty Dec. 12. DaSilva pled guilty a day earlier after saying he had no direct knowledge of the Breeders' Cup bet but had made $180,000 from two previous schemes.The parimutuel pool for the Breeders' Cup pick six remains frozen by federal officials in an interest-bearing account. Despite efforts from officials for Arlington Park and parent company Churchill Downs Inc., the pool is not likely to be dispersed until after sentencing, officials said.



Copyright © 2015 The Blood-Horse, Inc. All Rights Reserved.