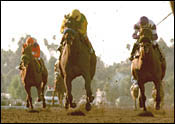 Kafwain/Bob Baffert; Cherokee Run-Swazi's Moment, by Moment of Hope
He's certainly not the best Derby favorite you'll ever see, but, this year, he's the most accomplished and the most solid. There will be debates whether he can go 1 1/4 miles, but he's still a horse to be appreciated.2--Domestic Dispute/Bob Baffert; Unbridled's Song-Majestical Moment, by Magesterial
Like the fact that he bounced out of the Santa Catalina with two strong half-works in :47 and change, with the last one -- :47 2/5 -- being listed as breezing. Long-striding staying type, he'll be fresh and sharp for the San Felipe3--Man Among Men/Gary Mandella; Gentlemen-La Favorita, by Nikos
It doesn't take much this year to catapult up to the top of the list. But this big, strong chestnut looks to have all the tools. Had a perfect trip in the Sham, but still showed good acceleration and power through the stretch. Love to see a horse who lowers his shoulder and levels off the way he does. 4--Empire Maker/Bobby Frankel; Unbridled-Toussaud, by El Gran Senor
He still has a great deal of scope for improvement, and it's still way too early to knock him down off his defeat in the Sham. He ran spotty and was in heavy traffic at the quarter pole. Watch for big improvement in the Florida Derby with blinkers.5--Offlee Wild/Thomas V. Smith; Wild Again-Alvear, by Seattle Slew
Should take a lot of beating in the Fountain of Youth, even though he'll be stepping up in class. Hard-running colt, reminiscent of his sire, and certainly has the pedigree. He's shown he won't back down from a fight.6--Composure/Bob Baffert; Touch Gold-Party Cited, by Alleged
Why not? Baffert seems gung-ho to point her for the Derby, and she's physically strong and tough enough to handle the task. Was a tiger in Las Virgenes against a very talented opponent. It may all depend on how Baffert's other colts progress.7--Sky Mesa/John Ward; Pulpit-Caress, by Storm Cat
Still taking it slow at Palm Beach Downs. He has the credentials to be at the top of the list, but is playing catch-up and still doesn't appear to be near a race. Ward is not the type to rush him if he's not 100%.8--Toccet/John Scanlan; Awesome Again-Cozzene's Angel, by Cozzene
Not much more to say about him. He'll be checked out later this week, and if all is well, he'll be back on the track by next weekend. Then, we'll have an idea where we're at with him. Reportedly "dancing on all fours."9--Ten Cents a Shine/Kenny McPeek; Devil His Due-Aunt Mottz, by Honey Jay
Worked bullet 5 furlongs in :59 2/5 for Fountain of Youth. Jerry Bailey will be aboard. Passed his first test in dead-heat allowance victory against a promising colt and now looks to jump near the head of the class.10--Senor Swinger /Mickey Goldfine; El Prado-Smooth Swinger, by Kris S.
Not only did he run a big race in dead-heat victory, but he's been so much in demand, we have to rank him up there. Baffert, Tabor, and then Zito have all tried to buy him, and his price tag has zoomed up near $2 million. Certain stipulations were not satisfactory and negated the latest deal. Interesting to see if someone does snatch him up for that kind of money.11--Ministers Wild Cat/Neil Drysdale; Deputy Minister-Hollywood Wildcat, by Kris S.
Won Golden State Mile in only second career start despite racing very greenly. Lugged in down the stretch and jumped tire tracks, landing on wrong lead, but still won by 1 1/4 lengths. Obviously a talented colt, but it's still too early to tell where he fits. 12--Indy Dancer/Todd Pletcher; A.P. Indy-Dance With Grace, by Mr. Prospector
Faces his first major test, regardless whether he goes in Fountain of Youth or Risen Star. Professional colt with big closing kick, but if he stays in Florida, he can't give away 15-20 lengths to his opposition at Gulfstream. Breezed in 5 furlongs in 1:03 at Palm Meadows.13--Seattle Hoofer/Michael Stidham; Seattle Slew-Star of Broadway, by Broad Brush
Breezed 6 furlongs in 1:14 for Risen Star Stakes. Like so many others, he faces his biggest test against some talented horses. He's now the last chance for the Seattle Slew fairy tale to become a reality.

14--Scrimshaw/D. Wayne Lukas; Gulch-Rogue Girl, by Sham
After giving him some time to put on weight after the Santa Catalina, Lukas now has him razor sharp; worked a half in :46 4/5 at Santa Anita. May run in the Hutcheson Stakes, which would mean dropping back down into a sprint. Still would like to see what he can do going two turns under ideal conditions.15--Saintly Look/Dallas Stewart; Saint Ballado-Sensational Eyes, by Roman Majesty
Breezed 5 furlongs in 1:01 1/5 for the Risen Star Stakes. Has an edge over his rivals because of his stakes experience, but he'll facing some top-class colts. The Lecomte was a huge effort, but let's see if he can be as effective laying off the pace.16--Trust N Luck/Ralph Ziadie; Montbrook-Bold Burst, by Dahar
Worked 5 furlongs in :59 4/5 between races at Gulfstream. We should find out in Fountain of Youth if his brilliant 11-length romp in the Whatapleasure was a fluke or if he's that talented? His speed figures were from another planet, but he does have stamina, especially in his female family.17--Badge of Silver/Ronny Werner; Silver Deputy-Silveroo, by Silver Hawk
He could be the real sleeper right now. Followed 7-furlong breeze in 1:28 3/5 with a 5-furlong breeze in 1:00 1/5. He's giving away a lot of foundation and experience to his opponents in the Risen Star, but if he can run big, even if he doesn't win, then watch out in the Louisiana Derby. Has the pedigree to go with his brilliant speed; just want to see him rate. 18--Whywhywhy/Patrick Biancone; Mr. Greeley-Thorough Fair, by Quiet American
Breezed a slow 6 furlongs in 1:18 1/5 following a series of sharp works. Still not sure if he's headed to the Fountain of Youth or Hutcheson. Biancone said he's 99% certain of the former, but Gulfstream still lists him as indefinite.Continued...