Cyber Secret No Secret For Whirlaway
Date Posted: 2/6/2003 4:30:29 PM
Last Updated: 2/8/2003 7:53:25 PM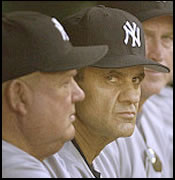 Namesake of New York Yankees manager Joe Torre (center) and coach Don Zimmer (left) set to run in Whirlaway Stakes.
Photo: Associated Press

From NYRA press office:Moments after 3-year-old filly Cyber Secret's win in the Jan. 26 Busanda, owner Sanford Goldfarb served notice about an upcoming event to those in the winner's circle: "February 8th, mark your calendars, Torre And Zim runs in the Whirlaway!" he warned.While New York Yankees manager Joe Torre and bench coach Don Zimmer may be in Florida waiting for spring training, Goldfarb does not have to wait much longer on Torre And Zim, the colt who seeks his first stakes win in Saturday's $75,000 Whirlaway for 3-year-olds at 1 1/16 mile."A lot of us are really looking forward to Saturday," said Goldfarb's trainer, Richard Dutrow Jr. "This is the best I've ever had a horse going into a race."Dutrow has taken it easy on Torre And Zim. The son of Elusive Quality broke his maiden at first asking Sept. 21 and has only run twice since then. His second race came Oct. 25 when he lost to Silver Squire after a tough break."That race was very impressive," Dutrow said. "He wasn't going to catch the winner, but considering how well he ran with that trouble at the start, we couldn't have been any happier."In his last start and first try around two turns, the colt pressed the early lead, then drew clear to win an entry-level allowance as the 6-5 choice December 19th."We were hoping the distance wouldn't be a problem and it wasn't," Dutrow said. "The best place to try a horse two turns for the first time is on the inner track."The Whirlaway will be Torre And Zim's first start in 51 days, an ideal amount of time, according to Dutrow."We could have run him back in the Count Fleet 16 days after the allowance, but why?" the trainer asked. "The Whirlaway gave us five more weeks. Some horses like it better when you run them often, but most run better when you give them space between races."Dutrow and Goldfarb are not getting ahead of themselves. While they like Torre And Zim, they haven't filled their heads with roses just yet."We're just looking to see how he runs Saturday," Dutrow said. "Sandy and I aren't going to get all high on him and talk about the (Kentucky) Derby. Maybe the Tampa Bay Derby-that's worth $250,000. We're just looking to knock out a stakes win with him."Torre And Zim, who will be ridden by jockey C.C. Lopez, heads into the Whirlaway as one of the least experienced horses in the group, but that may not matter much as there is only one stakes winner in group, the undefeated Grey Comet.Star Track Farm's Grey Comet won his first three races against New York breds, including a division of the New York Stallion Stakes and the Damon Runyon. In his first and only effort outside of restricted company, the son of Distinctive Pro prevailed by a length after a long duel in the Count Fleet as the 3-5 favorite.Grey Comet made the early lead, and then received pressure from Whirlaway rival Mustang Jock, who had just broken his maiden. Grey Comet's class prevailed, but it appeared he had to work awfully hard to get the victory.The field for Saturday's $75,000 Whirlaway:
1. Mustang Jock, Javier Castellano, 116
2. Gimmeawink, Jeremy Rose, 120
3. Torre And Zim, C.C. Lopez, 118
4. Formidable Fox, Richard Migliore, 118
5. Boston Park, Shaun Bridgmohan, 116
6. Grey Comet, Aaron Gryder, 122
7. Go Rockin' Robin, Mike Luzzi, 118



Copyright © 2015 The Blood-Horse, Inc. All Rights Reserved.