Steve Haskin's Derby Watch: Week 3 (Revised Feb. 7)
by Steve Haskin
Date Posted: 2/7/2003 2:20:54 PM
Last Updated: 5/8/2003 11:01:10 AM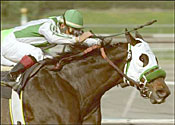 Kafwain, moved to the top of Steve Haskin's list of leading Kentucky Derby contenders.
Photo: Benoit

1 -- Kafwain/Bob Baffert; Cherokee Run-Swazi's Moment, by Moment of HopeSuddenly, he's Baffert's big gun, with loss of Vindication. Looked awesome winning the San Vicente in his 3-year-old debut, totally outclassing three highly touted speedsters in 1:21 for 7 furlongs. Enough stamina influences in female family to suggest he'll go on.2 -- Empire Maker/Bobby Frankel; Unbridled-Toussaud, by El Gran SenorA lot of questions will be answered Feb. 7 when he makes his 3-year-old debut in the nine-furlong Sham Stakes. Frankel will be satisfied with nothing less than a victory. Drilled a sharp 6 furlongs in 1:12 3/5 in company with Midas Eyes.3 -- Sky Mesa/John Ward; Pulpit-Caress, by Storm CatHad an easy 5-furlong breeze in 1:05 at Palm Beach Downs Feb. 3. Ward said he has no idea when the colt will be ready to run. Coming off injury last fall, he still has some catching up to do, and any little setback will hurt chances of making Derby.4 -- Domestic Dispute/Bob Baffert; Unbridled's Song-Majestical Moment, by Magesterial

Bounced out of Santa Catalina victory in great shape; breezed a half in :47 4/5 on Feb. 1. Long, lean staying-type with an impressive stride. Has a lot going for him. Baffert will wait for the San Felipe on Mar. 16.5 -- Toccet/John Scanlan; Awesome Again-Cozzene's Angel, by Cozzene

Will move back up near top after he returns to the track on Feb. 15. Scanlan said they're just waiting and walking him every day, and that he's expected to resume training around Feb. 15. Private Terms, Wood Memorial on tap.6 -- Offlee Wild/Thomas V. Smith; Wild Again-Alvear, by Seattle Slew

Turned in a sharp 5-furlong breeze in 1:00 3/5 at Gulfstream in first work back since his Holy Bull victory. He appears to have all the tools, and a distance-oriented pedigree. Just needs to be tested for class.7 -- Ten Cents a Shine/Kenny McPeek; Devil His Due-Aunt Mottz, by Honey Jay

Took a step forward in 3-year-old debut, dead-heating for win in a 1 1/16-mile allowance against a tenacious opponent who could be any kind. Showed more professionalism and early foot, and willingness to battle.8 -- Seattle Hoofer/Michael Stidham; Seattle Slew-Star of Broadway, by Broad Brush

We'll find out a lot more about him in the Risen Star. He'll have to step up in class. Breezed a half in :50 1/5 on Jan. 31. Showed he's a very talented colt, but he's still a bit green and needs to work on his lead changes. 9 -- Indy Dancer/Todd Pletcher; A.P. Indy-Dance With Grace, by Mr. Prospector

Pletcher still giving him slow breezes at Palm Meadows. Breezed 6 furlongs in 1:16 2/5 for Fountain of Youth. Powerful stretch runner, but needs to be closer to the pace at Gulfstream if he hopes to run down top-quality horses. 10 -- Saintly Look/Dallas Stewart; Saint Ballado-Sensational Eyes, by Roman Majesty

Passed a big test in Lecomte, breaking from the 11-post, dueling head and head through solid fractions, then drawing off. But big guns in field didn't fire, so he'll have to show he can do it again in Risen Star.11 -- Scrimshaw/D. Wayne Lukas; Gulch-Rogue Girl, by Sham

Lukas gave him some time to put on weight after the Santa Catalina. Was too sharp coming off 1:08 1/5 allowance victory. Lukas said he ran too fast too early. Worked a sharp 5 furlongs in 1:00 2/5 on Feb. 1. No decision on next start.12 -- Senor Swinger /Mickey Goldfine; El Prado-Smooth Swinger, by Kris S.Ran impressively in Gulfstream allowance race, making a strong move on the turn, then digging in and holding off a classy opponent in Ten Cents a Shine to score a dead-heat victory. Only second career start, coming off maiden win at Hawthorne. Will have no problem going long.13 -- Robledo /Vladimir Cerin; Robannier-El Fox, by Grey Dawn IIRebounded from disastrous start in Santa Catalina to beat a tough opponent in Turf Paradise Derby on his home track. Stalked Siberland, overcame traffic problems and wore down his opponent, finishing 17 3/4 lengths ahead of third-place finisher. Deceptively strong predigree and should run all day.14 -- Badge of Silver/Ronny Werner; Silver Deputy-Silveroo, by Silver Hawk

Breezed 7 furlongs in 1:28 3/5 at Fair Grounds. Exciting colt and has won both his career starts in brilliant fashion. Very impressive in 3-year-old debut, coming off long layoff to run off with a 6-furlong allowance race by 7 lengths in 1:09 3/5. Despite speed, he's bred to go long.15 -- Whywhywhy/Patrick Biancone; Mr. Greeley-Thorough Fair, by Quiet American

Continues to work brilliantly for 3-year-old debut in Fountain of Youth. Followed Worked :59 2/5 work at Santa Anita with 7-furlong move in 1:25 4/5. Classy colt and a grade I winner, but distance capabilities are in question. However, broodmare sire has already sired a Kentucky Derby winner. 16 -- Lion Tamer/Todd Pletcher; Will's Way-Tippecanoe Creek, by Olympio

Pletcher still not convinced he's a mile and a quarter horse. We won't find out much in the 7-furlong Hutcheson Stakes, but he may be a Came Home type who just keeps winning as he stretches out. Breezed 5 furlongs in 1:03 2/5 at Palm Meadows. Continued...



Copyright © 2015 The Blood-Horse, Inc. All Rights Reserved.