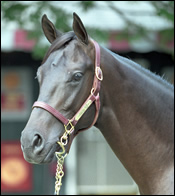 Vindication/Bob Baffert; Seattle Slew-Strawberry Reason, by Strawberry Road

Baffert made a bold decision replacing Mike Smith, who was 4-for-4 on the colt, with Jerry Bailey. Colt made quite an introduction to Bailey by taking him on a 5-furlong spin in :58 2/5. Should debut in mid-February.2 -- Toccet/John Scanlan; Awesome Again-Cozzene's Angel, by Cozzene

Tough keeping him in second spot with all the question marks surrounding his ankles, but he's shown marked improvement and is heading for the Derby, with stops in the Private Terms and Wood Memorial. Until then, he'll likely slip down the list as others move forward.3 -- Sky Mesa/John Ward; Pulpit-Caress, by Storm Cat

Back breezing at Palm Beach Downs, going an easy half in :51 3/5. No telling just how good this colt is. You know Ward will take it slow with him and give him all the time he needs. Shouldn't need much to get back in peak form.4 -- Empire Maker/Bobby Frankel; Unbridled-Toussaud, by El Gran Senor

Bailey is also the rider of this talented colt, whose future is limitless. Turned in a sharp 6-furlong work in 1:12 4/5 at Hollywood Park. Debut in nine-furlong Sham Stakes on Feb. 7 will create a good deal of interest.5 -- Domestic Dispute/Bob Baffert; Unbridled's Song-Majestical Moment, by Magesterial

He has the look of a distance horse, and did everything the right way in the Santa Catalina, drawing off from a talented colt in Our Bobby V. Baffert will back off on him and point for the San Felipe Mar. 16, in much the same manner he did with Real Quiet.6 -- Kafwain/Bob Baffert; Cherokee Run-Swazi's Moment, by Moment of Hope
Caught between Vindication and recent Santa Catalina winner Domestic Dispute. He doesn't generate a lot of excitement, because of his grinding, workmanlike style and close finishes, but he's all heart and class. Will drop back into a sprint for his debut in Saturday's San Vicente Stakes.7 -- Hold That Tiger/Aidan O'Brien; Storm Cat-Beware of the Cat, by Caveat

O'Brien said he's done "nothing" with him and won't have anything to report for another month. Weather in Ireland has been good, so he should be on schedule. O'Brien has an arsenal of 3-year-olds, and this looks like his main Kentucky Derby hope off his super effort in the Breeders' Cup Juvenile.8 -- Offlee Wild/Thomas V. Smith; Wild Again-Alvear, by Seattle Slew

The more you watch the Holy Bull, the more impressive he looks. Reminds one of his sire in looks and willingness to battle. Love his female family, with its combination of class and stamina. Definitely one to watch.9 -- Ten Cents a Shine/Kenny McPeek; Devil His Due-Aunt Mottz, by Honey Jay

Worked a half in :48 3/5 at Gulfstream; entered in a 1 1/16-mile allowance race Friday.Went from 20 lengths out of it to the lead in Kentucky Jockey Club, but can't come from that far out of it at Gulfstream. Still not seasoned and maturity should help. 10 -- Seattle Hoofer/Michael Stidham; Seattle Slew-Star of Broadway, by Broad Brush

Showed he's a very talented colt with his eye-catching victory in Fair Grounds allowance race. But still a bit green and needs to work on his lead changes. If he can step up and run big in Risen Star, the sky's the limit.11 -- Indy Dancer/Todd Pletcher; A.P. Indy-Dance With Grace, by Mr. Prospector

Taking it slow at Palm Meadows, breezing 5 furlongs in 1:05. Not only does he have a devastating move, he's becoming more professional. But does have to keep closer to the pace if he's going to face the heavy hitters at Gulfstream. Also has Risen Star as an alternative.12 -- Saintly Look/Dallas Stewart; Saint Ballado-Sensational Eyes, by Roman Majesty

Passed a big test in Lecomte, breaking from the 11-post, dueling head and head through solid fractions, then drawing off. But big guns in field didn't fire, so he'll have to show he can do it again in Risen Star, or in Louisiana Derby if Stewart decided to wait.13 -- Powerful Touch/Ken McPeek; Touch Gold-Punch Bowl, by Two Punch

Came out of the holy Bull with a slight foot bruise and likely will wait for Florida Derby. He'as a big, lanky colt and McPeek wants to give him a little extra time. Showed a lot of courage battling back in Holy Bull. Future looks bright.14 -- Scrimshaw/D. Wayne Lukas; Gulch-Rogue Girl, by Sham

Worked a sharp 5 furlongs in 1:00 1/5. Lukas still high on him. Didn't show much kick in the Santa Catalina in first start around two turns, but was coming off an absurdly fast allowance victory (1:08 1/5) going six furlongs and had to run hard to win. This race should help.15 -- Badge of SilverRonny Werner; Silver Deputy-Silveroo, by Silver Hawk

Very impressive in 3-year-old debut, coming off long layoff to run off with a 6-furlong allowance race at Fair Grounds by 7 lengths in 1:09 3/5. Runner-up Broke Again was coming off a game second to Saintly look in the Sugar Bowl Stakes. He's bred to go long, with a lot of stamina in his female family.16 -- Lion Tamer/Todd Pletcher; Will's Way-Tippecanoe Creek, by Olympio

Certainly one of the most brilliant 3-year-olds seen this year. His seven-furlong allowance debut was awesome, as he got left cold, dropped back to last, then swept by everyone with a powerful move and won by 7 1/2 easy lengths. He's not a big, robust horse by any means. He does have enough stamina influences, but there are a good number of mile-to-mile and an eighth influences top and bottom. Pletcher will keep him short for now, pointing for the 7-furlong Swale Stakes.17 -- Funny Cide/Barclay Tagg; Distorted Humor-Belle's Good Cide, by Slewacide

Ran an excellent race in the Holy Bull to finish fifth, beaten six lengths. Broke terribly from the 13 post and got hung five-wide on the first turn. Still was in the hunt and never backed up, carrying top weight of 122 pounds. Tail female family loaded with Darby Dan stamina.18 -- Whywhywhy/Patrick Biancone; Mr. Greeley-Thorough Fair, by Quiet American

Worked 5 furlongs in :59 2/5 at Santa Anita, and likely will head east for the Fountain of Youth. Multiple graded stakes winner, including victory in grade I Futurity Stakes. Not sure about his distance capabilites, and ran terribly in the BC Juvenile.Continued...