Wanna Bet?
by Ray Paulick
Date Posted: 1/22/2003 10:46:25 AM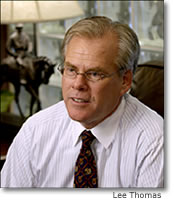 Ray Paulick
Editor-in-Chief


More than a few dollars will be wagered on Super Bowl XXXVII from San Diego, Calif., Jan. 26, but not a penny of the betting proceeds will go to the National Football League. In fact, the NFL is so opposed to gambling that it would not allow the city fathers of Las Vegas to advertise during the ABC telecast of the game. Obviously, racing is different. It doesn't have lucrative network television contracts, hundreds of thousands of season ticket holders, or lists of companies waiting to purchase luxury suites. Pari-mutuel wagering provides most of the revenue that keeps the racing industry in business. That's why one of the newest developments in wagering, an online betting exchange, poses such a serious threat to the game. As detailed by Washington Post columnist Andrew Beyer earlier this month, one such betting exchange, www.betfair.com, is proving extremely popular. The concept of a betting exchange is simple. A company like Betfair provides an Internet platform and mechanism for people to wager against one another, whether it's on football, soccer, golf, horse racing, or even politics. In the case of horse racing, if I thought a horse deserved to be 5-1 odds to win and someone scanning the races was willing to accept those odds and the price of my wager, I would be in business. Likewise, if I wanted to bet against a horse winning, I could do that, too, provided someone out there accepted the odds I was offering. The degree to which Betfair has caught on is shocking. Beyer said the company is handling more than $10 million per day in bets, and a separate report said the company has more than 50,000 account holders and has accepted up to 12,000 bets in a single minute. Within 24 hours of the end of the NFL's conference championship games, more than $700,000 was wagered through Betfair on the Super Bowl alone. Even more surprising is the amount of money bet on American horse racing. For the first race on the Jan. 20 program from Laurel Park, Betfair reported approximately $70,000 in matched wagers. Laurel's own win, place, and show, exacta, and trifecta pools for that same race were roughly $180,000. Betfair's takeout rate is a sliding scale from 2% to 5%, depending on how good a customer you are. But that's a moot point to the racing industry, since not a single penny of the money wagered comes back to the track or horsemen in the way of purses. If that same $70,000 wagered through Betfair had been handled at Laurel, the Maryland Jockey Club and horsemen would have had more than $10,000 to split between them. Currently, Betfair does not accept deposits from credit card holders in the United States, but it's easy enough for gamblers to issue a bank transfer of funds to the company. The industry's loss of revenue to Betfair isn't the only problem the betting exchange has created. Winfried Engelbrecht-Bresges, director of racing for the Hong Kong Jockey Club, told the South China Morning Post that betting exchanges are "the biggest worldwide threat to racing's integrity" and that "every jurisdiction in the world should work with government to ban this." There are concerns insiders already have scored betting coups using Betfair, laying high odds on horses the public saw as contenders, then cashing in when the runners finished far back or were pulled up due to injury. Those concerns have convinced Betfair's operators to consider removing the cloak of anonymity provided to account holders in the event of an investigation by racing regulators. Instead of merely trying to shut down these services, racing leaders throughout the world could stand to gain by exploiting the technology the betting exchanges are using, and attempt to take control of a system that the wagering public has embraced.



Copyright © 2015 The Blood-Horse, Inc. All Rights Reserved.