Congressman Fletcher Pledges Industry Support
Date Posted: 1/13/2003 8:05:04 AM
Last Updated: 1/13/2003 11:03:46 AM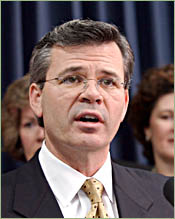 Kentucky gubernatorial candidate Ernie Fletcher.
Photo: Associated Press

U.S. Representative Ernie Fletcher (Ky-R), a candidate for governor of the state of Kentucky in 2003, pledged his support for the Thoroughbred breeding industry in an address to the winning breeders of Breeders' Cup races Jan 12 at Keeneland Race Course.In his after-dinner speech, Fletcher thanked the National Thoroughbred Racing Association and it's president, Tim Smith, and noted his work on a national level in congress and his planned efforts in Kentucky if elected governor."We need to make sure we educate the politicans in Washington," Fletcher said. "It's extremely important that we continue that effort. And I want to say thank you to Tim (Smith) and the NTRA and the American Horse Council, and the Breeders' Cup as well."For Kentucky, the horse industry means about $3.4 billion dollars and 42,000 jobs. I've done a lot of work supporting our tobacco farmers, but when you look at that, it used to be about an $800 million industry. It's dropped down to about a $500 million industry--the horse industry certainly is much, much greater. It has a much greater impact on the economy in this state and multiple states across the nation. "I look at working at my next level as governor, I want to see the horse industry flourish, not only in this state, but nationally. I want to make sure you have the support you need, and that we can continue to make the changes that are needed as we go into this new century. We need to make sure that Kentucky and Lexington continues to attract the kind of horses that we need."



Copyright © 2015 The Blood-Horse, Inc. All Rights Reserved.