Keeneland January Sale Begins on Downward Note
by Ron Mitchell
Date Posted: 1/6/2003 10:13:22 PM
Last Updated: 1/7/2003 2:02:35 PM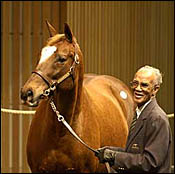 Belle Nuit, sold for $475,000.
Photo: Anne M. Eberhardt

The Keeneland January Horses of All Ages sale began Monday, with the gross down 40.4% and the average dropping 30.6%. The only increases were in the median price, which was up by $5,000 from last year's comparable session, and the number of horses not sold.Keeneland reported 208 horses were sold for a gross of $10,683,200, an average price of $51,362, and a median of $30,000. During the comparable session one year ago, 242 horses grossed $17,911,800, for an average of $74,016 and a $25,000 median price.The 108 horses that did not reach their reserve prices represented 34.2% of the total through the ring. At last year's first session, the 50 horses that did not sell represented 17.1% of the total offered.Keeneland sales director Geoffrey Russell said he was disappointed with the high RNA rate, but that the results reflect the state of the market."It was a typical January sale," Russell said. "I'm disappointed by the [reserve not attained] rate, but I think it's a factor of the industry. It is too high. Last year's January sale had one of the lowest RNA rates of any sale. Theoretically it should be somewhere in between. The covering sires are as solid as normal, but I don't know what people expect of a January sale. It's always been the bread and butter sale, where broodmare prospects stand out."He added that some horses which did not sell "I thought were well sold for the price but the consignors did not let them go."Overall, Russell said Monday's figures were in line with last year's first day if three top-priced horses offered during the same session in 2002 were taken out of the figures. During the first session one year ago, Breeders' Cup Sprint winner Desert Stormer brought a top price of $3.6 million, the mare Roll Over Baby was sold for $1 million and an Unbridled's Song--Roll Over Baby yearling colt brought $1.1 million.Russell was hopefully optimistic that prices would rebound during Tuesday's second session. "Tomorrow is another day," he said.Monday's top price of $475,000 was paid by Louis Brooks Ranch for Belle Nuit, a 13-year-old daughter of Dr. Carter in foal to Unbridled's Song. Belle Nuit has produced two stakes winners -- Belle Cherie and Be Mine Tonight -- both sired by Belong to Me. Brooks, who operates his ranch in Sweetwater, Texas and is a partner in Brooks-Mayberry Equine Insurance, said the mare consigned by Taylor Made Sales Agency will be bred back to Belong to Me.The session's second-highest price for a broodmare was the $400,000 bid from Castleton-Lyons for High Heeled Hope, a 9-year-old daughter of Salt Lake in foal to Giant's Causeway. The mare was consigned by Taylor Made Sales Agency.Of the first 259 horses through the ring, 164 were reported sold and 95 went unsold. Chief among the horses not attaining their reserves was Siringas, a grade II-winning daughter of Barathea offered as a racing or broodmare prospect. Consigned by Matagorda Farm, the 5-year-old mare was bought back for $750,000.Top price for a recently-turned yearling was the $400,000 bid of Tracy Farmer for a Charismatic colt produced from the Clever Trick mare Clever But Costly, the dam of grade I winner Traitor and stakes winners Beavers Nose and Ocean Drive. The colt, a Jan. 31, 2002 foal, was consigned by James D. Conway."He is a super colt," said trainer Bernie Flint, who picked out the colt for Farmer. "He has got everything he needs. All he has to do is stay sound and grow and he will be that kind of horse."Some buyers and consignors noted that while the catalog was not as strong as in years past, it was not easy to buy the horses that stood out.WinStar Farm president Doug Cauthen said the tepid market did not necessarily equate to a windfall for buyers. He noted that a paucity of quality horses meant that buyers were competing for the same horses. "When a good one is led in, they all want it," Cauthen said.Consignor Dan Mallory concurred. "If you have the top horse, they will buy it. But there's just not enough money around," Mallory said.Top PricesHip No.--Purchase Price/Description/Consignor/Buyer207--$475,000/Belle Nuit, chestnut mare/Taylor Made Sales Agency/Louis Brooks Ranch246--$400,000/2002 colt by Charismatic/James D. Conway/Tracy Farmer327--$400,000/High Heeled Hope, dark bay/brown mare/Taylor Made Sales Agency/Castleton-Lyons370--$275,000/La Pascua, chestnut mare/Taylor Made Sales Agency/Arthur Hancock III280--$250,000/2002 colt by High Yield/Taylor Made Sales Agency/J. L. Bloodstock371--$250,000/La Promenade, bay mare/Three Chimneys Farm/Cobra Farm, agent288--$230,000/Ermine Fever, bay mare/Denali Stud/Mr./Mrs. Larry Williams155--$200,000/Tizsweet, gray or roan mare/Cee's Stable/John Fulton, agent for Michael Cooper98--$165,000/2002 filly by Distorted Humor/Glendalough/Palmetto Investments345--$165,000/Istinad, chestnut mare/Shadwell/Roger AllmanCatalog, results, other information, Keeneland



Copyright © 2015 The Blood-Horse, Inc. All Rights Reserved.