Gray Skies
by Ray Paulick
Date Posted: 10/10/2000 9:23:12 AM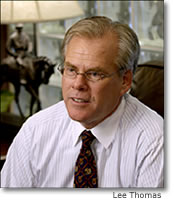 Ray Paulick
Editor in Chief


Many believe California's Democrat governor, Gray Davis, is bent on running for the American presidency, as early as 2004 in the event of a Republican victory this November. The 57-year-old New York native has been a career politician since the mid-1970s, when he served as chief of staff to former California Gov. Jerry Brown -- the man whose unpredictable behavior landed him the nickname "Governor Moonbeam" from the late Pulitzer Prize-winning columnist Mike Royko. But if Brown was considered a bit strange during a political career that included multiple runs for the presidency, then at first blush Davis seems just plain bizarre. How else can you describe a man responsible for opening the floodgates to as many as 113,000 slot machines in California, then positioning himself as the "anti-gambling" governor? For those keeping score, 113,000 slot machines would put California behind only Nevada. Even with a population of 34 million, 113,000 slot machines equal one for every 300 citizens. Step right up. No waiting. This is the same governor who on Sept. 30 vetoed Assembly Bill 2760, which would have specifically authorized account wagering and given backstretch workers improved living conditions and an opportunity to join labor unions. He also vetoed AB2753, which would have authorized California to offer proposition bets such as the Kentucky Derby Future Wager. He vetoed AB2341 that would have allowed different breeds to race against Quarter Horses. He vetoed AB2344 allowing additional simulcasts per year. "I made clear last year that I do not personally favor gambling, and I certainly do not encourage others to gamble," Davis said in a statement. "Therefore, I am not generally inclined to support measures that allow more than a modest expansion of gaming." Apparently, the installation of up to 113,000 slot machines in Indian casinos is considered "modest." Is Davis crazy? Far from it. As a career politician with lofty ambitions, Davis knows all too well the power of money. He saw Indian tribes spend more than $100 million in 1998 and 2000 campaigns to win passage of a ballot measure giving them exclusive rights to conduct casino gambling in the state. These tribes have become big-time players in California politics, and the flood of money into their slot machines has barely begun. Davis himself has raised $21 million in his first 18 months in office as governor. He received a reported $750,000 from Indians for his 1998 gubernatorial campaign, and you can bet (sorry, governor) they will be strong supporters of a Davis run for the presidency, whenever that inevitability occurs. It was infuriating to many Californians when Davis negotiated compacts with 58 tribes allowing slot machines into the state. While the governor's staff insists there will be a maximum of "only" 44,798 slot machines resulting from the compacts, a non-partisan legislative analyst says the correct number is 113,000. The compacts also were flawed, gambling industry experts say, because they give the state little power to regulate the casino operations, instead giving self-regulatory authority to the tribes. For example, the Los Angeles Times reported state authorities lack power to prevent convicted felons from working at casinos. Davis wouldn't allow that to happen to racing. The most perplexing of his vetoes was AB1902, which would have authorized the California Horse Racing Board to enter into an interstate licensing agreement that people throughout the industry have sought for decades. "California law sets high standards for those who would participate in the horse racing industry," Davis said upon rejecting the bill. If only the standards for some of the state's politicians were that high.



Copyright © 2015 The Blood-Horse, Inc. All Rights Reserved.