Central Kentucky Abortion Rate Appears Normal
by Kristin Ingwell Goode
Date Posted: 12/19/2002 8:55:02 AM
Last Updated: 12/20/2002 7:05:01 AM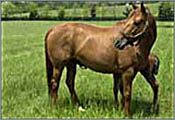 Photo: Anne M. Eberhardt

Mid-gestation abortions have generated concern in Central Kentucky, but according to officials, the 50 fetuses received in the last five months by Kentucky's Livestock Disease Diagnostic Center in Lexington do not represent a significant increase over past years. "We're not seeing a spike (in abortions) and we're not seeing this as a crisis," said David Switzer, executive director of the Kentucky Thoroughbred Association. "It has affected a few farms. We are being as cautious as we can because we're all nervous because of what MRLS (Mare Reproductive Loss Syndrome) did to us."On Dec. 16 Switzer called a meeting of the Equine Industry Task Force to discuss the status of breeding stock in the area. An epidemiologist at that meeting, Dr. Francois Elvinger from The Virginia-Maryland Regional College of Veterinary Medicine, said numbers from this year are on par with normal abortions dating back to 1996. Switzer said there is no proven link between most of these recent abortions and MRLS.Steve Johnson owns Margaux Farm near Midway, Ky., and is also a member of the EITF. "It's probably population density-related," said Johnson. "We probably have more mares here than we have in the last five years, and more (of those) mares were bred early in the season because of MRLS. "I call it holiday malaise. When mares start into their last trimester, because of increased demands of growth of development of the foal, if there was any compromise, that's when they spit them out. I can't tell you how many holidays I've spent attending to those mares."Johnson and Frank Taylor of Taylor Made Farm said mid-term gestational losses in a normal year are often between 3-5% of any crop.



Copyright © 2015 The Blood-Horse, Inc. All Rights Reserved.