Florida VLT Bill Filed, But Amendment Expected
by Tom LaMarra
Date Posted: 12/18/2002 4:23:13 PM
Last Updated: 12/20/2002 1:18:49 PM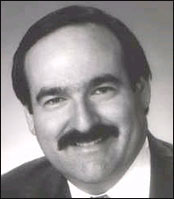 Florida Sen. Steve Geller


Legislation to authorize video lottery terminals at all pari-mutuel facilities in Florida was filed by Sen. Steven Geller, who said it could very well be changed in light of concerns over revenue splits.The measure calls for VLTs at Thoroughbred, Standardbred, and Greyhound tracks, as well as jai alai frontons, which held a pari-mutuel permit on or before July 1, 2002. It also contains provisions for "a Thoroughbred permit-holder that failed to operate all performances under its license for 2002-2003," presumably Hialeah Park, and for "any person who is authorized to receive broadcasts of horseraces."The bill comes at a time when Florida legislators are looking for sources of revenue other than tax hikes to cover a budget shortfall brought on in part by a reduction in school class sizes. Senate President Jim King said expanded gambling is under consideration even though Gov. Jeb Bush has said he is against it.According to the bill, 32% of the net income derived from VLTs would go toward the state's Education Enhancement Trust Fund. Revenue also would go toward counties and municipalities with pari-mutuel facilities, the Department of Children and Family Services, and compulsive gambling programs.A Thoroughbred permit-holder would receive 51.75% of net income, 96.45% of which would be distributed per written agreement between the racetrack and its horsemen's association. The bill says the written agreement "shall consider the cost and expenses for capital improvements and operating costs of the video lottery retailer and purses paid on live performances and shall be reasonable in accordance with industry standards applied to similar circumstances in other states."Florida Thoroughbred breeder and stallion awards would get 3.3% of net income, and 0.25% would go to the Florida Horsemen's Benevolent and Protective Association per agreement with racetracks to fund equine drug-testing and medication research."We'll probably have to amend the bill," Geller said. "This bill is drafted in a particularly convoluted fashion. A lot of it is the product of the Thoroughbred industry."Geller indicated there could be complications because horsemen and racetracks must agree on how to split the proceeds. "If there is no agreement between the Florida HBPA and the permit-holders, you can't do it at all," he said.In another section, the measure says 8% of net income would go to the Video Lottery Purse Trust Fund. Of that amount, 58% would go to Thoroughbred racing, 27% to Greyhound racing, 8% to Standardbred racing, and 7% to jai alai associations.Of the amount in the Thoroughbred fund, 6.6% would go toward breeder and stallion awards. From the Greyhound fund, 10% would go to Florida-bred dogs, and from the Standardbred fund, 6.6% would go to breeders' awards, stallion awards and stakes, and insurance for occupational licensees.The legislation also requires that televisions and betting terminals be available in gaming areas to encourage wagering on pari-mutuel races.



Copyright © 2015 The Blood-Horse, Inc. All Rights Reserved.