Price of Inflation
by Ray Paulick
Date Posted: 12/17/2002 10:21:49 AM
Last Updated: 12/18/2002 5:17:34 AM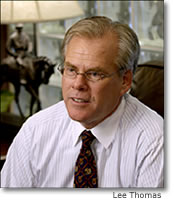 Ray Paulick
Editor-in-Chief


In 1984 when the inaugural Breeders' Cup was run at Hollywood Park, it cost a breeder 20 cents to put a first-class stamp on the envelope carrying the $500 check nominating a foal to the program. Nearly 20 years later, the cost of mailing that same nomination has increased 85%, to 37 cents. Just about everything costs more today than it did in 1984. According to the Consumer Price Index, goods and services purchased for $500 in 1984 would cost about $850 today, an increase of 71%. One thing that has not gone up since 1984 is the price of a stallion or foal nomination to the Breeders' Cup. A stallion can be nominated annually for a fee equal to one live-foal season. Foal nominations have remained at $500. At the outset, stallion and foal nominations were the only source of revenue for the ambitious brainchild of John Gaines that offered what was then an outrageous $10-million in purses for seven races in one day. Over the years, as simulcast wagering and event-day revenues have grown, the Breeders' Cup added an eighth race and increased the purses of two other events to make it a $13-million day. That's a modest increase of 30% in purses over the first 19 runnings of what is now referred to as the Breeders' Cup World Thoroughbred Championships. By comparison, average purses in North America have grown 115% since 1984, increasing from an average of $8,333 per race in 1984 to $17,909 in 2001. Breeders' Cup increases have lagged in part because nomination revenue has not grown. With the size of the foal crop down nearly 30% from the mid-1980s, the only way to build revenue is by increasing the level of participation. In the last few years, between 36% and 40% of all North American foals have been nominated. That's up significantly from the early days of the program. Kentucky has the highest level of participation, with 83% of registered foals nominated in 2001. Florida, second by the number of foals in the program, nominated 43% of foals bred in the Sunshine State; California, third by nominations, had 25% participation; and New York, fourth, had 40%. The Breeders' Cup stallion nomination scheme was created when a full book consisted of 40 mares. After the size of stallion books skyrocketed, the European Breeders Fund developed a tiered nomination program recognizing the different levels of revenue a stallion can generate. That program charges the cost of one season per stallion for up to 64 mares bred; 1 1/2 seasons for 65 to 85 mares; two seasons for 86-120 mares; and three seasons for more than 121 mares. The EBF stallion nomination program makes sense and is something the Breeders' Cup board should adopt. That, along with an increase in the basic foal nomination fee, may not be the most popular move the organization can make. But that philosophy hasn't kept the U.S. Postal Service from seeking rate hikes when they are warranted. JRA Correction
In my column of Nov. 30 on the restrictive quarantine requirements in Japan (page 6869), I erroneously reported Japan Cup Dirt (Jpn-I) winner Eagle Cafe was allowed to quarantine at Nakayama racecourse when he returned from France in October. In fact, Eagle Cafe was required to spend five full days at the Japan Racing Association's quarantine station in Shiroi, just as runners from Europe and North America had to do. Following that quarantine, the colt was allowed to train at Nakayama where the Japan Cup weekend races were run. In addition, the training surface at Shiroi is seven furlongs, not a half-mile as reported. Dr. Yasuhika Haruta, general manager of the JRA's equine department, said the regulations cited in the column have helped keep Japan free of many disease outbreaks. He did say, however, that the JRA is "making every effort to adopt the advice by the International Federation of Horseracing Authorities."



Copyright © 2015 The Blood-Horse, Inc. All Rights Reserved.