Toccet's Owner Stirring Up the Pot Again
by Steve Haskin
Date Posted: 12/16/2002 4:34:24 PM
Last Updated: 12/18/2002 6:20:20 PM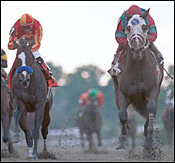 Toccet (right) in the middle of Hollywood Futurity controversy.
Photo: Adam Coglianese

It looks as though the weather might do what Toccet's owner, Dan Borislow, has been unable to, and that is to eliminate the Frank Stronach-owned and Bobby Frankel-trained Ghostzapper from the competition in Saturday's Hollywood Futurity.Borislow contacted one of Stronach's representatives, Jack Brothers, and tried to convince him that it was in the best interest of Stronach's stallion Awesome Again, sire of both Toccet and Ghostzapper, to separate the two colts."I know Frank and his group very well," Borislow said. "It just made sense to me that to build Awesome Again's reputation and give him a chance to be the leading freshman sire in the country, he should run Ghostzapper in the $500,000 Delta Jackpot at Delta Downs the same day. To me, it's asking a lot of a colt with only one sprint victory in his career to tackle two experienced stakes horses like Toccet and Kafwain, and also Roll Hennessy Roll (winner of the Best Pal Stakes). Stronach is trying to win the most money for freshman sire, and Frankel is trying to win the most money ever for a trainer. Basically, we can all achieve what we're trying to accomplish. But I guess what seems obvious to me is not always obvious to others. He'll be facing much better horses than what he'd face at Delta Downs. I don't get it."Frankel probably has more say in where his horses run than any other trainer. I was shocked when he ran Empire Maker against a seasoned horse like Toccet in the Remsen, and I'm equally, or more, shocked to see him run Ghostzapper against him. But how can you argue with someone as successful as he is? Being it is Frankel, that's the problem. If it was any other trainer, I'd probably be calling him names already. Even (Bob) Baffert is trying to scare me by telling how hard it is for a horse to come to Hollywood and win over that track. But I guess it's his job, as well as Frankel's, to keep me out of the race as well. Hollwood is a little scary to me, but John (Toccet's trainer John Scanlan) isn't concerned. He said on that day they'll groom the track pretty good, and it doesn't hurt a horse to run over it only once. That's why we'll ship on Thursday, walk him Friday, and run Saturday."All the wheels turning in Borislow's head might be for naught, as the forecast calls for rain in Southern California tonight and tomorrow, and again on Friday, and Frankel said he won't run Ghostzapper on a wet track, which tends to get "greasy" at Hollywood Park. Plus, he has a slightly different assessment of Ghostzapper's chances than Borislow has."I'm not going to jeopardize the horse for the sake of a record," Frankel said. "But he's probably a cinch. I don't have to go to Delta Downs to run him. This is a very good horse, and he had an awesome work here recently in company with El Gran Papa, closing his last three-eighths in :35 3/5 and his last eighth in :11 3/5, then galloping out seven furlongs in 1:25 and change. He can lay right off Roll Hennessy Roll, and it'll set up perfectly for him. If I don't run him, I might run (Generous winner) Peace Rules instead. But I'd also be hesitant to run him on a bad track as well." Ghostzapper broke his maiden in his career debut on Nov. 16 at Hollywood, winning by eight lengths in a blistering 1:15.57 for the six and a half furlongs, earning him a monster figure of 3 1/4 on the Ragozin Speed Sheets.



Copyright © 2015 The Blood-Horse, Inc. All Rights Reserved.