Hill 'n' Dale Buys Breeding Rights in Breeders' Cup Winner Vindication
Date Posted: 12/13/2002 6:44:38 AM
Last Updated: 12/13/2002 3:16:17 PM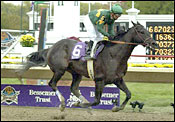 Breeders' Cup Juvenile winner Vindication.
Photo: David Snyder

John Sikura Jr.'s Hill 'n' Dale Farms has bought a portion of the breeding rights in pro tem 2-year-old male leader Vindication from Satish and Anne Sanan's Padua Stables. Unbeaten Vindication, winner of the Bessemer Trust Breeders' Cup Juvenile (gr. I) in his last start, will enter stud at Hill 'n' Dale near Lexington following his racing career. Padua will retain complete ownership and continue to manage the son of Seattle Slew while racing."Having a horse like Vindication opens up several different options for us, some strictly financial, and some relating to access of top bloodlines," said daughter Nadia Sanan, who serves as general manager and helped pick out Vindication at the 2001 Saratoga yearling sale. "We believe the path we are choosing today will be in the best long-term interests of Vindication and the Padua program."Many, many farms had approached us about standing Vindication, but we just knew that the time was right, and the farm was right, with their experienced staff, and the exceptional care they provide."There were some things we didn't want to compromise with on his career as a stallion," she added. "John was like-minded in not wanting to shuttle the stallion to South America or Australia, and we also want to make sure there is a limit to the size of his book. We're going to do what is best for the horse."Sanan said Padua retained a majority interest of Vindication's breeding rights but declined to say the specific percentage that was sold.Sikura declined to state the exact amount he paid for his interest in Vindication, but said the horse was valued "well in excess of $20 million." The Blood-Horse has learned that contractual clauses put the potential total value on Vindication at close to $30 million."All the shares were done within 24 hours to substantial people in the business and people who have been loyal to Hill 'n' Dale," Sikura said. "We wish we had more shares to sell to accommodate all the interest. There are several people on a waiting list."It's always your goal to land the number one draft pick, and in this case we've done that. You never know if that pick will become a great pro, but everything we've seen to this point leads one to think we've bought a potential superstar not only on the racetrack but hopefully in the breeding shed."Mr. Sanan wanted to deal with an individual who took a large personal and financial stake in the horse. He was a complete gentleman. These deals are never easy when everyone wants to buy, but we feel very fortunate. This is something I always hoped for, to compete for a leading horse among elite farms, and it's great to fall on the right side of it."Sikura expressed his delight about the Bob Baffert-trained colt. "He is a magnificent physical specimen by a legend of the breed in Seattle Slew and is an undefeated Breeders' Cup champion," he said, "Furthermore, we believe Vindication will be an outstanding 3-year-old and be the unique horse breeders are looking for to fill the void of recently deceased outstanding sires."Bred by Virginia Kraft Payson's Payson Stud, Vindication won the Kentucky Cup Juvenile Stakes (gr. III) prior to the Breeders' Cup and has earned $680,950 from four starts. He commanded $2.15 million as a yearling and is the third foal from his graded stakes-winning dam, Strawberry Reason (by Strawberry Road)."Buying into the breeding rights early for this horse is like buying into the movie rights of 'E.T.' before it came out," Baffert said. " I think he's a great colt."Hill 'n' Dale was the final home for Seattle Slew, who is buried at the farm. Slew's owners, Karen and Mickey Taylor, are among the shareholders in Vindication. "That's a great tribute," said Sikura. "No one knows or feels stronger about Slew than the Taylors, and they have a very special feeling about this horse."



Copyright © 2015 The Blood-Horse, Inc. All Rights Reserved.