Sheikh Mohammed Calls For Bigger Purses in Britain; Wants More for Stable Workers
Date Posted: 12/10/2002 5:00:18 PM
Last Updated: 12/12/2002 11:05:29 AM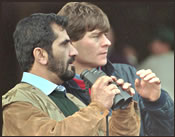 Sheikh Mohammed, left, with Godolphin racing manager Simon Crisford.
Photo: Associated Press

In a speech delivered on his behalf by Michael Osborne in York, England, on Tuesday, Sheikh Mohammed bin Rashid al Maktoum called for increased purses in British racing, with the ultimate goal being improved pay and working conditions for stable employees.In the annual Gimcrack speech, Sheikh Mohammed "outlined the need for urgent progress on a number of fronts to put British racing on a sounder footing," according to the text of the speech released by Godolphin Racing. "He pointed out that increased prize-money is the key for all those involved in racing and urged Britain's 59 racecourses to work with the rest of the industry for the betterment of the sport as a whole."Noting that some progress had been made since he raised concerns about purse levels five years ago, Sheikh Mohammed said the Maktoum family "stands willing to join with other owners in taking action" if racecourses take a "confrontational approach" or if "reasonable" purse increases are not forthcoming" from additional income accruing to British racing. "A significant amount of that extra income (in British racing) is being paid direct to the racetracks. It is to be hoped that owners, and all of the other people who depend so heavily on prize-money, will quickly see a corresponding benefit. I say 'it is to be hoped' because at present it seems by no means certain that all racecourses will pass on a fair share of the extra income to owners, trainers, jockeys, stable staff, and the many others whose jobs are linked to racing."Sheikh Mohammed cautioned against decisions by racetracks that pit them against others within the British racing industry."Like many other people, I have been concerned to see the extent to which racecourses appear to have found themselves at odds with the rest of the British Horseracing Board -- and therefore the rest of the industry -- in recent months," he said. "The posturing of some racecourses leads me to think that they feel they run the sport and can operate in isolation from owners and others. Take it from me, that is not the case. It would be a mistake for racecourses to attempt to put that to the test by going it alone. I sincerely hope they don't end up finding this out the hard way, having done untold damage to themselves and to racing."For example, Sheikh Mohammed said he was "dismayed" that the Racecourse Association complained to the Office of Fair Trading over a BHB decision on minimum prize-money levels. "If this is the way racecourses are going to conduct their business in future, then there truly is little hope for any of us," he said. "The sooner racecourses can work in harmony with the rest of the industry the better. There needs to be goodwill by people of intelligence on all sides. Past and present differences need to be put to one side, personality clashes resolved and a concerted effort must be made to allow racing in Britain to fulfil the ambitions that we all hold for it." Noting that losses by horse owners are "hundreds of millions of pounds a year," Sheikh Mohammed labeled the purse structure as being "on the pathetic side of poor. It saddens and frustrates me that when I make a statement on behalf of owners, it is presented in some quarters as being about wealthy owners seeking to line their pockets. That is a total distortion of the truth. The fact is that those who campaign for more prize-money are doing so for the benefit of the people who are the backbone of the industry - they are the people who matter. Let nobody doubt it: prize-money is the lifeblood of the industry. The more prize-money increases, the better for everyone -- not just the owner. The livelihoods of tens of thousands of people depend on it. "Owning racehorses is a huge financial commitment for most people.," Sheikh Mohammed continued. "Like us, they choose to put some money into their passion for racing. Yet every year owners are being driven out of the sport because they just can't stop the tide of racing's financial realities sweeping over them. And if owners leave the sport in significant numbers, the jobs of countless people in the industry are either lost or become less secure." Sheikh Mohammed said the persistent underfunding of purposes is primarily responsible for the pay and conitions allocated to stable help. "I have been hugely disappointed that hardly anyone, amidst the acres of newsprint and airtime that have been devoted to discussions on racing's finances in recent years, has sought to make stable staff a priority.," he said. "Again and again, we hear from trainers that the biggest problem they face is recruiting good staff. Why? Because they are often poorly paid, are offered only a limited career path, and have pension arrangements that might be said to belong to a bygone age. The historic underfunding of the sport is largely responsible for this appalling situation. But it will shame everyone involved in British racing if the current opportunity is not seized and significant steps are not taken to put the situation right as quickly as possible. The truth is that underpaid stable staff are subsidising the sport in exactly the same way as owners are. That is not just unacceptable, it is immoral."He added: "It is time racing's leaders spoke up for stable staff; time that tackling the problem was made a priority; time that decisions made at the BHB and elsewhere were tested to see how they impact on stable staff. Time, in short, for a new deal for stable staff." Sheikh Mohammed also said racing needs to broaden its appeal by marketing to and attracting "more young people and families through better marketing, thus creating a new customer base for this century."As for the Godolphin operation, Sheikh Mohammed said the stable will broaden its international operations and focus less on British racing."People said we couldn't train Classic winners from Dubai, but we have done and we hope to go on doing so. Now we want to take Godolphin to the next stage of its development, to consolidate and enhance our position as the world's only truly international racing stable, to win more of the world's best races. My personal challenge for the next 25 years and beyond is to take Godolphin to new peaks of achievement. Our ambitions are global. Much as we love racing here, it is true to say that we no longer focus predominantly on racing in Britain. It is inevitable that you will see less and less of our blue silks on British racetracks because the whole point of Godolphin is to challenge for the best races all over the world. That obviously limits what we are going to achieve in Britain, but it provides us with a range of global challenges that are as exciting as they are daunting."Complete Text of Speech



Copyright © 2015 The Blood-Horse, Inc. All Rights Reserved.