Wake At Noon Named Canada's Horse of Year
by Ray Paulick
Date Posted: 12/10/2002 10:11:49 AM
Last Updated: 12/12/2002 11:06:21 AM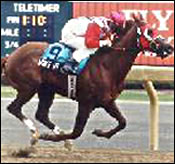 Canadian Horse of the Year, Wake At Noon.
Photo: Woodbine Entertainment

Published in the Dec. 14 issue of The Blood-Horse
With no Triple Crown winner and no dominant performer in the turf or handicap divisions, the 2002 Canadian Horse of the Year title was anybody's race. The three finalists, announced at the end of the 28th annual Sovereign Awards dinner in Toronto Dec. 7, were a diverse group consisting of the unbeaten 2-year-old champion Added Edge, the 3-year-old turf champion Portcullis, and the champion in both the sprint and older male divisions, Wake At Noon. When Michael Byrne, chairman of the Jockey Club of Canada, opened the sealed envelope and read Wake At Noon's name, an elated Bruno Schickedanz, owner and breeder of the 5-year-old son of Cure the Blues, bounded up to the podium in the Royal York Hotel's Imperial Room and asked breathlessly, "Am I permitted to do a dance onstage?" Instead of showing his fancy footwork, however, Schickedanz pulled a piece of paper from his pocket and read a heartfelt poem he wrote and dedicated to Wake At Noon, who had been nominated for previous Sovereign Awards but won for the first time this year. "I want to thank Wake At Noon for giving me four years of racing thrills," Schickedanz said. "At two, three, four, and five he provided me with some of the most exciting moments of my life." Wake At Noon, trained by Abraham Katryan, won six of 10 starts in 2002, including the Vigil Handicap (Can-III), Highlander Handicap (Can-III), Jacques Cartier Stakes, and Briartic Handicap, though he raced poorly in two U.S. starts, finishing 10th in Belmont Park's Metropolitan Handicap (gr. I) in May and 12th in the NAPA Breeders' Cup Sprint (gr. I) at Arlington Park in late October. Lifetime, the Ontario-bred horse out of the Silver Deputy mare Sermon Time has won 16 of 36 starts, including 10 stakes, and has been the star of Ontario's largest racing operation, which has led the Woodbine owner ranks by wins over the last four years and has made Schickedanz a finalist in the outstanding owner category in seven of the last 10 years. Wake At Noon defeated Cheap Talk and Krz Ruckus on the racetrack earlier this year and in the ballot box when Sovereign Award voters determined the champion sprinter. The two other finalists in the older male category were Dream Launcher and Parose, who combined to win just five of 17 starts in 2002. While Schickedanz again was one of three finalists in the outstanding owner category, that honor went to Stronach Stables for a record seventh time. Accepting the award was Frieda Stronach, who said husband Frank was unable to attend because he was in Europe on business. She gave credit to the staffs of the various Adena Springs divisions in Canada, Kentucky, and Florida that have been the foundation of a racing and breeding operation responsible for three Eclipse Awards as North America's outstanding owner and one as outstanding breeder. The third finalist in the owner category was Sam-Son Farm, which was named Canada's outstanding breeder for the fifth time. The operation founded by the late Ernie Samuel defeated Adena Springs and Michael Byrne in the balloting. Roger Attfield was given his sixth award as Canada's outstanding trainer, but his first since 1993. The other finalists in the category were Mark Frostad, the trainer for Sam-Son, and Mark Casse. "I had a Mark this side and a Mark that side," Attfield said. "I felt like a marked man." Winning a fourth consecutive Sovereign Award as outstanding jockey was Patrick Husbands, who was joined by Todd Kabel and Quincy Welch as finalists. Chantal Sutherland won her second consecutive apprentice jockey award, despite losing her five-pound "bug" in August. Other apprentice finalists were Nicola Wright and Kristopher Robinson. Added Edge, unbeaten in three starts in Canada (the minimum number of Canadian races needed to qualify for the Sovereign Awards), ran his record to a perfect four-for-four when he won the Nashua Stakes (gr. III) at Aqueduct in November. He earlier won the Silver Deputy and Swynford Stakes at Woodbine by a combined 13 lengths. The Smart Strike colt, owned by Team Valor Stables and Robert J. Wilson, currently is in training in Florida with Casse. Canada's 2-year-old champion was bred in Kentucky by Gulf Coast Farms Bloodstock, a partnership consisting of Lance Robinson, Jerry Bailey, and Ken Ellenberg. Added Edge sold for $4,000 at the 2001 Keenelend September yearling sale, after which Wilson paid $27,000 to purchase him at this year's Ocala Breeders' Sales Company's April sale of 2-year-olds in training. Wilson sold a two-thirds interest to Team Valor after the colt's winning debut in August. Two Gustav Schickedanz homebred sons of Langfuhr, Mobil and Wando, were the other 2-year-old male finalists. Ronald Woods' Brusque was voted 2-year-old filly champion over Handpainted and Miss Crissy. Brusque, a daughter of Canaveral bred in Kentucky by Wind Hill Farm, finished her year with a 2 1/4-length win in the Mazarine Breeders' Cup Stakes (Can-II) at Woodbine, her lone added-money victory of the year. William Scott's Le Cinquieme Essai was voted 3-year-old male champion over Forever Grand and Lord Shogun. The Fastness colt, bred in Ontario by his owner, won the Prince of Wales in July for his major victory of the season. Winner of the 3-year-old filly category was Lady Shari, bred in Kentucky by Robert and Bea Roberts and owned by Dominion Bloodstock, Derek Ball, and Hugh Galbraith. The daughter of Judge T C was victorious in three of 11 starts in 2002, winning the Maple Leaf Stakes (Can-III) and Canadian Derby (Can-III). Ginger Gold and Mulrainy were the other 3-year-old filly finalists. Kinghaven Farms and Roger Attfield's Small Promises, a gray filly by Carson City, won the Sovereign Award as outstanding older female. Bred by Kinghaven and Attfield's former wife, Tracy, Small Promises won four of nine starts, including two stakes. Other finalists in the category were El Prado Essence and Mysterious Affair. Champion female turf horse was Chopinina, owned and bred by Steven Stavro's Knob Hill Stable. Though she failed to win a stakes in four starts, the Lear Fan filly's best performance of 2002 may have come when second to Good Journey in the Atto Mile (Can-I). She defeated Heyahohowdy and Hot Talent in the voting. Portcullis was one of three male turf finalists owned and bred by Sam-Son Farm and trained by Frostad. Portcullis, winner of six of 10 starts, captured the Breeders' Stakes, Toronto Cup Handicap (Can-III), and Charlie Barley Stakes in 2002. The Sovereign Award gave former Sam-Son runner Smart Strike his second champion of the night. The other Sam-Son finalists in the male turf division were Full of Wonder and recently retired 7-year-old gelding Quiet Resolve. First Class Gal was named outstanding broodmare over Lover's Talk and Pacific Invader. The daughter of Geiger Counter is the dam of former champion One Way Love and two other stakes winners. Recipient of a Special Sovereign Award of Merit was Roland "Roly" Roberts, former vice president of finance of the Ontario Jockey Club, treasurer of Racetracks of Canada, a founding director of the Ontario Horse Racing Industry Association, and a longtime steward of the Jockey Club of Canada. Representatives from the Canadian Thoroughbred Horse Society, Horsemen's Benevolent and Protective Association, Canadian racetracks, and racing media participate in voting for the Sovereign Awards.



Copyright © 2015 The Blood-Horse, Inc. All Rights Reserved.